Welcome to Avis
Select Series car of the future
Rockets and an on-board pizza oven! Wow!
Children imagine the perfect car of the future:
London, [20th April 2017] "Are we there yet?" is a very common question existing as long as there have been children, vehicles and road trips. Avis Car Rental UK knows that driving is far less stressful if the children are happy. Marking the launch of its new fleet of Avis Select Series cars, the company recently visited Merry Hill Infant School and Nursery to ask pupils aged 4-8 to share their vision of the perfect car of the future to ensure road trips are stress-free when they grow up. The results painted an imaginative picture of tomorrow's world.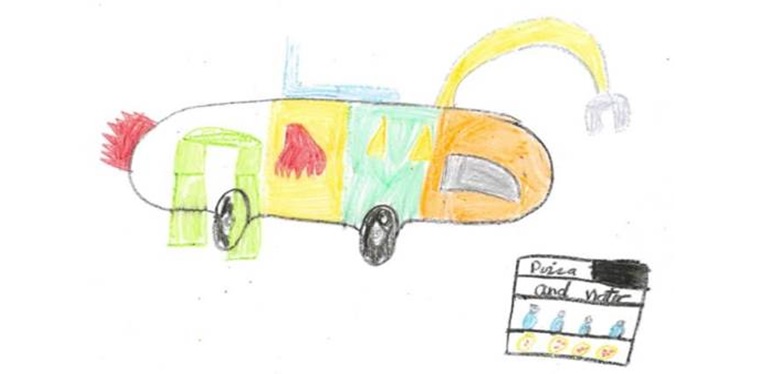 Rockets for extra zoom, an on-board pizza oven and a whopping price tag of £1,000; the family car of the future has it all
Using 3D printing technology, the company turned one child's car of the future drawing into a real-life model. Here is what we have to look forward to in the car of the future.

Nina Bell, Avis Budget Group Managing Director for the Northern EMEA Region, said:

"These highly imaginative drawings show what children want in a car to have the ultimate experience. While we can't yet make pizza in our cars, Avis Select Series is the perfect fit for today's holiday road trip – offering our customers the best choice of cars and guaranteed make and model for a family driving experience to remember."

Current day rentals
There is a lot in store for the car of the future but until then, there is Avis Select Series, a collection of ten carefully selected vehicles that gives customers peace of mind knowing they'll get the exact make and model they've chosen.

Available from selected locations across the UK, the new premium fleet will now include Audi A1 S line, Audi A5 S line Auto, Audi Q2 S line, Audi 4 Avant S line Auto, Hyundai Ioniq Hybrid Premium Auto, Volvo V40 Inscription Auto, Toyota C-HR Hybrid Auto, Mercedes-Benz CLA AMG Sport Auto Coupe, Volvo XC60 AWD R-Design Lux Auto and Hyundai Santa Fe Premium 4WD Auto. For family road trips to remember, choose your car at www.avis.co.uk/select-series.


--- ENDS ---


Notes to editors
Airport locations in the United Kingdom that offer Select Series cars:


Birmingham Airport
Edinburgh Airport
Gatwick Airport South Terminal
Glasgow Airport
Heathrow Airport T2
Heathrow Airport T3-4
Heathrow Airport T5
London City Airport
Manchester Airport
Newcastle Airport
Stansted Airport

City locations in the United Kingdom that offer Select Series cars:


Edinburgh
Glasgow
London Euston
London Marriott Marble Arch
London Victoria
London Waterloo
London Westfield (Shepherd's Bush)
Manchester Piccadilly

About Avis
Avis Car Rental operates one of the world's best-known car rental brands with approximately 5,500 locations in approximately 170 countries. Avis has a long history of innovation in the car rental industry and is one of the world's top brands for customer loyalty. Avis is owned by Avis Budget Group, Inc. (NASDAQ:CAR), which operates and licenses the brand throughout the world. For more information, visit www.avis.com

For more information, contact:
Avis Press Office
0844 826 8343
avispressoffice@webershandwick.com