Welcome to Avis
ACL Hire sponsor fearless fourteen year old racer
ACL Hire sponsor fearless fourteen-year-old racer
1 May 2019
Fourteen-year-old Taylor Borthwick (right), West Lothian's tenacious teenage racer, is preparing for another season disrupting the status quo and taking down the boys on the National MiniStox circuit, thanks to sponsorship from ACL Hire Limited, part of Avis Budget Group.
After becoming the only girl to ever win the Scottish Championship in 2014, an accolade yet to be beaten, Taylor's passion for petrol has only grown. At the age of 11 she wanted to move up a class and race a Mini Stock car in the male-dominated national competitions. After some convincing, Dad Stuart bought Taylor her first Mini Stock racer and so began their journey up and down the UK racing almost every weekend between March and November.
James Harris, Co-Founder of ACL Hire Limited, says: "We are honoured to sponsor Taylor, she is a promising talent in UK motorsport and we are really enjoying watching her development. Her tenacity in a male-dominated environment, enthusiasm and the importance she puts on family define her character. We are excited to watch Taylor's progress over the coming season and further into the future."

Taylor Borthwick said: "I am very grateful to be able to travel the country, racing in competitions as far away as St Day in Cornwall. Sponsorship from ACL enables me to buy vital equipment such as harnesses, safety helmets and neck braces, the support from ACL enables us to get race-ready each week."

Taylor has had a flying start to the season, leading the national points. She is preparing for her first ever race on shale at the Northampton International Raceway on 25th May.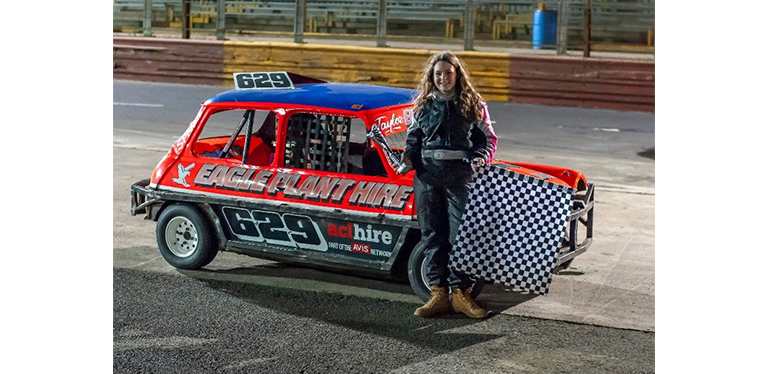 Notes to editors
For further information, images and interview requests,
Clarion Communications
avispressoffice@clarioncomms.co.uk
020 7343 3145
About Avis Budget Group
Avis Budget Group, Inc. is a leading global provider of mobility solutions, both through its Avis and Budget brands, which have more than 11,000 rental locations in approximately 180 countries around the world, and through its Zipcar brand, which is the world's leading car sharing network, with more than one million members. Avis Budget Group operates most of its car rental offices in North America, Europe and Australasia directly, and operates primarily through licensees in other parts of the world. Avis Budget Group has approximately 30,000 employees and is headquartered in Parsippany, N.J. More information is available at www.avisbudgetgroup.com.
About ACL Hire Limited
ACL Hire Limited is a leading provider of public and private sector needs in the vehicle sales, services and rental industry operating out of Bathgate, West Lothian. Specialising in the hire of commercial vehicles, ACL Hire has been providing the very best quality vehicles on demand in Scotland for over 30 years. Thanks to the recent acquisition by Avis Budget Group Inc, this has allowed ACL Hire to expand its network and deliver its high standard of service throughout the UK, with a wider range of vehicles than ever before. The company has built working relationships with many local authorities and private businesses across Scotland and are consistently recognised for the quality of their service from institutions such as Scotland Excel, Procurement for Housing and the GO Awards.