Welcome to Avis
Win a trip to Scotland when you book and rent with Avis
Win a trip for two to Aberdeenshire
Courtesy of Flybe and Sandman Signature Aberdeen Hotel, you could be in with a chance to win a three-day break to Aberdeenshire, Scotland.

After flying directly to Aberdeen with Flybe, you could stay in the heart of the city in one of Aberdeen's historic buildings at the Sandman Signature Aberdeen Hotel. With luxurious accommodation and just steps away from key attractions in the famous Granite City, it is the perfect location to enjoy a city break.

So that you can discover beyond the city and experience Aberdeenshire's breath-taking landscapes, unspoilt countryside and sweeping beaches, you will also win complimentary Avis car hire from Aberdeen Airport for the duration of your trip.

To be in with a chance of winning, sign into your Avis Preferred account and book and rent anywhere in the UK for a minimum of three days before 31 October 2018. Terms and conditions apply.

#ScotlandIsNow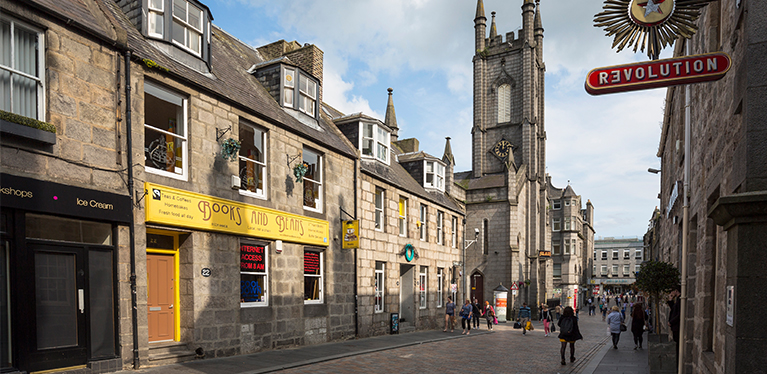 Fly to Aberdeen with Flybe
To kick start your trip, thanks to Flybe, you could travel to Aberdeen with a pair of return 'Get More' Flybe flight tickets from a number of locations across UK and Ireland (subject to the terms and conditions below).

Browse flights to Aberdeen on flybe.com today and take off for a memorable city break. For the latest information on flight schedules to Aberdeen (ABZ), take a look at Flybe's timetable page for this route.

Enjoy two nights in the beautifully appointed Sandman Signature Aberdeen Hotel
Located in one of Aberdeen's historic buildings at the heart of the city, the Sandman Signature Aberdeen Hotel provides elegant and luxurious accommodation minutes away from key attractions in the city.

The hotel is perfectly situated so that you can visit the great outdoors, appreciate the local history, or simply to relax and enjoy a romantic break. You will also get the chance to experience the on-site restaurant when you indulge in a three course dinner one evening at Chop Grill & Bar.

Find out more about the Avis Preferred
Avis Preferred is our priority member service in over 3,300 locations worldwide - and membership is completely free.

As a member, here's just some of the perks you can enjoy;

Fast-track service at the counter with pre-prepared paper work
Choose you exact car, change it or upgrade it using the Avis app
Guaranteed best possible price for an Avis car when booked on avis.co.uk
Unlock bonus member benefits, including free upgrades and free rentals

For more information, please click here.
Terms and Conditions:

Total prize consists of
(1) 3 day car hire from Aberdeen Airport.
• Duration: Max 3 days
• Car Size: up to a group F
• Location (collection from and return to): Aberdeen Airport
• Value: £250
Rental Includes: Unlimited mileage, Collision Damage Waiver, Theft Protection and Airport surcharge.

(2) 2 return tickets with Flybe to Scotland from a UK/Ireland airport
The winner will receive: a pair of return 'Get More' Flybe flight tickets to Aberdeen from the following airports: Belfast City, Manchester, Birmingham, London Heathrow or Southampton (subject to the terms and conditions below).

(3) 2 night bed and breakfast stay for 2 people
2 night bed and breakfast stay for 2 people at Sandman Signature Aberdeen Hotel (in a standard double or twin room). Also includes a 3 course dinner for 2 people on one evening at the Chop Grill & Bar, within the hotel (alcohol not included and if ordered must be paid for by prize winner).

Prize restrictions: Car hire prize
The car hire prize vehicle may be booked before 30 November 2018 for collection between 2nd January 2019 and 1st November 2019. The car hire prize may not be booked for the periods from 18th April 2019 to 22nd April 2019 and from 22nd August 2019 to 30th August 2019.

This prize is non-transferable nor may it be exchanged for cash or used as part of a longer rental. Any additional products or services outside of the above mentioned will be the responsibility of the renter and charged locally. All cars are subject to availability.

The winner will need to meet Avis booking and rental terms and conditions, and must present a valid credit card in their name when picking up the vehicle for security reasons. Debit cards are not acceptable.

Avis reserves the right to substitute the prizes with an alternative of similar characteristics and of commensurate value at its discretion.

Prize restrictions: Flights
Includes direct flights only. Both flights which comprise the prize must be taken simultaneously and cannot be used on separate dates. Flights must have a BE flight code and be operated by Flybe and do not include codeshare or franchise operated routes; flights must be booked and flown by 01.11.19; please see flybe.com for full schedule details; all flights are subject to Flybe's General Conditions of Carriage as updated and amended from time to time which can be found at flybe.com; any flights not used by this date shall result in the prize being forfeited; the winner is responsible for their own passport and visa requirements and the passport and visa requirements of any person who travels with them; travel insurance, accommodation and transfers are NOT included in the prize. Taxes and charges ARE included and a 23kg hold bag. Flight tickets are strictly subject to availability.

Prize restrictions: Accommodation
Prize is subject to availability and CANNOT be redeemed from 2nd to 5th September 2019 inclusive. Whilst the hotel will make every effort to accommodate the prize winner on their preferred dates, The Sandman Hotel reserves the right to offer an alternative should this be necessary. This decision will be at the sole discretion of the hotel. The prize is for room, breakfast and dinner charges for one evening only, all other incidentals must be settled by the prize winner upon departure. Prize must be redeemed in full by 1st November 2018.
This element of the prize was sourced by VisitScotland and prize will be provided by Sandman Signature Aberdeen Hotel.

Rule 1: To qualify for entry into this promotion you must: (i) be a resident of the United Kingdom (UK); (ii) be aged 23 years or over; (iii) hold a valid UK driving licence; (iv) make a reservation between 1 September and 31 October 2018, for an Avis vehicle, to pick up, from a UK location, between 1 September and 31 October 2018; (v) not cancel such reservation; and (vi) not breach the Rental Agreement in respect of such reservation (Qualifying Entrant). Only Qualifying Entrants may enter the prize draw. Entry is restricted to customers of Avis Budget UK Limited (the Promoter).

Rule 2: Anyone professionally connected with this promotion including any employees, or family members of such employees, of any of the following companies (including any group companies or agencies) will not qualify for any prize under this promotion but will not be prevented from entering: (i) Avis Budget UK Limited; (ii) Avis Budget EMEA Limited; (iii) Zodiac Europe Limited; and (iv) Avis Budget Car Rental LLC, Inc; (v) Sandman Signature Aberdeen Hotel and (vi) Flybe Limited

Rule 3: Only one entry to the prize draw is permitted by each Qualifying Entrant

Rule 4: The opening date for all entries is 00:01 on 1 September 2018. The closing date for all entries is 23.59 on 31 October 2018. Any entry received by the Promoter after this time and date will not be entered into the prize draw. The Promoter does not represent, warrant or guarantee the availability of (i) any website or computer system in its custody or control or belonging to any third party or (ii) any telecommunications systems necessary for accessing any Promoter website or computer system. No responsibility is accepted by the Promoter for entries lost, damaged, defaced, illegible, incomplete or delayed regardless of cause whether delayed in the post or incomplete due to systems failure, or for entries not received or incompletely received due to traffic congestion, unauthorized human intervention, failure of computer or telecommunications systems or the incorrect or inaccurate capture of entry information or the failure to capture any such information. Proof of postage will not be accepted as proof of delivery. The Promoter reserves the right, in its sole discretion, to disqualify any individual it finds (a) to be tampering with the entry process or the operation of this draw (b) to be acting in violation of these rules (c) to be acting otherwise than in good faith or (e) to have provided any false or misleading information as part of the process of entering the draw.

Rule 5: The prize draw will take place in the UK on or after 5 November 2018. The winner will be selected at random from eligible entries and the Promoter's decision is final. The selection of the winner shall be monitored by an adjudicator appointed by the Promoter. The Promoter shall, within one (1) week of selection of the winners, write to the winners by email supplied notifying the prize draw outcomes. To claim the prizes the winner must notify the Promoter by email to ukmarketing@avis.co.uk and provide written evidence of their residency, age and driving licence by 23.59 on 22 November 2018. Such evidence must be provided in the form of a driving licence and utility bill dated no more than three months prior to the date it is requested. When the prize has been claimed successfully the Promoter will arrange the prize directly with the winner. The Promoter reserves the right to withdraw the prize and draw an alternative winner where the winner fails to claim the prize within stipulated term or fails to produce the correct evidence or fails to abide by the rules of the Promotion.

Rule 6: The winner may be requested to take part in publicity resulting from this promotion without further compensation. The name of the winner may be published and distributed, provided that the winner will have granted their consent to this in advance.

Rule 7: The rules and any dispute or difference relating to them shall be governed by the laws of England.

Rule 8: Personal data will be taken where necessary from all entries received but shall be limited to those details reasonably necessary for the administration of the Promotion.

Rule 9: Please direct any queries or complaints regarding this prize draw to the Promoter at the address set out at the end of these Terms and Conditions or email ukmarketing@avis.co.uk.

Rule 10: The Promoter has the right to vary the prize or withdraw the prize or cancel or postpone the Promotion at its discretion.
Promoter: The Promoter is Avis Budget UK Limited, Avis Budget House, Park Road, Bracknell, RG12 2EW, United Kingdom.
Supplier: The Supplier of the prize Avis Budget UK Limited, Avis House, Park Road, Bracknell, RG12 2EW, United Kingdom.