Welcome to Avis
Avis car hire app
Your rental made faster than ever
Download our app to make your journey even smoother
With the Avis car hire app you're in the driving seat making all the choices
Booking and managing car and van rentals is now easier than ever. You can change or upgrade your rental at the very last minute, as you approach a hire location. You can also choose the exact make and model you want and be on your way in seconds. *

On the road, if your plans alter, extend your rental at the press of a button.

This self-service functionality is a benefit for Avis Preferred customers only.

Log in or sign up to enjoy these exclusive features:
Find your car with ease*
Choose the exact vehicle you want, change it or upgrade it*
Add any extras to your rental
Bypass the queue and be on your way in minutes*
No more paper, your rental agreement is stored in the app
Track your loyalty benefits and rewards
* Self-service functionality is switched on at leading Avis locations across Europe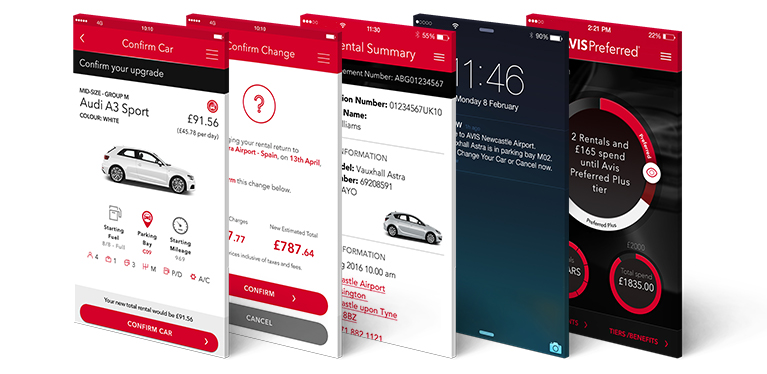 Choose, change and upgrade your hire vehicle
Booking a hire car or van is easier than ever. The Avis car hire app lets you search for vehicles with results filtered by size or features; hone in on rental locations; and see which Avis location is nearest to you.

But if you fancy a different make or model on the day, you can change or upgrade your vehicle the moment you arrive at the rental station. The app's new functionality lets you choose the exact car you want, right when you want it.


Extend your rental
Need to hang on to your rental car or van? A couple of screen-swipes will get that organised for you, without the bother of contacting the rental station.


Manage bookings
Plans can change: check, cancel or amend your booking details at any time; add a driver or secure extra equipment or services.


Real-time notifications and in-app paperwork
We keep you up to date with personalised notifications on-the-go so you can skip the rental counter and locate your vehicle ... your keys will be waiting on the dashboard.

You can also check your Avis rental summary in-app at any point during your trip.
Track loyalty benefits
Whether you're an Avis Preferred, Preferred Plus or President's Club member we've made it that much easier to view your tier status (and benefits), number of rentals, spend and rental history.

You can also add on any rentals that you booked when not signed in to the loyalty programme – to accrue further benefits.


Download the app for Avis car hire on your terms. Here's what to expect:
Fully flexible car hire
Amend or cancel your booking for free should your plans change, and get a full refund.



Price Promise
You'll always get our best prices when booking on the app, or we'll refund the difference.

Peace of mind vehicle cover
Our Comprehensive Zero-Excess cover product means no need to pay or claim.



Our safety pledge is our commitment to keeping you safe
We've partnered with Reckitt Benckiser, Columbia University and Hip Hop Public Health to ensure we take every step we can to maintain your safety.

Avis Preferred tier extensions
We've extended our Avis Preferred tier statuses for an additional year, so you won't lose out on any of the benefits you've acquired over time.


VIP treatment
Get priority counter service with Avis Preferred. And with the Avis app, at our larger locations you can go straight to your car where they keys will be waiting.