Welcome to Avis
Rent a car in Paris
Within easy reach of romantic villages, rolling vineyards and historic towns, the French capital is the gateway to northern France. With pick-up points all over the city, our Paris car hire services are conveniently located in airports and train stations across the capital, as well as nearby to famous Parisian landmarks.
For those arriving by air, you can find us at both Charles De Gaulle and Orly Airports, while train travellers can meet us at Gare du Nord and other major train stations.
Thanks to our flexible one-way car hire options, you can pick your car up and drop it off at the end of your holiday at different car rental locations.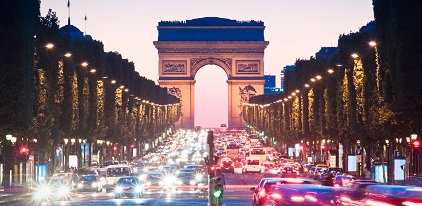 Book direct for the best Avis car rental experience. Here's what to expect:
Price Promise
You'll always get our best prices when booking on this site, or we'll refund the difference.

Peace of mind vehicle cover
Our Comprehensive Zero-Excess cover product means no need to pay or claim.

VIP Treatment
Go straight to your car at our larger stores. Your keys and paperwork will be waiting.

Free Cancellation
Cancel with no charge up to 24 hours before pick-up, if you 'Pay on Collection'

Speedy collection
Jump the queue with pre-prepared paperwork and your vehicle at the ready.

Member-only benefits
Unlock money-off vouchers, free weekends, upgrades and inclusive additional driver cover at no extra cost.
Popular airport locations around Paris
Popular car hire locations in Paris
Your journey starts here
The Parisian skyline is instantly recognisable, pierced by the soaring Eiffel Tower and the gothic spire of Notre Dame, with the graceful white domes of the Sacré-Cœur on the horizon. Back on ground level, the River Seine winds its way through the city, straddled by a selection of bridges and lined with cafes and bistros.

The city of Paris is synonymous with style, and is famous for its world-leading fashion, art and food scenes. From the elegant Champs-Élysées to the Marais and Montmartre, there are fashion houses, independent boutiques, pretty patisseries and a selection of celebrated Michelin-star restaurants to discover.

The balmy spring and summer months are among the most popular times to visit, when the parks and gardens are full of flowers and world-renowned festivals and events take place en plein air. In the winter, Paris hosts atmospheric Christmas markets and festive ballet and operatic performances. However, year-round visitors come for the landmark museums, of which Paris has many. From the Louvre to the Musée d'Orsay and the colourful Pompidou Centre, there's plenty to see in the City of Lights.


Beyond Paris
Beyond the boundaries of the city, you'll discover the real charm of rural France. A short drive from Paris, Château de Fontainebleau is the grand palace and former residence of Louis VII and Napoleon III, now classified as a UNESCO World Heritage Site. Another historic destination, the fashionable city of Versailles is less than an hour's drive from Paris. Home to the historic Palace of Versailles, the decadent salons and gardens here offer fascinating insight into royal life in 17th century France.

Art lovers will be captivated by the sleepy town of Giverny, where Monet's family home can be found. Half a million people venture to this village each year to see the place where he painted his famous water lilies, and to visit Fondation Claude Monet, its tranquil gardens and the Musée des Impressionnismes.

Oenophiles, meanwhile, might feel more at home exploring the manicured vineyards of Champagne or Burgundy. From the stylish city of Reims to small, independent vineyards and world-renowned wine estates, there are plenty of places to visit on a wine tour.

To get the most out of everything this region has to offer, hire a car in Paris and hit the road.
Driving rules in France
Which side of the road?
In France, please drive on the right side of the road.

Country driving laws
Mobile phones may only be used with a hands-free device. Do not use headphones or earpieces
In towns and rural areas, on minor roads and where there is no clear indication of right of way, it may be prudent to give way to traffic coming from the right ("priorité a droite")
Bus lanes are reserved exclusively for buses, taxis and bicycles
It is recommended that drivers use dipped headlights at all times

Speed limits

All speed signs will be in km/h.

For a standard Avis rental vehicle with no trailer:
Urban areas: 50 km/h (31 mph)
Rural areas: 80 km/h (50 mph)
4-lane expressways (rural areas): 110 km/h (68 mph)
Motorways: 130 km/h (80 mph)

Unless indicated by road signs.

Be aware of changes to speed limits displayed on road signs due to adverse weather conditions

Child safety / Seatbelt laws
It is compulsory for the driver and all passengers to wear a seatbelt
Children aged under 10 and weighing less than 36kg must be seated in appropriate child restraint
Children weighing up to 9 kg must travel in a rear-facing car seat, in the back of the car only

Please note - It is the child's parent / guardian or vehicle renter's responsibility to fit the child seat.

This road rules information is for provided for general guidance only. We endeavour to keep the information up to date and accurate, but any reliance you place on this information is at your own risk.