Welcome to Avis
Aeropuerto De Malaga

Malaga
29004

Opening Times
Monday

07:30 - 23:45

Tuesday

07:30 - 23:45

Wednesday

07:30 - 23:45

Thursday

07:30 - 23:45

Friday

07:30 - 23:45

Saturday

07:30 - 23:45

Sunday

07:30 - 23:45
24-hour drop-off

Rent a car at Malaga Airport with confidence. Full, fee-free cancellation guaranteed
Servicing the Costa del Sol, Malaga Airport is the gateway to the rolling landscapes, white-washed towns and sparkling seas of Andalucia. The busiest in the region, it handles almost 20 million passengers a year with flights from Europe and beyond.

Our Malaga Airport car hire service can be found on the ground floor of both Terminals 2 and 3, and our team offer a fast and efficient check-in and return drop-off.

For those wishing to return their hire car outside of opening hours, please let us know in advance and we'll tell you what you will need to do.

For visitors staying nearby in central Malaga, you can arrange to pick up your car rental at Malaga train station.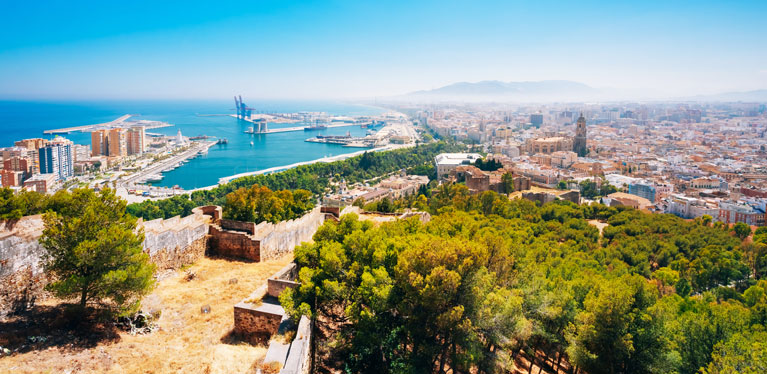 Top car hire locations around Malaga Airport
Discover cars to rent at Malaga Airport
Whether you're looking for a mid-size vehicle to cruise along the Mediterranean coast or a small car to zip through the ancient streets of Malaga, our car hire fleet has got you covered. Choose from a range of vehicles, including small cars (e.g. Fiat, Volkswagen Polo or similar), mid-size cars (e.g. hatchback Vauxhall Crossland or similar), large cars (e.g. Peugeot 3008 or similar), estates (e.g. Skoda Octavia Estate or similar) and people carriers (e.g. Citroen Grand Picasso or similar). Take a look at our Malaga car hire options for a full overview.
Plan your journey from Malaga Airport
Once you have collected your car rental at Malaga airport, it's time to hit the road. Malaga airport is conveniently close to the sun-soaked city centre of Malaga – just a short 20-minute drive away. Nicknamed the Costa del Sol for its shimmering Mediterranean waters and year-round sunshine, Malaga is the eponymous capital city of Malaga Province in the region of Andalusia. This slice of southern Spain offers everything – from towering mountains to pretty plazas and laid-back tapas bars.
To get from the Avis Malaga airport car hire location to the city centre, jump on the C1 line that connects the airport with the city centre. Far more convenient than any other transportation option, taking your Avis car rental means that you can drive the short 20-minute ride in the comfort of your own air-conditioned vehicle – straight from the airport to your accommodation.
If you're looking to soak up the sights as soon as you arrive, take the scenic route from Malaga airport to the city centre via the N-340. While this route is a little longer (about 30 minutes), you'll be able to drive along the esplanade – with an immediate view of pristine waters and palm trees to kick-start your holiday.

In order to get the most out of your visit, make sure you hire a car at Malaga Airport with Avis to explore everything the region has to offer.
Top tips for driving in Malaga
Which side of the road?
In Spain, please drive on the right side of the road.

Country driving laws
Mobile phones may not be used at all whilst driving
Do not use headphones when driving (except hearing aids)
Dipped headlights must be used in poor daylight visibility
Always use indicators, you will be fined for not using indicators when needed
Cyclists have right of way, at all times

Speed limits
All speed signs will be in km/h.

For a standard Avis rental vehicle with no trailers:
Urban areas: 50 km/h (31 mph)
Rural areas: 90 km/h (55 mph)
Motorways: 120km/h (74mph)

Unless indicated by road signs.

Child safety / Seatbelt laws
It is compulsory for the driver and all passengers to wear a seatbelt
Children aged under 12 and less than 135cm tall must be seated in an appropriate child restraint for their size
Children aged under 12 are not allowed to sit in the front seat

Please note - It is the child's parent / guardian or vehicle renter's responsibility to fit the child seat.

This road rules information is for provided for general guidance only. We endeavour to keep the information up to date and accurate, but any reliance you place on this information is at your own risk.

Beyond Malaga with your hire car
Malaga Province, in the region of Andalusia, is an idyllic destination to explore in your Avis hire car. Many tourists bypass the city of Malaga altogether, hitting the road and exploring the Costa del Sol – the coastline of Malaga Province. Stretching across 160 km of Mediterranean coastline, Costa del Sol is home to a diversity of landscapes: white beaches, picturesque cliffs, running rivers and streams, pristine bays and sandy dunes.
Whether you're looking to kick back and enjoy the many beaches of Malaga Province, or are raring to explore its historical and cultural highlights, the region has it all. Foodies will delight in Malaga's cuisine – rich in seafood and the culinary delights unique to Spaniards. Nature-lovers will appreciate the region's many mountains and beaches while culture-lovers can explore the region's art spaces and many museums.
Once you have picked up your car hire at Malaga airport, you can hit the A-7 coast road or the AP-7 toll motorway before heading to the resort towns along the Costa del Sol.
Why choose Avis for your Malaga Airport car hire?
Fully flexible
Enjoy fee-free flexible booking with full cash refunds and no vouchers.

Savings on coverage
When you choose Avis Inclusive you can experience total peace of mind with no extras or surprises. Pay one upfront price for free Roadside Assistance Plus and 25% discount on comprehensive zero-excess cover.

Loyalty benefits
Join our free loyalty programme Avis Preferred, and benefit from priority service, discounts and more.
Safety first
From our well-maintained fleet to protecting your data, we take safety seriously. That's why we've partnered with Dettol® to ensure both hygienic rental locations and thoroughly cleaned vehicles.

Faster collection
Save time at the counter by registering your details in advance with our simple and free QuickPass. You could be on the road sooner than you think.

VIP treatment
Get priority counter service on collection with Avis Preferred. At our larger locations you can use our Avis app to go straight to your car where the keys will be waiting for you.
Malaga Airport car rental FAQs
How do I find the Malaga Airport car hire service?
Our Malaga Airport car hire service can be found on the ground floor of both Terminals 2 and 3, and our team offer a fast and efficient check-in and return drop-off.
How long can I hire my Malaga rental car for?
For as little as one day and for as long as three months. See our long-term rental packages for more info.
Can I pick up my rental car in Malaga and return it at another location?
Yes, with the Avis one-way rental that's not a problem. Pick up your one-way rental car at our Malaga car hire locations (Malaga Airport or Malaga Train Station) and return it at another rental location at the end of your trip.
What measures does Avis take to ensure my safety?
We take the utmost care to provide the highest levels of safety at our Malaga car hire facilities and in our vehicles. This includes using counter screens to observe social distancing protocols, providing hand sanitisers, and carefully cleaning every vehicle before each rental – with special attention paid to steering wheels, indicators, dashboards, hand grips, in-car entertainment controls, cup holders, centre consoles, and all door handles both inside and out. Read the Avis Safety Pledge for more info.