Welcome to Avis
Aeropuerto De Ibiza

Ibiza
07800

Opening Times
Monday

07:30 - 21:30

Tuesday

07:30 - 21:30

Wednesday

07:30 - 21:30

Thursday

07:30 - 21:30

Friday

07:30 - 21:30

Saturday

07:30 - 13:30

Sunday

Closed
24-hour drop-off

Rent a car at Ibiza Airport with confidence. Full, fee-free cancellation guaranteed
When you land on the sun-kissed island of Ibiza, our car hire Ibiza Airport service will be ready and waiting to assist. Choose a vehicle to suit your vacation style, and head straight to the beach from the airport.
Get ready to experience the beautiful white sand beaches of this Mediterranean gem. With approximately 220 square miles, this beautiful Balearic island has many hidden spots only accessible through rural roads.
Ibiza's reputation for premium clubs, bars and lively nightlife is well deserved, although there's much more to the island than this. Discover the attractive whitewashed towns and villages, the lush green hills of its interior and some 50 beaches.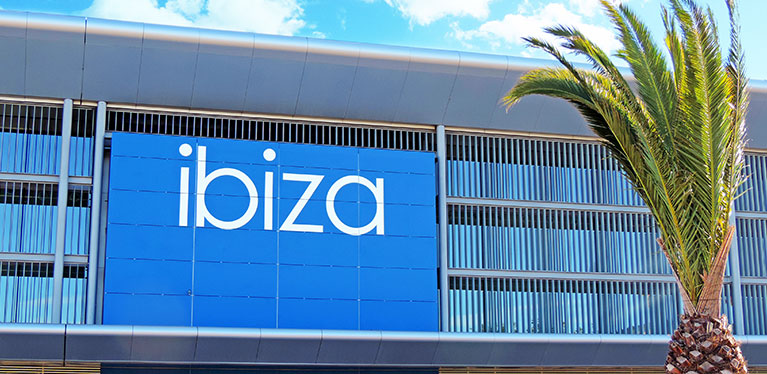 Top car hire locations around Ibiza Airport
Discover cars to rent at Ibiza Airport
Roll the windows down and enjoy the Ibizan wind in your hair as you cruise around the island in your Avis hire car. Once you land at Ibiza Airport, our car hire Ibiza team will help you find the perfect ride for your vacation. Choose a rental car from our extensive Avis rental fleet.
No matter your needs, we've got you covered. Looking for a small, economical vehicle for a hassle-free trip? Our range of small cars will be right up your alley. Browse our range of Ibiza rental cars, including Fiat 500s and Volkswagen Polos for a smooth ride along the Ibizan coast.
Taking the whole family for a sun-filled holiday to Ibiza? No problem. Our range of large cars, estates and people carriers will accommodate everybody. Browse our range of spacious hatchbacks (including Vauxhall Crosslands and Seat Aronas), compact automatics (such as our Mercedes-Benz A-Class or similar), large cars (including the Peugeot 3008 and Skoda Octavia Auto) and people carriers (including the Citroen Grand Picasso and Peugeot 5008 Auto).
Plan your journey from Ibiza Airport
Santa Eulalia
A popular road trip is the drive from Ibiza Town to Santa Eulalia, a coastal town popular with tourists looking for a quieter holiday. Walk along the palm tree lined promenade that stretches along the beach and eat at some of the island's best restaurants. Visit Puig de Missa, a fortified church on a hill originally built to protect the locals from pirate attacks. The river walk up to the church is particularly beautiful.

San Antonio
A 20 minute drive from Ibiza Town, San Antonio (St Antoni de Portmany) is a very lively and popular resort, known as a clubbers paradise. You'll find lots of adrenaline inducing activities including cliff diving, jet-skiing and parasailing. And for those looking to relax, the main beach is sandy and has shallow, clear water.

San Juan
San Juan is a rural haven and a nice place to take a break from the touristic areas of Ibiza. Home to traditional bars and restaurants you'll enjoy a laid back, chilled atmosphere.

Sant Carles de Peralta
The famous hippy market in Sant Carles de Peralta is a must visit. Taking place every Saturday all year round, Las Dalias attracts thousands of people who are looking for everything bohemian. On offer you'll find incense, bongo drums, live music and fortune-telling.
Top tips for driving in Ibiza
Which side of the road?
In Spain, please drive on the right side of the road.

Country driving laws
Mobile phones may not be used at all whilst driving
Dipped headlights must be used in poor daylight visibility
Cyclists have right of way, at all times
Do not use headphones when driving (except hearing aids)
Always use indicators, you will be fined for not using indicators when needed

Speed limits
All speed signs will be in km/h.
For a standard Avis rental vehicle with no trailers:
Urban areas: 50 km/h (31 mph)
Motorways: 120 km/h (74 mph)
Rural areas: 90 km/h (55 mph)
Unless indicated by road signs.

Child safety / Seatbelt laws
It is compulsory for the driver and all passengers to wear a seatbelt
Children aged under 12 are not allowed to sit in the front seat
Children aged under 12 and less than 135 cm tall must be seated in an appropriate child restraint for their size

Please note – It is the child's parent/guardian or vehicle renter's responsibility to fit the child seat.

This road rules information is for provided for general guidance only. We endeavour to keep the information up to date and accurate, but any reliance you place on this information is at your own risk. Please see our Spain Driving Guide for more information.
Beyond Ibiza with your hire car
The airport is located around four miles south-west of Ibiza Town and driving between the two takes roughly 20 minutes via the PM-801 motorway.

Ibiza town is Ibiza's capital and is buzzing with activity. You'll find shopping, beach bars and lots of history to enjoy. The Necrópolis de Puig des Molins is a fascinating burial ground that dates from the 7th Century. There's a museum where you can see jewellery and figurines found in the tombs. Ibiza's cathedral is a mixture of Catalan Gothic and Baroque in style and holds centuries of religious art.

Local beaches include Talamanca, which is safe and shallow, Playa d'en Bossa, a super long beach; Figueretes, the closest to Ibiza Town and S'Estanyol, a beautiful secluded cove.
Why choose Avis for your Ibiza Airport car hire?
Fully flexible
Enjoy fee-free flexible booking with full cash refunds and no vouchers.

Savings on coverage
When you choose Avis Inclusive you can experience total peace of mind with no extras or surprises. Pay one upfront price for free Roadside Assistance Plus and 25% discount on comprehensive zero-excess cover.

Loyalty benefits
Join our free loyalty programme Avis Preferred, and benefit from priority service, discounts and more.
Safety first
From our well-maintained fleet to protecting your data, we take safety seriously. That's why we've partnered with Dettol® to ensure both hygienic rental locations and thoroughly cleaned vehicles.

Faster collection
Save time at the counter by registering your details in advance with our simple and free QuickPass. You could be on the road sooner than you think.

VIP treatment
Get priority counter service on collection with Avis Preferred. At our larger locations you can use our Avis app to go straight to your car where the keys will be waiting for you.
Ibiza Airport car rental FAQs
Can I cancel my booking?
Yes. If you are using our car hire Ibiza Airport service (or rent a car via any of our Avis rental locations), your refund will be processed in full immediately and should reach your account within 5 working days – should you need to a cancel a booking. See our flexible cancellation policy for more information.
What are the age requirements for car hire at Ibiza Airport?
To drive our vehicles, you – and all your drivers – must be at least 21 years old and have held a full valid driver's licence for at least ½ year at the start of your rental. If you – or one of your drivers – are under the age of 25 when the vehicle is collected, a young driver surcharge will apply to each of you. There are no age restrictions as long as you have held a full valid driver's licence for at least ½ year.
How big is Ibiza?
Ibiza is 21 miles in length and just 12 miles wide. With your Ibiza hire car, you will be able to drive from one end of the island to the other in less than 1 hour.
What measures does Avis take to ensure my safety?
We take the utmost care to provide the highest levels of safety at our service locations and in our vehicles. This includes using counter screens to observe social distancing protocols at our car hire Ibiza Airport service location, providing hand sanitisers, and carefully cleaning every vehicle before each rental – with special attention paid to steering wheels, indicators, dashboards, hand grips, in-car entertainment controls, cup holders, centre consoles, and all door handles both inside and out. Read the Avis Safety Pledge for more info.