Welcome to Avis
Car Rental Center
Bristol Airport
Bristol
BS48 3DW

Opening Times
Monday

07:30 - 22:30

Tuesday

07:30 - 20:00

Wednesday

07:30 - 20:00

Thursday

07:30 - 22:30

Friday

07:30 - 22:30

Saturday

08:00 - 15:00

Sunday

10:00 - 22:30
24-hour drop-off

Rent a car at Bristol Airport with confidence. Full, fee-free cancellation guaranteed
Touch down at Bristol Airport and explore the West Country. Catch one of the courtesy buses that depart from the forecourt for a quick transfer to the Avis car rental location.

Once your car hire is all set, it's time to start discovering all that Bristol has to offer. If you're planning a short trip, be sure to take in this lively city with its traditional yet innovative feel, food and music scene, art collectives, beautiful houses and independent cafes.

If you're in Bristol for longer, why not take your rental car on a day trip to one of the nearby beaches or discover the neighbouring places such as Bath and the Cotswolds.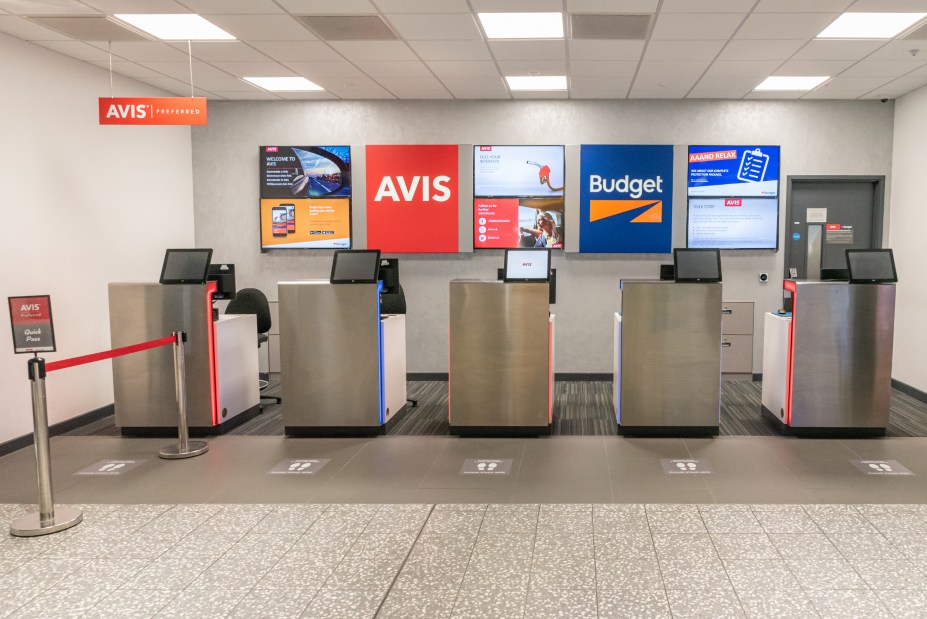 Top car hire locations around Bristol Airport
Discover cars to rent at Bristol Airport
What kind of vehicle do you need? A large SUV for a big family? An eco-friendly compact car to zip around the city? Whatever you're looking for, Avis car hire at Bristol Airport will have you covered. Our vehicles offer practicality, performance and comfort, so you can enjoy your trip as much as possible. Get in touch for more information about the exact models that are available.
Plan your journey from Bristol Airport
After you land at Bristol Airport, you can be in the town centre in under half an hour, depending on traffic along the A38. Once you're there, you can check out one of the city's many charming cafes or restaurants, for a spot of lunch or dinner. Or why not try a nice walk down the banks of the River Avon, which is a focal point of the city.
Rainy days are ideal for strolling around one of the many galleries and museums around town, or why not check out some outdoor graffiti, in the home town of iconic contemporary artist Banksy. If architecture is more your thing, Bristol Cathedral is a must-see. And don't forget the impressive engineering feat that is Clifton Suspension Bridge. Designed by world-famous engineer Isambard Kingdom Brunel, it allows traffic to pass over the river and Avon Gorge.
Top tips for driving in Bristol
Which side of the road?
In the United Kingdom, please drive on the left side of the road.

Country driving laws
Mobile phones may only be used with a headset or hands-free device
There is a congestion charge payable when driving in London
Use the outside lane to overtake on motorways and dual carriageways
Zebra crossings (black and white stripes on the road) give pedestrians right of way to cross the road

Speed Limits

All speed signs will be in mph.

For a standard Avis rental vehicle with no trailers:
Urban areas: 30 mph (48 km/h)
Motorways: 70 mph (112 km/h)
Rural areas: 60 mph (96 km/h)

Unless indicated by road signs.

Child safety / Seatbelt laws
It is compulsory for the driver and all passengers to wear a seatbelt
Children aged under 12 or less than 135cm tall must be seated in an appropriate child restraint for their size

Please note - It is the child's parent / guardian or vehicle renter's responsibility to fit the
child seat.

This road rules information is for provided for general guidance only. We endeavour to keep the information up to date and accurate, but any reliance you place on this information is at your own risk.
Beyond Bristol with your hire car
If you drive outside Bristol, you have the whole south of England awaiting you. You're not far from the coast, if you want a relaxing beach getaway, and the city is also a short drive from some other impressive cities.
Bath
Just under 15 miles away from Bristol, you'll find the historic city of Bath. Its preserved Roman spas, and architecture from medieval and Georgian times make it a hugely popular tourist destination.
Stonehenge
Driving an hour outside of Bristol along the A30 will get you to Salisbury Plain, which is the site of this iconic stone circle structure. The ancient structure dates back over 3,000 years, to the Neolithic Age.
Weston-Super-Mare
This traditional British seaside spot is only half an hour's drive from Bristol. It's a quaint town, mostly famous for its long pier and vast beach. It also offers plenty of family-friendly activities like parks and amusement arcades.
Why choose Avis for your Bristol Airport car hire?
Fully flexible
Enjoy fee-free flexible booking with full cash refunds and no vouchers.

Savings on coverage
When you choose Avis Inclusive you can experience total peace of mind with no extras or surprises. Pay one upfront price for free Roadside Assistance Plus and 25% discount on comprehensive zero-excess cover.

Loyalty benefits
Join our free loyalty programme Avis Preferred, and benefit from priority service, discounts and more.
Safety first
From our well-maintained fleet to protecting your data, we take safety seriously. That's why we've partnered with Dettol® to ensure both hygienic rental locations and thoroughly cleaned vehicles.

Faster collection
Save time at the counter by registering your details in advance with our simple and free QuickPass. You could be on the road sooner than you think.

VIP treatment
Get priority counter service on collection with Avis Preferred. At our larger locations you can use our Avis app to go straight to your car where the keys will be waiting for you.
Bristol Airport car rental FAQs
How do I collect my hire car at Bristol airport?
On arrival at Bristol Airport catch one of the courtesy buses that depart from the forecourt for a quick transfer to the Avis car rental location.
Can I return a rental car to the airport?
If you've rented a car from a different Avis hub but wish to return it at Bristol Airport, then you must arrange your return prior to the commencement of your rental agreement. If you return your car to Bristol Airport without specifying in your rental contract, a fee will apply.
Do I need winter tyres to drive in the UK?
No, there is no legal requirement for passenger cars in the United Kingdom to be equipped with winter tyres. However, most of our cars in our Bristol rental hubs will have winter tyres available.