Welcome to Avis
Aeroport Nice Cote D Azur T2
Aerogares 2
Nice
06281

Opening Times
Monday

07:00 - 23:59

Tuesday

07:00 - 23:59

Wednesday

07:00 - 23:59

Thursday

07:00 - 23:59

Friday

07:00 - 23:59

Saturday

07:00 - 23:59

Sunday

07:00 - 23:59
24-hour drop-off

Rent a car at Nice Airport with confidence. Full, fee-free cancellation guaranteed
Nice Côte d'Azur Airport is the second largest airport in the country and a gateway to the sparkling French Riviera and verdant Alpes-Maritimes. We offer flexible, one-way options, so you can pick up your hire car at Nice airport and drop it off at a different location at the end of your trip.
Our Nice Airport car rental desks can be easily reached from either Terminals 1 or 2. If you are meeting us at Terminal 1, head towards Gates A1 and A2 and find us to the right of the information desk. Alternatively, if you are landing at Terminal 2, our team will meet you between Gates A2 and A3. From here, your vehicle can be collected from the Car Rental Centre behind the P5 car parking zone near to Terminal 2
Our 24-hour drop-off service ensures your departure is quick and easy. If you wish to collect your hire car outside of our office hours between 6.30am and 11.59pm, please let us know in advance and we will arrange it for you.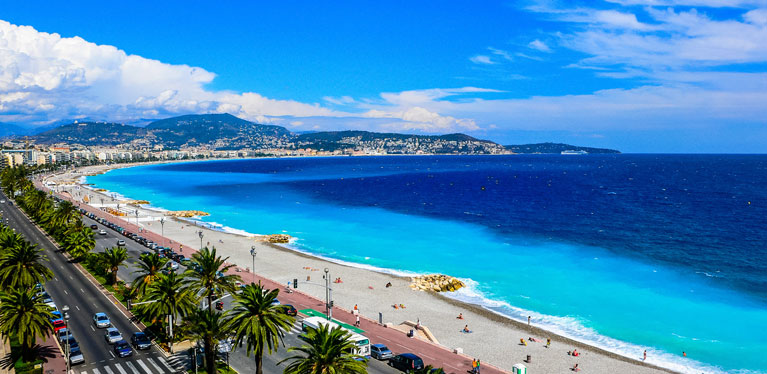 Top car hire locations around Nice Airport
Discover cars to rent at Nice Airport
The moment we hand you the keys is when it all begins. You're at the capital of the Riviera with the open road ahead, ready to explore. Whether you fancy a snappy hatch for an urban jaunt, a classy coupé for a romantic road trip, or a spacious people carrier for a family holiday, unlock the perfect car.
Ramp it up and go Prestige … Avis offers a compelling range of seriously luxurious cars in France. From Porsches to Mini Coopers, BMWs to Mercedes, cruise through the country in one of our speciality models.

And, you don't have to drive full-circle: make the most of one way car hire across France.
Plan your journey from Nice Airport
Founded by the ancient Greeks of Marseille in around 350 BC and named after Nike, the Grecian goddess of victory, Nice has lured everyone from aristocrats to artists. Today, it is the second largest French city in the Provence-Alpes-Côte d'Azur region, with a population surpassing one million and a flourishing art, nightlife and fashion scene.
With mild winters and hot summers, Nice's balmy climate entices visitors year-round. Stroll along the Promenade des Anglais, a five-mile palm and pergola-lined stretch skirting the Baie des Anges, or uncover the old town of Vieux Nice. Its bustling food stalls, pavement-spilled brasseries and busy oyster bars marry under a colourful array of awnings and trees at the Cours Saleya flower market.
The works of Henri Matisse and Marc Chagall showcased in Nice's magnificent musées will captivate modern art enthusiasts. For insights into how the nobility lived in this glamorous enclave in the early 1900s, the white-marbled Musée Masséna and gold and blue-turreted Russian Orthodox Cathedral are exceptional places to start.
Top tips for driving in Nice
Which side of the road?
In France, please drive on the right side of the road.

Country driving laws
Mobile phones may only be used with a hands-free device. Do not use headphones or earpieces
Bus lanes are reserved exclusively for buses, taxis and bicycles
In towns and rural areas, on minor roads and where there is no clear indication of right of way, it may be prudent to give way to traffic coming from the right ("priorité a droite")
It is recommended that drivers use dipped headlights at all times

Speed limits

All speed signs will be in km/h.

For a standard Avis rental vehicle with no trailer:
Urban areas: 50 km/h (31 mph)
4-lane expressways (rural areas): 110 km/h (68 mph)
Rural areas: 80 km/h (50 mph)
Motorways: 130 km/h (80 mph)

Unless indicated by road signs. Be aware of changes to speed limits displayed on road signs due to adverse weather conditions.

Child safety / Seatbelt laws
It is compulsory for the driver and all passengers to wear a seatbelt
Children weighing up to 9 kg must travel in a rear-facing car seat, in the back of the car only
Children aged under 10 and weighing less than 36 kg must be seated in appropriate child restraint

Please note - It is the child's parent/guardian or vehicle renter's responsibility to fit the child seat.

This road rules information is for provided for general guidance only. We endeavour to keep the information up to date and accurate, but any reliance you place on this information is at your own risk.
Nice travel features and guides
Beyond Nice with your hire car
Nice Airport is a mere 5km away from the dynamic city centre and within comfortable driving distance of Southern France's pebbled beaches, hilly national parks and glamorous metropolises.
Journey along the clifftop Corniches to the chic neighbouring city of Cannes and St Tropez's pretty coves in under two hours, or enter the opulent realm of Monaco, the second smallest country in the world after the Vatican City, in just 30 minutes. Here you can admire the sprawl of the Prince's Palace before trying your luck at one of the casinos opposite the dazzling superyachts docked in the marina.
Pitted by deep valleys and home to the 3,143m-high Cime du Gélas, outdoorsy types can escape the stylish hives of the Côte d'Azur by heading into the Parc National du Mercantour. Popular summer pastimes include hiking and cycling, while in the winter the region is a major hit with skiers and snowboarders.
Further inland, lose yourself in undulating rural pastures, medieval walled towns, lavender groves and farmer's markets offering spectacular cheeses and pastries. Provence offers the potential for a very memorable road trip around the world's most visited country when you hire a car with Avis at Nice Airport.
Why choose Avis for your Nice Airport car hire?
Fully flexible
Enjoy fee-free flexible booking with full cash refunds and no vouchers.

Savings on coverage
When you choose Avis Inclusive you can experience total peace of mind with no extras or surprises. Pay one upfront price for free Roadside Assistance Plus and 25% discount on comprehensive zero-excess cover.

Loyalty benefits
Join our free loyalty programme Avis Preferred, and benefit from priority service, discounts and more.
Safety first
From our well-maintained fleet to protecting your data, we take safety seriously. That's why we've partnered with Dettol® to ensure both hygienic rental locations and thoroughly cleaned vehicles.

Faster collection
Save time at the counter by registering your details in advance with our simple and free QuickPass. You could be on the road sooner than you think.

VIP treatment
Get priority counter service on collection with Avis Preferred. At our larger locations you can use our Avis app to go straight to your car where the keys will be waiting for you.
Nice Airport car rental FAQs
What is the best car to hire in Nice?
If you are staying in the city centre, you may feel more comfortable in a compact model that will be easy to park. Heading out of town on a longer trip? Consider a snazzy convertible from our Prestige range or give your family a comfortable ride in an SUV or family-sized saloon.
Can I return a rental car to the airport?
If you've rented a car from a different Avis hub but wish to return it at Nice Airport, then you must arrange your return prior to the commencement of your rental agreement. If you return your car to the airport without specifying in your rental contract, a fee will apply.
Do I need winter tyres to drive in France?
No, there is no legal requirement for passenger cars in France to be equipped with winter tyres. However, most of our cars in our rental hubs in Nice and elsewhere in the country will have winter tyres available. They're definitely recommended if you're planning on staying in the country for a while and heading further north, towards the French Alps.