Welcome to Avis
Aeroport Marseille Provence
Les Lavandins Cs 6000
Marignane Cedex
13728

Opening Times
Monday

07:00 - 23:59

Tuesday

07:00 - 23:59

Wednesday

07:00 - 23:59

Thursday

07:00 - 23:59

Friday

07:00 - 23:59

Saturday

07:00 - 23:59

Sunday

08:00 - 23:59
24-hour drop-off

Rent a car at Marseille Provence Airport with confidence. Full, fee-free cancellation guaranteed
The oldest city in France has a buzz and charm that is hard to beat. And few airports offer such easy access to such an array of wonderful places. Drive off to the French Riviera, southern France and the magnificent coastline around Marseille.
The airport is situated on the D20 at Marignane and is clearly signposted from the A7 motorway, which is the main access route. It lies about 17 miles north-west of the city centre, 16 miles from Aix-en-Provence and 56 miles from Toulon.
Our desk is located in the main terminal building. You'll find us just as you come through passport control and baggage reclaim. We also have an office located directly in the car park.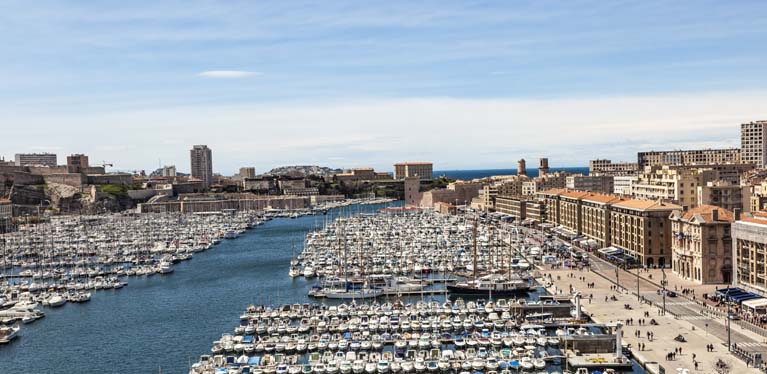 Top car hire locations around Marseille Airport
Discover cars to rent at Marseille Airport
The moment you arrive, we've got you covered. Whether you fancy a cute compact for an urban jaunt, an elegant saloon for a business trip or a spacious people carrier for a family holiday, your perfect vehicle awaits.We'll pack all the extras you need to get the most from your venture – from sat nav and super-fast mobile Wi-Fi, to our tailored range of child seats. And, you don't have to drive full circle: why not make the most of one way car hire?
Plan your journey from Marseille Airport
Marseille Airport is located around 27 km from the town centre, so you can be in the centre of this coastal melting pot within half an hour, if traffic allows.
Once you're in Marseille, there's plenty to see. The town's historic Old Port is one of Europe's largest harbours, and it's overlooked by the Basilica of Notre-Dame-de-la-Garde, a Catholic church built in the 19th century atop ancient ruins. There are plenty of impressive restaurants around town, where you can sample the city's iconic Bouillabaisse seafood dish, amongst other local delicacies. And if you have time, you should check out the famous Opera house. It's built in the Classical style, and was the most prestigious cultural centre of Marseille until the 1970s.
Top tips for driving in Marseille
Which side of the road?
In France, please drive on the right side of the road.

Country driving laws
Mobile phones may only be used with a hands-free device. Do not use headphones or earpieces
Bus lanes are reserved exclusively for buses, taxis and bicycles
In towns and rural areas, on minor roads and where there is no clear indication of right of way, it may be prudent to give way to traffic coming from the right ("priorité a droite")
It is recommended that drivers use dipped headlights at all times

Speed limits

All speed signs will be in km/h.

For a standard Avis rental vehicle with no trailer:
Urban areas: 50 km/h (31 mph)
4-lane expressways (rural areas): 110 km/h (68 mph)
Rural areas: 80 km/h (50 mph)
Motorways: 130 km/h (80 mph)

Unless indicated by road signs. Be aware of changes to speed limits displayed on road signs due to adverse weather conditions.

Child safety / Seatbelt laws
It is compulsory for the driver and all passengers to wear a seatbelt
Children weighing up to 9 kg must travel in a rear-facing car seat, in the back of the car only
Children aged under 10 and weighing less than 36 kg must be seated in appropriate child restraint

Please note – It is the child's parent/guardian or vehicle renter's responsibility to fit the child seat.

This road rules information is for provided for general guidance only. We endeavour to keep the information up to date and accurate, but any reliance you place on this information is at your own risk.
Beyond Marseille with your hire car
This port city in the south of France is ideally located for a number of unforgettable road trips. Car hire in Marseille will give you access to a number of picturesque French towns and bustling cities, and you can even make the trip across the Pyrenees into Spain if you have the time.
Avignon
Just over an hour up the A7 from Marseille is this historic Provencal city. Head on over to Place de L'Horloge, the main square, to get a feel for the city. If it's a nice day, Park Durocher will give you great views of the river. And don't forget the famous "pont d'Avignon", the bridge that features in a popular French children's nursery rhyme.
Arles
Head to Arles if you want to experience a unique southern European culture that's notably distinct from the rest of France. It's the town where Vincent Van Gogh painted many of his most famous works, and it has an ancient Roman amphitheatre, along with numerous other well-preserved buildings from the period.
French Riviera
If you head eastwards from Marseille, you can explore the world-famous Riviera, taking in such glitzy cities as Nice and Cannes, as well as some gorgeous beach resorts.
Why choose Avis for your Marseille Airport car hire?
Fully flexible
Enjoy fee-free flexible booking with full cash refunds and no vouchers.

Savings on coverage
When you choose Avis Inclusive you can experience total peace of mind with no extras or surprises. Pay one upfront price for free Roadside Assistance Plus and 25% discount on comprehensive zero-excess cover.

Loyalty benefits
Join our free loyalty programme Avis Preferred, and benefit from priority service, discounts and more.
Safety first
From our well-maintained fleet to protecting your data, we take safety seriously. That's why we've partnered with Dettol® to ensure both hygienic rental locations and thoroughly cleaned vehicles.

Faster collection
Save time at the counter by registering your details in advance with our simple and free QuickPass. You could be on the road sooner than you think.

VIP treatment
Get priority counter service on collection with Avis Preferred. At our larger locations you can use our Avis app to go straight to your car where the keys will be waiting for you.
Marseille Airport car rental FAQs
How do I collect my hire car at Marseille Airport?
When you land at Marseille Airport, head from the Arrivals hall to our desk. One of our members of staff will process your booking, and then you may proceed to collect your vehicle at the Car Rental Centre.
Can I return a rental car to the airport?
If you've rented a car from a different Avis hub but wish to return it at Marseille Airport, then you must arrange your return prior to the commencement of your rental agreement. If you return your car to Marseille Airport without specifying in your rental contract, a fee will apply.
Do I need winter tyres to drive in France?
No, there is no legal requirement for passenger cars in France to be equipped with winter tyres. However, most of our cars in our Marseille rental hubs will have winter tyres available.