Welcome to Avis

Rent a car in Glasgow with confidence. Full, fee-free cancellation guaranteed.
Our Glasgow car rental services can be found in the arrivals terminal of Glasgow Airport, near the Glasgow Central Station and in the Glasgow's city centre. Our efficient teams are waiting to check you in wherever you decide to collect your vehicle, so you can get on and enjoy your trip.

The most populated city in Scotland, Glasgow's streets thrum with vibrant energy and offer visitors a buzzing nightlife, music and art scene. Its position in the west of Scotland's scenic Lowlands makes Glasgow an ideal launchpad for forays into the wilds of the Inner Hebrides, as well as road trips further north to its famed whisky distilleries. By far the best way to uncover the country's atmospheric national parks, misty lochs and soaring peaks is with a hire car.Pick up your hire car in Glasgow city centre or at Glasgow Airport and be on your way in no time.

Embarking on a one-way journey in your hire car? Let us know your destination in advance and our teams will ensure that your rental vehicle drop-off is seamless, wherever you decide to meet us.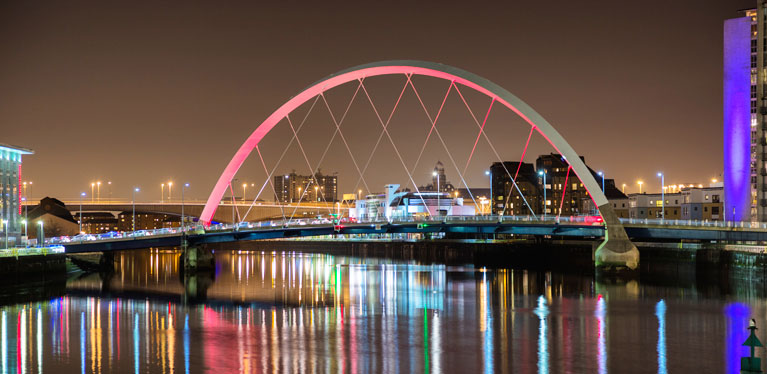 Popular car rental locations in Glasgow
Popular airport locations in and around Glasgow
Explore Glasgow with your hire car
Evolving from a nondescript fishing village on the River Clyde into the biggest sea port in the UK, Glasgow has an industrious past. It witnessed the construction of the Roman Antonine Wall – the central belt of Scotland erected in AD 140 to segregate Britannia from Caledonia (the Latin name for Scotland). Its notable University of Glasgow, founded in 1451, was a pioneer in the Scottish Enlightenment. And the city nurtured a booming transatlantic trade with the United States and West Indies in the 18th and 19th centuries.
Now the fourth most-visited city in Britain, its unique aesthetic marries Victorian grandeur with Charles Rennie Mackintosh's Art Nouveau Glasgow Style. Stroll through George Square to admire the towering 18th-century City Chambers, and chase some serious sightseeing with a wee dram at one of the city's numerous lively music venues. Glasgow was named UNESCO City of Music in 2008, testament to its appreciation for a good live act and diverse range of musical genres – including the famed Scottish Opera.
Beer enthusiasts will enjoy a pint at Tennent's Wellpark Brewery, Scotland's oldest, while whisky aficionados might prefer a tour of Glengoyne distillery, a 40-minute drive north of Glasgow. Local Glaswegian cuisine is not for the faint-hearted: haggis, black pudding, chip sandwiches and, of course, the ubiquitous deep-fried Mars bar. For something a little more highbrow, Cail Bruich in the West End serves Scottish cuisine with a French bent.
Top tips for driving in Glasgow
Which side of the road?
In the United Kingdom, please drive on the left side of the road.

Country driving laws
Mobile phones may only be used with a headset or hands-free device
Use the outside lane to overtake on motorways and dual carriageways
There is a congestion charge payable when driving in London
Zebra crossings (black and white stripes on the road) give pedestrians right of way to cross the road

Speed Limits
All speed signs will be in mph.

For a standard Avis rental vehicle with no trailers:
Urban areas: 30 mph (48 km/h)
Rural areas: 60 mph (96 km/h)
Motorways: 70 mph (112 km/h)
Unless indicated by road signs.

Child safety / Seatbelt laws
It is compulsory for the driver and all passengers to wear a seatbelt
Children aged under 12 or less than 135cm tall must be seated in an appropriate child restraint for their size

Please note, it is the child's parent/guardian or vehicle renter's responsibility to fit the child seat.

This road rules information is for provided for general guidance only. We endeavour to keep the information up to date and accurate, but any reliance you place on this information is at your own risk.
If you want to learn more about driving your hire car in Glasgow, see the full United Kingdom Road Rules guide.
Road Trips from Glasgow
For an adventure into the Lowlands, the Trossachs National Park, home to Loch Lomond – the largest stretch of water in Scotland, will be your first most arresting encounter with the Scottish wilds. A 50-minute drive from Glasgow, it's here that nature-lovers can bliss out on the area's spectacularly diverse geography. The 21 Munros in this area, reaching summits higher than 3,000 ft, are home to more than 50 special nature conservation sites and 22 sparkling lochs.
Fort William is located a two-hour drive further north. Breeze past pretty waterfalls and through heather-covered glens and ancient hunting forests to reach this settlement on the eastern shore of pretty Loch Linnhe. It's known as the gateway to Ben Nevis, the tallest summit in the British Isles.
Head east into the Scottish Highlands to discover the expansive peaks of Cairngorms National Park, popular with skiers and home to the quaint town of Aviemore. Venture further north, and you'll reach the picturesque, coved coastline of Inverness.
Hiring a car in Glasgow with Avis guarantees you access to this remarkable region's most far-flung scenic sites.
What is it like driving in Glasgow?
Roads in and around Glasgow, like the rest of the United Kingdom, are generally in good condition. Driving in the city is relatively easy despite traffic at rush hours. On street parking can be difficult but the city has plenty of car parks.
Is it expensive to hire a car in Glasgow?
Avis offers competitive rates for car hire in Glasgow no matter the season. Find the best car rental deals on our website and enjoy flexible booking options. Use our online booking form to compare prices for your chosen dates.
How old do you have to be to hire a car in Glasgow?
Anyone looking to rent a car in Glasgow must be at least 23 and be in possession of a full UK or EU driving licence for over a year. Age limit is restricted to certain vehicle types, and there is a young driver surcharge fee for most vehicles.
What are the driving rules in Glasgow?
Glasgow has the same driving rules as the United Kingdom. If you want to know more about driving in Glasgow, see the full United Kingdom Road Rules guide.
Other Avis services in Glasgow
Take a top-of-the-range Avis Prestige car out for a road trip with high style. We stock a limited number of high-calibre Range Rovers, executive Jaguars and sleek Mercedes. We also offer automatic car hire in Glasgow – check out our best rates online.
Other Avis services in Glasgow
Take a top-of-the-range Avis Prestige car out for a road trip with high style. We stock a limited number of high-calibre Range Rovers, executive Jaguars and sleek Mercedes. We also offer automatic car hire in Glasgow – check out our best rates online.
Why choose Avis for your Glasgow car hire?
Fully flexible
Enjoy fee-free flexible booking with full cash refunds and no vouchers.

Savings on coverage
When you choose Avis Inclusive you can experience total peace of mind with no extras or surprises. Pay one upfront price for free Roadside Assistance Plus and 25% discount on comprehensive zero-excess cover.

Loyalty benefits
Join our free loyalty programme Avis Preferred, and benefit from priority service, discounts and more.

Safety first
From our well-maintained fleet to protecting your data, we take safety seriously. That means before each rental our vehicles are safety checked and cleaned in line with hygiene protocols.


Faster collection
Save time at the counter by registering your details in advance with our simple and free QuickPass. You could be on the road sooner than you think.

VIP treatment
Get priority counter service on collection with Avis Preferred. At our larger locations you can use our Avis app to go straight to your car where the keys will be waiting for you.