Welcome to Avis

Rent a car in London with confidence. Full, fee-free cancellation guaranteed.
Are you looking to navigate one of the most popular cities in the world, or set off on a road trip to explore the rest of the country? Avis is here to help. With an abundance of locations around London, picking up your hire car in London is easy. Rent a car that best suits your trip using our straightforward booking panel. Hiring a car in London has never been easier.
Whether you're arriving in London via train or plane, we have you covered with car rental locations across the city. Flying in or out of London? No problem. We have easily-accessible, 24-hour vehicle drop-off locations at Gatwick Airport South, London City Airport and London Heathrow (T3–4 and T5), as well as at London Victoria Station and St. Pancras Train Station. And with full, fee-free cancellation guaranteed, all you have to do is look forward to hitting the road.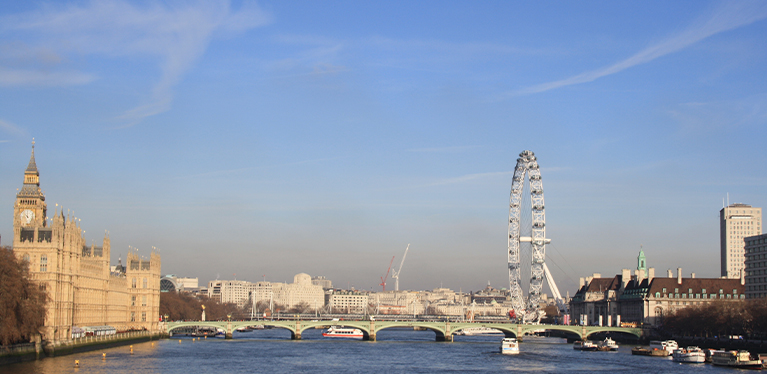 Popular car rental locations in London
Popular airport locations in and around London
Explore London with your hire car
The UK capital has so much to offer. Park your London car rental in the city and explore numerous attractions such as world-class museums, landmarks, shops and a wide variety of restaurants.
Popular Attractions
It wouldn't be a trip to London without a visit to the city's most popular tourist attractions. Luckily, many of London's hot spots are conveniently car-friendly. If you're planning to visit the King at Buckingham Palace, you can park at the safe and secure Q-Park Victoria – just a short walk away from the palace itself. Or if royal jewels pique your interest, The Tower of London is only a short, scenic walk away from secure underground parking via The Circle. Parking at Q-Park Westminster is also perfect for hitting a few hot-spots at once: take in the iconic Big Ben, Palace of Westminster, Downing Street and Whitehall in one go.
Museums and Culture
London is sometimes described as a city of villages. It's made up of distinct neighbourhoods – from upmarket Chelsea and Hampstead, to decadent Soho and edgy Shoreditch. Many neighbourhoods boast a variety of museums, like the Tate Modern in Southwark or the National Portrait Gallery in Covent Garden. On your trip, make sure to visit the independent bookshops and delicatessens of Notting Hill, as well as see the famous blue door from the movie, in west London. You can also visit east London by taking a cruise boat out to Greenwich to visit the Cutty Sark and Maritime Museum, the Meridian line and the Royal Observatory or simply cruise there on your own in your Avis rental car.

Shopping
Don't miss the opportunity to take advantage of London's ample retail options from restaurants to street markets. There is the ever-famous Oxford Street for the traditional London experience but there's much more to the city. Try Old Spitalfields market or Brick Lane in east London for new and vintage clothing, furniture and bric-a-brac; Camden Lock in north London for original designer clothes, one-off artwork and furnishings; and Borough Market in south London for an extensive selection of international foods. If your interest lies in antiques, head over to Portobello Road, West London, on a Saturday and explore the treasure of one of London's most renowned streets.

Nightlife
While the capital of the United Kingdom is alive during the day it is no less busy at night. London's Theatreland, centred on Shaftesbury Avenue, is famous worldwide. The city has numerous music venues which frequently attract world class acts and performers. Be sure to make the most of the cultural experiences on offer and enjoy the swift travel experience with Avis while you are in London.
Top tips for driving in London
Which side of the road?
In the United Kingdom, please drive on the left side of the road.

Country driving laws
Mobile phones may only be used with a headset or hands-free device
Use the outside lane to overtake on motorways and dual carriageways, however, only overtake on the right side of the road. Overtaking on the left could result in prosecution for dangerous driving.
There is a congestion charge payable when driving in London
Zebra crossings (black and white stripes on the road) give pedestrians right of way to cross the road
Speed Limits
All speed signs will be in miles per hour (mph).
For a standard Avis rental vehicle with no trailers:

Urban areas:
lowest 20 mph (31 km/h, for congested city centres like central London) and usually 30mph (48km/h)
Motorways: 70 mph (112 km/h)
Rural areas: 60 mph (96 km/h). Unless indicated by road signs.

Child safety / Seatbelt laws
It is compulsory for the driver and all passengers to wear a seatbelt
Children aged under 12 or less than 135cm tall must be seated in an appropriate child restraint for their size

Please note, it is the child's parent / guardian or vehicle renter's responsibility to fit the child seat.
If you want to learn more about driving in London, see the full UK Road Rules guide.
Road trips from London
If you fancy a day trip out of the centre of London, why not head off in your London car rental to one of these destinations close by?

Windsor
A little over an hours' drive from London, via the M4, is the riverside town of Windsor. Visit the magnificent Windsor castle, the family home of British kings and queens for almost 1,000 years and an undeniable piece of British history. Take a stroll along the Long Walk to the Copper Horse statue, for great views of the castle and surrounding area. Cross the town bridge over to Eton for a stroll along the high street, lined with medieval buildings and inns, and a catch a glimpse of the famous school, founded by King Henry VI in 1440.

Henley-on-Thames
Famous for the annual Henley Royal Regatta, Henley is a picturesque town you can spend hours exploring. Go for afternoon tea and cruise along the river bank watching the boats sail by. From Central London it's about an hour and 30 minutes' drive, via the M4. A relaxed 37 mile trip in a comfortable Avis hire car.

Stonehenge
If you've never seen Stonehenge, the site is certainly worth a day trip from London. Shrouded in mystery and intrigue, the origins and significance of Stonehenge are largely unknown. Was it a burial ground, place of ritual or worship? Take a wander around the iconic site and decide for yourself. Located on Salisbury Plain in Wiltshire, Stonehenge is about a 90-mile drive from London proper. Combine the trip with a visit to the nearby town of Bath – a city in Somerset renowned for its Roman-built baths and revered for its heritage, archaeology and outstanding examples of ancient engineering.
Eager to mosey through the British countryside and delight in all that London's surrounds have to offer? With an Avis hire car in London the road is your oyster.
When should I visit London?
If you visit London in spring, you can enjoy longer daylight hours and miss the frenzy of summer tourists. If you decide to visit London during peak season, you can escape the sweltering heat with our air-conditioned London car rentals: the perfect way to comfortably navigate the city and its surrounds. December is a beautiful time of year to visit with Christmas celebrations and twinkling lights.
How do I choose the right rental car for my stay in London?
Finding the perfect London rental car will depend entirely on your travel plans and individual needs. With us, you will find a comprehensive range of rental cars for your every need – whether you're looking for a compact car to cruise through London's busy streets, a large car ideal for moving the entire family, or a luxury car perfect for impressing clients while on business trips.
What are the age requirements for hiring a rental car in London?
To drive our vehicles, you – and all your drivers – must be at least 21 years old and have held a full valid driver's licence for at least ½ year at the start of your rental. If you – or one of your drivers – are under the age of 25 when the vehicle is collected, a young driver surcharge will apply to each of you. There are no age restrictions as long as you have held a full valid driver's licence for at least ½ year.
Can I pick up my rental car in London and return it at another location?
Yes, with the Avis one-way rental that's not a problem. Pick up your one-way rental car at one of our locations throughout the United Kingdom or Europe and return it at another rental location at the end of your trip.
Other Avis services in London
Weekend car hire in London
Avis makes weekend car hire in London simple. If you're looking for weekend car hire in London, Avis not only gives you access to a superb range of vehicles, but our car hire branches are conveniently located across the city, as well as at airports and train stations. Simply select the pick-up location in London that suits you best to get you started on your trip.
Avis van hire in London
What do you need to shift? Our new van rental fleet spans small hire vans, perfect for that weekend DIY project; medium vans, well-suited to hauling rolls of carpet, heavy floor tiles, or moving the kids to university; and large hire vans to accommodate some or all your worldly goods.
Why choose Avis for your London car hire?
Fully flexible
Enjoy fee-free flexible booking with full cash refunds and no vouchers.

Savings on coverage
When you choose Avis Inclusive you can experience total peace of mind with no extras or surprises. Pay one upfront price for free Roadside Assistance Plus and 25% discount on comprehensive zero-excess cover.

Loyalty benefits
Join our free loyalty programme Avis Preferred, and benefit from priority service, discounts and more.
Safety first
From our well-maintained fleet to protecting your data, we take safety seriously. That means before each rental our vehicles are safety checked and cleaned in line with hygiene protocol.

Faster collection
Save time at the counter by registering your details in advance with our simple and free QuickPass. You could be on the road sooner than you think.

VIP treatment
Get priority counter service on collection with Avis Preferred. At our larger locations you can use our Avis app to go straight to your car where the keys will be waiting for you.