Welcome to Avis
Car Rental Village
Manchester Airport
Manchester
M22 5WH

Opening Times
Monday

06:00 - 22:00

Tuesday

06:00 - 22:00

Wednesday

06:00 - 22:00

Thursday

06:00 - 22:00

Friday

06:00 - 22:00

Saturday

06:00 - 20:00

Sunday

06:00 - 22:00
24-hour drop-off

Rent a car at Manchester Airport with confidence. Full, fee-free cancellation guaranteed
One of the busiest airports in the United Kingdom, Manchester Airport is an international hub connecting you to all that Northern England has to offer.
With its rich history as the first industrialised city in the world, Manchester has a lot to offer – from its unique heritage to its thriving music, arts and sports scenes. Explore Manchester city or head off in your Avis car hire to explore the quintessentially British countryside of Northern England.
Our Avis car rental Manchester branch is ready to assist, with 24-hour drop-off and a fast, efficient check-in service.
For those wishing to return their hire car outside of opening hours, please let us know in advance and we'll tell you what you will need to do.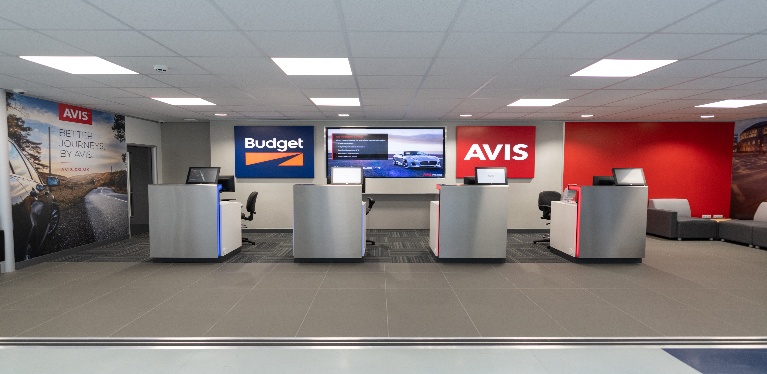 Getting to and from Manchester Airport
Train - From Piccadily train station you can get directly to the airport. This will take 20 minutes and costs estimate of £5.
Tram - Multiple located around the city, this will take about 30 minutes and estimated to cost £4.
Shuttle bus - From the city centre take the National Express, this will take about 25 minutes with an estimated cost of £5.
Alternatively, you can take the Skyline local bus from the city centre, this will take 50 minutes with a estimated cost of £3.
Taxi/Uber - located around the city centre at a reasonable price.

Once you've collected your Avis car rental from Manchester Airport, it's time to head to Manchester and see what all the fuss is about.
A car ride from Manchester Airport to Manchester's lively city centre will take you about 20 minutes.
Manchester city centre is 9 miles north of Manchester Airport. Manchester airport is next to the M56, with easy links to the M6, M60 and M62.
Our friendly staff look forward to welcoming you to Avis at Manchester Airport.
Cars to rent at Manchester Airport
Our large range of Manchester car rentals means that no matter where the road takes you, you'll have a vehicle that's right for you. If you're planning a family getaway through the Lake District or a road trip up to Harrogate, our mid-size or larger vehicles might be just what you're looking for. Or perhaps you're planning to drive through the busy streets of Manchester? Our range of small cars has got you covered. Browse our Manchester car hire fleet to find the ideal car for your journey.
Why choose Avis for your Manchester Airport car hire?
Fully flexible
Enjoy fee-free flexible bookings with cash refunds and no vouchers.

Savings on coverage
When you choose Avis Inclusive you can experience total peace of mind with no extras or surprises. Pay one upfront price for free Roadside Assistance Plus and 25% discount on comprehensive zero-excess cover.

Loyalty benefits
Join our free loyalty programme Avis Preferred, and benefit from priority service, discounts and more.
Safety first
From our well-maintained fleet to protecting your data, we take safety seriously. That means before each rental our vehicles are safety checked and cleaned in line with hygiene protocols.

Faster collection
Save time at the counter by registering your details in advance with our simple and free QuickPass. You could be on the road sooner than you think.

VIP treatment
Get priority counter service on collection with Avis Preferred. At our larger locations you can use our Avis app to go straight to your car where the keys will be waiting for you.
Top tips for driving in Manchester
Which side of the road?
In the United Kingdom, please drive on the left side of the road.

Country driving laws
Mobile phones may only be used with a headset or hands-free device
Use the outside lane to overtake on motorways and dual carriageways
There is a congestion charge payable when driving in London
Zebra crossings (black and white stripes on the road) give pedestrians right of way to cross the road

Speed Limits

All speed signs will be in mph.

For a standard Avis rental vehicle with no trailers:
Urban areas: 30 mph (48 km/h)
Rural areas: 60 mph (96 km/h)
Motorways: 70 mph (112 km/h)

Unless indicated by road signs.

Child safety / Seatbelt laws
It is compulsory for the driver and all passengers to wear a seatbelt
Children aged under 12 or less than 135cm tall must be seated in an appropriate child restraint for their size

Please note - It is the child's parent / guardian or vehicle renter's responsibility to fit the
child seat.

This road rules information is for provided for general guidance only. We endeavour to keep the information up to date and accurate, but any reliance you place on this information is at your own risk.

Beyond Manchester with your hire car
While the bustling city centre of Manchester boasts undeniable charm, you may feel inclined to explore beyond the bricks and mortar to see what the British countryside has to offer.
Hop in your Avis hire car and take a daytrip to the Peak District – a national park covering an impressive 555 square miles to the southeast of the city. Here, you'll find steep limestone valleys and dramatic gritstone ridges waiting to be discovered.
Or perhaps the Lake District is more your style. Collect your Avis car rental at Manchester airport and head north of Manchester via the M6 motorway. This nook of the earth boasts something for literary buffs, nature-lovers and R&R seekers alike. The Lake District is dotted with quaint little towns that nest between glacial ribbon lakes and rugged fell mountains.
And if you're still not satisfied, Yorkshire Dales National Park is yet another great destination for those seeking a day out with their Manchester rental car. A true icon of British nature, Yorkshire Dales is as close as you can get to the English wilderness. And after a busy day exploring its thousands of miles of moors, valleys and hills, there are plenty of cosy pubs for a pint and a hot meal.
Manchester Airport car rental FAQs
Can I pay for my rental car with a debit card?
Yes. You can pay for your Manchester car rental using Visa and MasterCard debit cards. However, there are a few exceptions: one credit card and one debit card may be required at the counter for higher-value vehicles in the UK. PREPAID cards are accepted online but not at the counter. Therefore, a non-PREPAID card must be shown at the Manchester car rental station (together with a PREPAID card). A PREPAID card may be used to pay for the rental car when you return the vehicle at the end of your trip. Please remember that the name on your card must match the name on your driver's licence (i.e. someone else cannot pay on your behalf). Don't forget to bring your payment card when you collect your rental car.
What are the age requirements for hiring a rental car in Manchester?
To drive our vehicles, you – and all your drivers – must be at least 21 years old and have held a full valid driver's licence for at least ½ year at the start of your rental. If you – or one of your drivers – are under the age of 25 when the vehicle is collected, a young driver surcharge will apply to each of you. There are no age restrictions as long as you have held a full valid driver's licence for at least ½ year.
Can I pick up my rental car in Manchester and return it at another location?
Yes, with the Avis one-way rental that's not a problem. Pick up your one-way rental car at one of our locations throughout the United Kingdom or Europe and return it at another rental location at the end of your trip.
What measures does Avis take to ensure my safety?
We take the utmost care to provide the highest levels of safety at our facilities and in our vehicles. This includes using counter screens to observe social distancing protocols in our Manchester Airport car hire branch, providing hand sanitisers, and carefully cleaning every vehicle before each rental – with special attention paid to steering wheels, indicators, dashboards, hand grips, in-car entertainment controls, cup holders, centre consoles, and all door handles both inside and out. Read the Avis Safety Pledge for more info.