Welcome to Avis
Renting a car in Rome – The Eternal City
Our Rome car rental desks are easily located near the arrivals area at Leonardo da Vinci (Fiumicino) International Airport, in addition to Ciampino Airport, Termini Central Train Station and other convenient locations across the Italian capital.

A popular destination from which to launch a road trip into central Italy's rich landscapes, and home to globally renowned art, iconic architecture and bustling trattorias, Rome is Italy's historic heartland. The wealth of sights beyond the city's borders, including the medieval hilltop towns in the Lazio province and the golden beaches skirting Fiumicino are easily accessed in your hire car from Rome.

Embarking on a one-way journey across Italy? Please let us know your desired destination in advance. Our efficient teams will ensure your rental vehicle drop-off is quick and seamless, wherever you decide to meet us.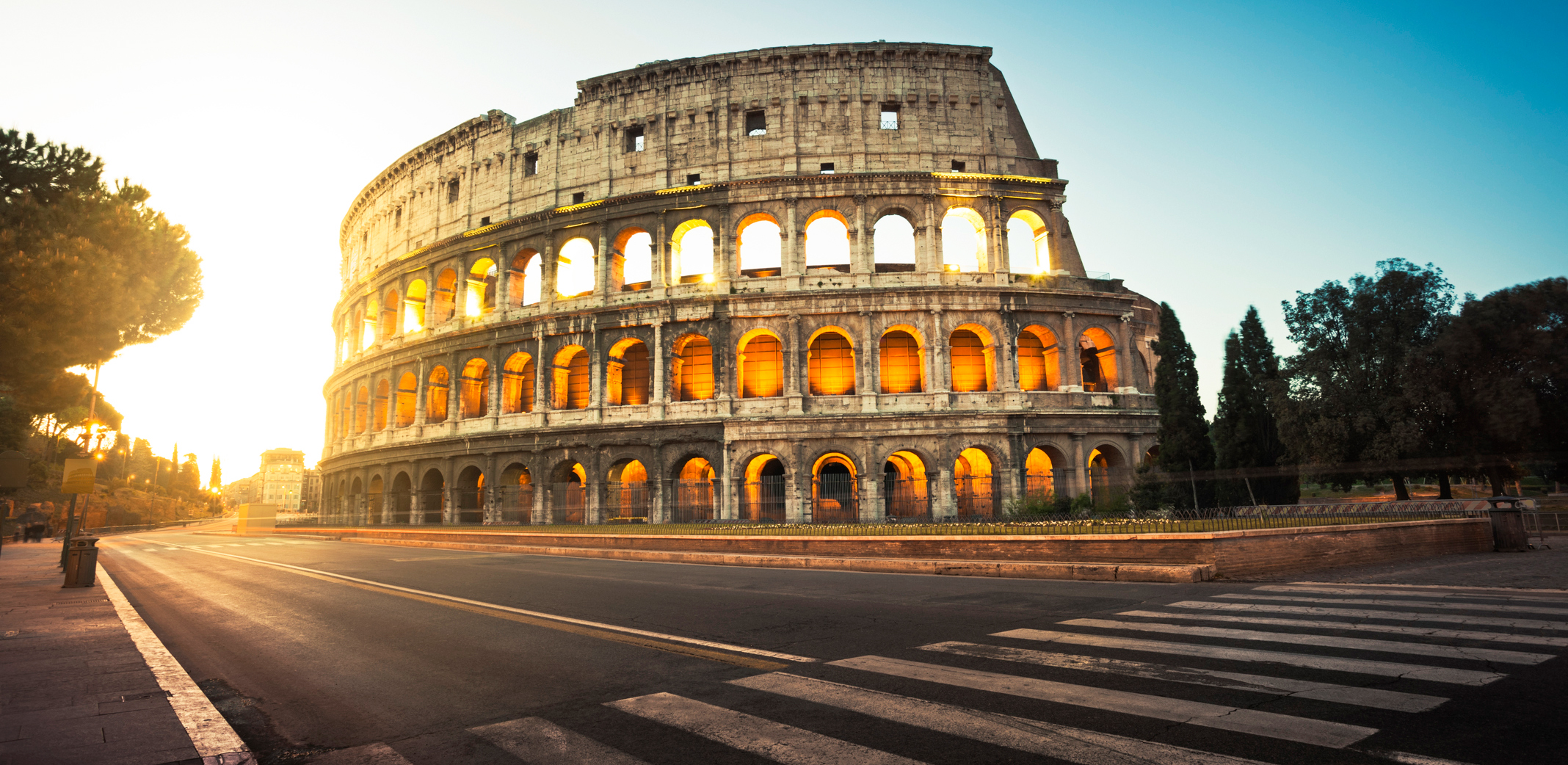 Car hire locations in Rome
Exploring Rome by hire car
The ancient Romans constructed vast roads and aqueducts as well as impressive palaces, forums, cathedrals and monuments, while their capital is dubbed Italy's Eternal City. Mythology tells of the ancient god Romulus, who killed his twin brother Remus and named Rome after himself around 753 BC. Nowadays, the city's pavements are awash with gelaterias, famous museums, designer flagship stores and a vibrant contemporary art and design scene, ranking it as the 14th most popular travel destination in the world.

Although summer is its busiest season for tourism, Rome enjoys year-round Mediterranean warmth, and many prefer to visit during spring and autumn to enjoy the more moderate temperatures and fewer crowds.

To bask in Rome's rich history, allow plenty of time to delve into the city's many architectural relics—survivors from the Renaissance and Baroque periods as well as its ancient Empire. Rome entertains with an abundance of world-renowned monuments, including the mystical Trevi Fountain, the grandiose Colosseum, and the Vatican's St Peter's Basilica and Sistine Chapel.

Relax at the beach in-between sightseeing sessions on the numerous white sandy stretches less than an hour's drive from the city centre. Your hire car grants precious passage to private bays that aren't otherwise accessible.
Beyond Rome City Centre
When you've had your fill of Rome's intriguing landmarks, head out into the Lazio region. Its hilly landscapes are infused with romance, and offer ample opportunity to experience rustic Italian dining, tour lesser-known towns cast up in the hills and discover even more crumbling remains of ancient ruins.

The Scavi Archeologici di Ostia Antica, likened to a smaller version of Pompeii, on Rome's sea port, and the World Heritage Sites in and amongst Tivoli's Mannerist jewel-coloured frescoes, gracious Renaissance villas and tended gardens, are a welcome change of tempo.

Travel to the Castelli Romani, a striking vista of rolling hills and volcanic lakes to the south of Rome, to indulge in the region's hearty cuisine. Porchetta (spit-roasted pork) and a refreshing glass of white wine, uncorked from one of the cantine (local cellars) in town, makes for a perfect laid-back evening.

Furthermore, Florence, Naples and Pompeii are each within comfortable driving distance if you rent a car with Avis in Rome.
A weekend in Rome with your Avis car
From the moment you arrive you'll be captivated by the city's dazzling monuments. With Avis, you can be sure to uncover everything in a weekend with the convenience of a hire car.
Discover the Colosseum, the Forum, the Spanish Steps and everything else in the historic part of the city, then zip across town to the Vatican and the Sistine Chapel. Savour delicious Italian cuisine at one of Rome's superb restaurants, browse the chic designer boutiques on Via Condotti and indulge in an Italian gelato.
Spend a weekend in Rome and explore every nook and cranny that the magnificent Eternal City has to offer with your Avis hire car.
Rome's Traffic Limited Zone (ZTL)
Rome's Traffic Limited Zone (ZTL) is intended to reduce traffic congestion, reduce pollution and help preserve important historical buildings. Only taxis, residents who live and work in the area, and other authorised vehicles are permitted to drive in these areas. If you drive through these areas without the proper authorisation you can expect to pay a hefty fine. This applies to all vehicles including foreign cars and rental cars. If you are staying in a hotel within a ZTL zone, you may be able to request temporary access through your hotel (this must be done in advance).
Driving rules in Italy
Want a quick guide to the rules of Italian roads? We've unlocked them for your journey.
How is the traffic in Rome?
Rome is one of the most congested cities in Europe and traffic is heavy, particularly during rush hour. The traffic is heaviest in the central zones.
Where can I park my hire car in Rome?
There are some car parks and street level parking located in the historic centre of Rome, however due to restricted access and the risk of fines, we recommend parking outside the ZTL (limited traffic zone) area.
Can I drive my car hire in the ZTL-zone in Rome?
We recommend not driving through the ZTL zone in Rome. If you do not have the proper authorisation to drive in this zone, you will face a hefty fine.
Why is Rome famous?
Rome, capital of the ancient Roman Empire and capital of Italy today, is famous for many things including its stunning architecture, historical monuments, Vatican City and mouth-watering cuisine. Whether you come for the UNESCO World Heritage Sites, incredible works of art or the celebrated gelato, it never fails to impress.