Welcome to Avis
St Andrews Drive
Paisley
Glasgow
PA3 2TD

Opening Times
Monday

07:00 - 22:30

Tuesday

07:00 - 22:30

Wednesday

07:00 - 22:30

Thursday

07:00 - 22:30

Friday

07:00 - 22:30

Saturday

07:00 - 22:30

Sunday

07:00 - 22:30
24-hour drop-off

Rent a car at Glasgow Airport with confidence. Full, fee-free cancellation guaranteed
Find our Glasgow Airport car rental desk as soon as you land in the vibrant Scottish city. You'll find us just past the baggage claim in the domestic arrivals hall. Our friendly team is waiting to check you in swiftly and efficiently so you can get on with exploring the beautiful Scottish Lowlands. Arriving outside of our office hours between 7am and 10.30pm? Just let us know in advance and we will arrange everything for you.

Avis car hire at Glasgow Airport lets you make the most of Scotland's lively cities, prime whisky distilleries and stunning natural scenery.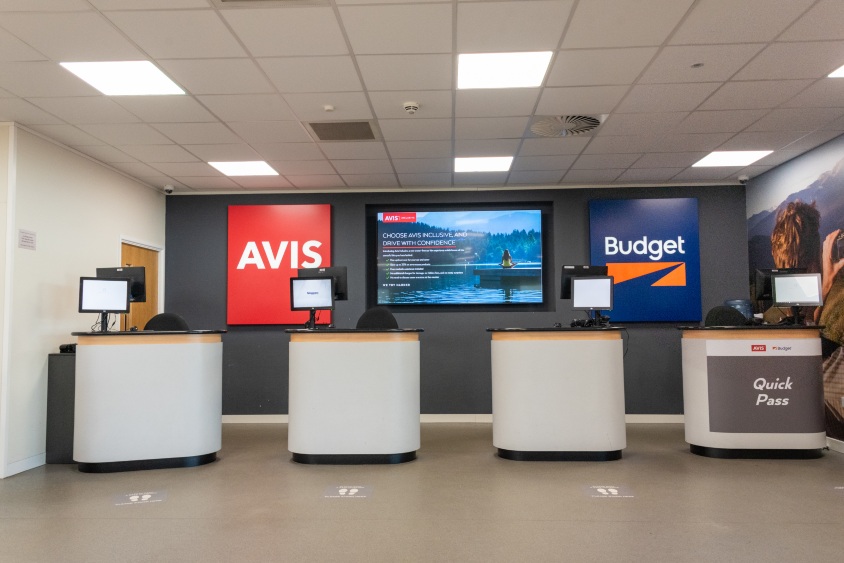 Top car hire locations around Glasgow Airport
Discover cars to rent at Glasgow Airport
Whatever the purpose of your visit or the size of your group, Glasgow Airport car hire from Avis will have the right vehicle for you. We've got practicality, performance and comfort all covered, so you can enjoy your car as much as possible. We can provide anything from a compact city car to a 7-seater family SUV – get in touch for more information about the exact models that are available.
Plan your journey from Glasgow Airport
A 30-minute drive from the city centre, the airport is a springboard to Glasgow's vibrant music scene and buzzing culture. Reach Glasgow by taking the A77, which then becomes the M77. Once a major industrial centre, the city is now a popular destination for shopping, culture and entertainment.
Some 10 million passengers pass through Glasgow Airport every year, and many choose to start their adventures in Scotland's largest city. Hailed a UNESCO City of Music in 2008, there's no shortage of things to do on a night out in Glasgow. From spectacular performances by the esteemed Scottish Opera to lively local bands strumming across the city's many music venues, there's a tune to suit every taste.

Culture wasn't always one of Glasgow's key livelihoods. Straddling the immense River Clyde, the metropolis was born of a hard-working past, and its main economies were ship-building and marine engineering during the Georgian and Victorian eras. Merchant City was at the heart of Glasgow's industry. Today peppered with boutique stores, art studios and theatres, this affluent precinct used to house wealthy tobacco traders in the 18th and 19th centuries.

Beer enthusiasts will enjoy a tour of Tennent's Wellpark Brewery, Scotland's oldest. But before you go, line your stomach with sturdy Glaswegian fare: haggis, black pudding, savoury porridge and sausage patties from the city's many atmospheric pubs. For dessert? A deep-fried Mars bar, of course.
Top tips for driving in Glasgow
Which side of the road?
In the United Kingdom, please drive on the left side of the road.

Country driving laws
Mobile phones may only be used with a headset or hands-free device
There is a congestion charge payable when driving in London
Use the outside lane to overtake on motorways and dual carriageways
Zebra crossings (black and white stripes on the road) give pedestrians right of way to cross the road

Speed Limits
All speed signs will be in mph.

For a standard Avis rental vehicle with no trailers:
Urban areas: 30 mph (48 km/h)
Motorways: 70 mph (112 km/h)
Rural areas: 60 mph (96 km/h)
Unless indicated by road signs.

Child safety / Seatbelt laws
It is compulsory for the driver and all passengers to wear a seatbelt
Children aged under 12 or less than 135cm tall must be seated in an appropriate child restraint for their size

Please note - It is the child's parent / guardian or vehicle renter's responsibility to fit the child seat.

This road rules information is for provided for general guidance only. We endeavour to keep the information up to date and accurate, but any reliance you place on this information is at your own risk.
Beyond Glasgow with your hire car
To the north of Glasgow, you'll find some of Scotland's most beautiful locations and driving routes, including the Trossachs, the West Highlands and the Western Isles. Wherever you go, you can be sure of a warm welcome – starting at the Avis desk.
No trip to Scotland would be complete without a wee dram of home-distilled Scotch. Take a guided tour of Glengoyne, a 40-minute drive north of Glasgow's city centre, for a warming snifter. Don't stop there, though. There are more than 100 prime whisky distilleries across the country, all within driving distance of Glasgow.

Scotland's beautiful Lowlands sprawl out from the city, with Trossachs National Park, home to Loch Lomond, likely to be your first encounter with the Scottish wilds. A 50-minute drive from the city, nature lovers can bask in unbridled wilderness here, with the 21 Munros to hike up and 22 glittering lochs to gaze out over.

Further afield, the quiet seaside town of Oban offers access to the unkempt wilds of the Hebrides, as well as a taster of some very reputable whisky. Head a little further north and you'll come to Glencoe, a picturesque village of thatched cottages and historic pubs, perched within the epic surrounds of the West Highlands.
Where your hire car in Glasgow can take you
Why choose Avis for your Glasgow international Airport car hire?
Fully flexible
Enjoy fee-free flexible booking with full cash refunds and no vouchers.

Savings on coverage
When you choose Avis Inclusive you can experience total peace of mind with no extras or surprises. Pay one upfront price for free Roadside Assistance Plus and 25% discount on comprehensive zero-excess cover.

Loyalty benefits
Join our free loyalty programme Avis Preferred, and benefit from priority service, discounts and more.
Safety first
From our well-maintained fleet to protecting your data, we take safety seriously. That's why we've partnered with Dettol® to ensure both hygienic rental locations and thoroughly cleaned vehicles.

Faster collection
Save time at the counter by registering your details in advance with our simple and free QuickPass. You could be on the road sooner than you think.

VIP treatment
Get priority counter service on collection with Avis Preferred. At our larger locations you can use our Avis app to go straight to your car where the keys will be waiting for you.
Glasgow Airport car rental FAQs
How do I collect my hire car at Glasgow Airport?
When you land at Glasgow Airport, head from the arrivals hall to our desk. One of our members of staff will process your booking, and then you may proceed to collect your vehicle at the Car Rental Centre.
Do I need winter tyres to drive in Scotland?
No, there is no legal requirement for passenger cars in Scotland to be equipped with winter tyres. However, most of our cars in our Glasgow rental hubs will have winter tyres available.
How far is Glasgow Airport from the centre of town?
The distance is around 10 miles. Once you have your car rental, you can be in the centre of town in as little as 15 minutes.