Welcome to Avis

Rent a car in Belfast with confidence. Full, fee-free cancellation guaranteed
Our Belfast car and van rental services are located at both the George Best Belfast City Airport and Belfast International Airport, so you can collect your vehicle as soon as you land in the friendly Northern Irish city. We are also located in downtown Belfast, where our team is waiting to check you in so you can get on with your trip.
Belfast is full of fun, with its historic Cathedral Quarter, charming boutiques and lively nightlife offering plenty to entertain in the city. If it's nature you're after, head out to the ancient basalt stacks of Giant's Causeway, or dip your toes into Lough Neagh, the largest lake in the British Isles.
We also pack the extras you need to get the most from your venture – from sat nav and super-fast mobile Wi-Fi, to our tailored range of child seats. And, you don't have to drive full circle: why not make the most of our one way car hire?
Hire a car in Belfast and guarantee unbridled access to the area's farthest flung scenic treasures.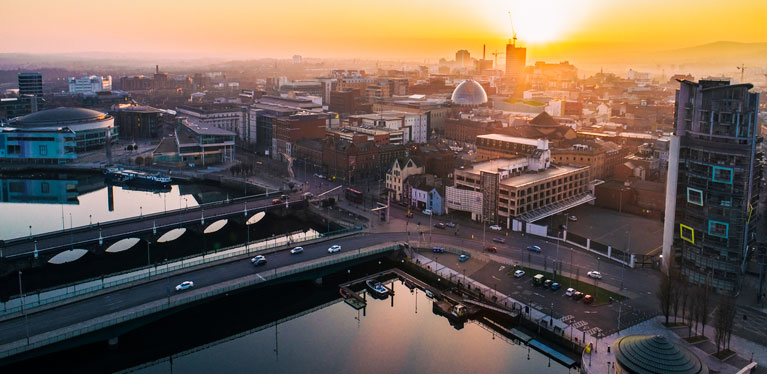 Popular car rental locations in Belfast
Popular airport locations in and around Belfast
Explore Belfast with your hire car
There's so much to discover in Belfast. Rent a car in Belfast to explore the city in style and comfort.
The vibrant capital of Northern Ireland is brimming with historic and contemporary architecture. Park up your Avis hire vehicle and explore this bustling city's museums and art galleries on foot.

The most modern and iconic of these is Titanic Belfast. Based close to where the ship was built, it tells the full story of the liner and its ill-fated maiden voyage.

Historical landmarks worth visiting include Belfast Castle which is located on the slopes of Cave Hill, and the Ulster Museum which showcases the city's rich heritage. The Crumlin Road Gaol is also worth a visit – this notorious prison housed more than 25,000 prisoners from the Victorian times until its closure in 1996.

To enjoy the city's historic character and artsy atmosphere, head straight for Belfast's Cathedral Quarter. Located in the vicinity of St Anne's Cathedral, this district hosts a variety of creative events throughout the year, such as the Belfast Film Festival and the Cathedral Quarter Arts Festival. An abundance of trendy cafes, bars, restaurants and art galleries can be found here too.

St George's Market, one of the city's oldest attractions, is the place to go to sample fresh local food and browse fine wares such as crafts and antiques. Head to the busy shopping streets of Donegall Place and Royal Avenue and hunt for exclusive items such as bespoke clothing and contemporary handmade jewellery.
Top tips for driving in Belfast
Which side of the road?
In the United Kingdom, please drive on the left side of the road.

Country driving laws
Mobile phones may only be used with a headset or hands-free device
There is a congestion charge payable when driving in London
Use the outside lane to overtake on motorways and dual carriageways
Zebra crossings (black and white stripes on the road) give pedestrians right of way to cross the road

Speed Limits

All speed signs will be in mph.

For a standard Avis rental vehicle with no trailers:
Urban areas: 30 mph (48 km/h)
Motorways: 70 mph (112 km/h)
Rural areas: 60 mph (96 km/h)

Unless indicated by road signs.

Child safety / Seatbelt laws
It is compulsory for the driver and all passengers to wear a seatbelt
Children aged under 12 or less than 135 cm tall must be seated in an appropriate child restraint for their size
Please note - It is the child's parent/guardian or vehicle renter's responsibility to fit the child seat.

This road rules information is for provided for general guidance only. We endeavour to keep the information up to date and accurate, but any reliance you place on this information is at your own risk.
If you want to learn more about driving in Belfast, see the full UK Road Rules guide.
Road trips from Belfast
Northern Ireland is a beautiful country with some of the lushest landscapes you'll ever see on the Emerald Isle. From breathtaking scenery featured in Game of Thrones, to historic tours and UNESCO World Heritage sights, there's much to see on a road trip around Belfast's surrounding regions in your rental.

Hire a car in Belfast city to explore locations across Northern Ireland.

The Antrim Coast and Giant's Causeway
The Antrim Coast is a popular getaway location from Belfast. A scenic drive here leads to some friendly little towns, castle ruins and beaches. The main attraction along the coast is the Giant's Causeway, a four-mile-long stretch of shoreline that's famous for its interlocking basalt columns. Geologists state the UNESCO World Heritage Site was formed 60 million years ago by volcanic eruptions. Others believe it was built by giants. Whatever you decide to believe, the Giant's Causeway is a natural wonder certainly worth seeing. To really make the most of the scenery, walk the 8 km route of the Giant's Causeway Cliff Path and be rewarded with stunning views of the rugged coastline.

Strangford Lough
Game of Thrones fans flock to Castle Ward in Strangford Lough, County Down, to enjoy a variety of outdoor activities at the Clearsky Adventure Centre–the filming location for Winterfell. The medieval courtyard and surrounding grounds host pursuits such as archery, clay pigeon shooting, climbing, orienteering, kayaking and mountain biking. Just a 40-minute drive east of Belfast, all this is easily reached in your rental vehicle.

Londonderry / Derry
Londonderry (also known as Derry) is less than an hour and a half's drive away in your rental car from Belfast. Drive down the M2 and pass Newtownabbey along the way. Guildhall Square, the heart of the city, and the mile long 17th century city walls are great starting points to gain a sense of the city's history. The Peace Bridge that crosses the River Foyle leads to the newly developed Ebrington—formerly an army barracks and now a square and café with views overlooking the city and riverside.

Portrush
A one-hour drive from Belfast is Portrush. Head up the A26 and enjoy some great views as you cruise by Loch Neagh. This is an ideal base for exploring the highlights of the Antrim Coast. Portrush is a refined seaside resort and its laidback atmosphere makes it a popular choice for a short holiday or weekend break. The area has plenty of amusements from arcades to golf courses. In summertime locals and visitors take advantage of the good weather and walk along the harbour before heading to the sandy beaches.
Is it worth hiring a car in Belfast?
Hiring a car in Belfast means you can travel from the historic capital city of Belfast out towards the picturesque countryside of Northern Ireland. With your Avis hire car in Belfast, you can also benefit from easy access to the many smaller villages, valleys and lakes that cover this unique landscape.
Can you hire a car by the day in Belfast?
You can enjoy affordable rates when you book one-day car rental with Avis. Submit your trip details into the online booking form so you can see the available vehicles and their one-day car rental cost.
What is the best car to hire in Belfast?
If you are staying in Belfast, you may feel more comfortable in a compact model that will be easy to park. Heading out of the city on a longer trip? Consider a snazzy convertible from our Prestige range or give your family a comfortable ride in an SUV or family-sized saloon.
What are the driving rules in Belfast?
Belfast has the same driving rules as the United Kingdom. If you want to know more about driving in Belfast, see the full United Kingdom Road Rules guide.
Other Avis services in Belfast
What do you need to shift? Our van rental fleet spans small hire vans, perfect for that weekend DIY project; medium vans, well suited to hauling rolls of carpet, heavy floor tiles, or moving the kids to university; and large vans to accommodate some or all of your worldly goods.
Why choose Avis for your Belfast car hire?
Fully flexible
Enjoy fee-free flexible booking with full cash refunds and no vouchers.

Savings on coverage
When you choose Avis Inclusive you can experience total peace of mind with no extras or surprises. Pay one upfront price for free Roadside Assistance Plus and 25% discount on comprehensive zero-excess cover.

Loyalty benefits
Join our free loyalty programme Avis Preferred, and benefit from priority service, discounts and more.
Safety first
From our well-maintained fleet to protecting your data, we take safety seriously. That means before each rental our vehicles are safety checked and cleaned in line with hygiene protocol.

Faster collection
Save time at the counter by registering your details in advance with our simple and free QuickPass. You could be on the road sooner than you think.

VIP treatment
Get priority counter service on collection with Avis Preferred. At our larger locations you can use our Avis app to go straight to your car where the keys will be waiting for you.