Welcome to Avis
Belfast City Airport

Belfast
BT3 9JH

Opening Times
Monday

07:00 - 21:30

Tuesday

07:00 - 21:30

Wednesday

07:00 - 21:30

Thursday

07:00 - 21:30

Friday

07:00 - 21:30

Saturday

07:00 - 21:30

Sunday

07:00 - 21:30

Rent a car at Belfast City Airport with confidence. Full, fee-free cancellation guaranteed
Take the wheel of your Belfast car rental at George Best Belfast City Airport and tour this fascinating city and the wonderful countryside beyond.

You'll find the Avis Car Hire desk at Belfast City easily. Just head to the arrivals hall and our friendly staff will be waiting to help you. From there, the road is yours to discover the best that Northern Ireland has to offer.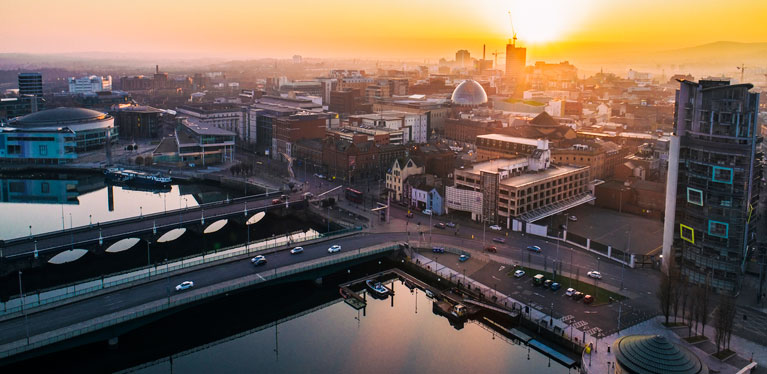 Top car hire locations around Belfast City Airport
Discover cars to rent at Belfast City Airport
What kind of vehicle do you need? A large SUV for a big family? An eco-friendly compact car to zip around the city? Whatever you're looking for, Avis car hire at Belfast City Airport will have you covered. Our vehicles offer practicality, performance and comfort, so you can enjoy your trip as much as possible. Get in touch for more information about the exact models that are available.
Plan your journey from Belfast City Airport
When you touch down at George Best Belfast City Airport, you are just a 30-minute drive from the buzzing city centre of Belfast. Northern Ireland's capital is awash with unmissable sights, from historic attractions and Victorian architecture to vibrant cultural spots and a trendy foodie scene.

While you can park up and visit many of the sights on foot in the city centre, having a hire car will enable you to also venture beyond the limits of the city. Head north west to visit the hometown of poet and Nobel Laureate Seamus Heaney, and then explore the land that inspired him such as the rugged nature of the Causeway Coast and the lush forested landscapes of the Glens – an area of outstanding beauty. From here you can motor on to the UK's largest lake, known as Lough Neagh, and stretch your legs in pretty lakeside villages, hike the trails of the idyllic Oxford Island Nature Reserve, or visit some of the filming locations of Game of Thrones.

Whatever your interests may be, renting a car from Belfast Airport will ensure you can explore Belfast and Northern Ireland in style and comfort.
Why choose Avis for your Belfast City Airport car hire?
Fully flexible
Enjoy fee-free flexible booking with full cash refunds and no vouchers.

Savings on coverage
When you choose Avis Inclusive you can experience total peace of mind with no extras or surprises. Pay one upfront price for free Roadside Assistance Plus and 25% discount on comprehensive zero-excess cover.

Loyalty benefits
Join our free loyalty programme Avis Preferred, and benefit from priority service, discounts and more.
Safety first
From our well-maintained fleet to protecting your data, we take safety seriously. That's why we've partnered with Dettol® to ensure both hygienic rental locations and thoroughly cleaned vehicles.

Faster collection
Save time at the counter by registering your details in advance with our simple and free QuickPass. You could be on the road sooner than you think.

VIP treatment
Get priority counter service on collection with Avis Preferred. At our larger locations you can use our Avis app to go straight to your car where the keys will be waiting for you.
Top tips for driving in Belfast
Which side of the road?
In the United Kingdom, please drive on the left side of the road.

Country driving laws
Mobile phones may only be used with a headset or hands-free device
There is a congestion charge payable when driving in London
Use the outside lane to overtake on motorways and dual carriageways
Zebra crossings (black and white stripes on the road) give pedestrians right of way to cross the road

Speed Limits
All speed signs will be in mph.

For a standard Avis rental vehicle with no trailers:
Urban areas: 30 mph (48 km/h)
Motorways: 70 mph (112 km/h)
Rural areas: 60 mph (96 km/h)
Unless indicated by road signs.

Child safety / Seatbelt laws
It is compulsory for the driver and all passengers to wear a seatbelt
Children aged under 12 or less than 135 cm tall must be seated in an appropriate child restraint for their size

Please note - It is the child's parent/guardian or vehicle renter's responsibility to fit the child seat.

This road rules information is for provided for general guidance only. We endeavour to keep the information up to date and accurate, but any reliance you place on this information is at your own risk.
Beyond Belfast with your hire car
Northern Ireland is a beautiful country with some of the lushest landscapes you'll ever see on the Emerald Isle. From breathtaking scenery featured in Game of Thrones, to historic tours and UNESCO World Heritage sights, there's much to see on a road trip around Belfast's surrounding regions in your rental.

Hire your car or van in Belfast city to explore locations across Northern Ireland.

The Antrim Coast and Giant's Causeway
The Antrim Coast is a popular getaway location from Belfast. A scenic drive here leads to some friendly little towns, castle ruins and beaches. The main attraction along the coast is the Giant's Causeway, a four-mile-long stretch of shoreline that's famous for its interlocking basalt columns. Geologists state the UNESCO World Heritage Site was formed 60 million years ago by volcanic eruptions. Others believe it was built by giants. Whatever you decide to believe, the Giant's Causeway is a natural wonder certainly worth seeing. To really make the most of the scenery, walk the 8 km route of the Giant's Causeway Cliff Path and be rewarded with stunning views of the rugged coastline.

Strangford Lough
Game of Thrones fans flock to Castle Ward in Strangford Lough, County Down, to enjoy a variety of outdoor activities at the Clearsky Adventure Centre–the filming location for Winterfell. The medieval courtyard and surrounding grounds host pursuits such as archery, clay pigeon shooting, climbing, orienteering, kayaking and mountain biking. Just a 40-minute drive east of Belfast, all this is easily reached in your rental vehicle.

Londonderry / Derry
Londonderry (also known as Derry) is less than an hour and a half's drive away in your rental car from Belfast. Drive down the M2 and pass Newtownabbey along the way. Guildhall Square, the heart of the city, and the mile long 17th century city walls are great starting points to gain a sense of the city's history. The Peace Bridge that crosses the River Foyle leads to the newly developed Ebrington—formerly an army barracks and now a square and café with views overlooking the city and riverside.

Portrush
A one-hour drive from Belfast is Portrush. Head up the A26 and enjoy some great views as you cruise by Loch Neagh. This is an ideal base for exploring the highlights of the Antrim Coast. Portrush is a refined seaside resort and its laidback atmosphere makes it a popular choice for a short holiday or weekend break. The area has plenty of amusements from arcades to golf courses. In summertime locals and visitors take advantage of the good weather and walk along the harbour before heading to the sandy beaches.
Belfast City Airport car rental FAQs
How do I collect my hire car at Belfast City Airport?
When you land at Belfast City Airport, head from the Arrivals hall to our desk. One of our members of staff will process your booking, and then you may proceed to collect your vehicle at the Car Rental Centre.
Can I return a rental car to the airport?
If you've rented a car from a different Avis hub but wish to return it at the airport, then you must arrange your return prior to the commencement of your rental agreement. If you return your car to Belfast City Airport without specifying in your rental contract, a fee will apply.
Do I need winter tyres to drive in the UK?
No, there is no legal requirement for passenger cars in the United Kingdom to be equipped with winter tyres. However, most of our cars in our Belfast rental hubs will have winter tyres available.