Welcome to Avis
Hire a car in spain
Explore Spain in an Avis hire car, we're ready and waiting to get you on your way.

Made up of 17 regions, each with its own unique culture and history, Spain is as diverse as it is beautiful. Rent a car and explore Spain by road: discover the cultural northern hubs of Barcelona and Bilbao; the vibrant capital Madrid and the resorts on the Atlantic and Mediterranean coasts.

Which car hire location in Spain would you like to meet us at to begin your journey?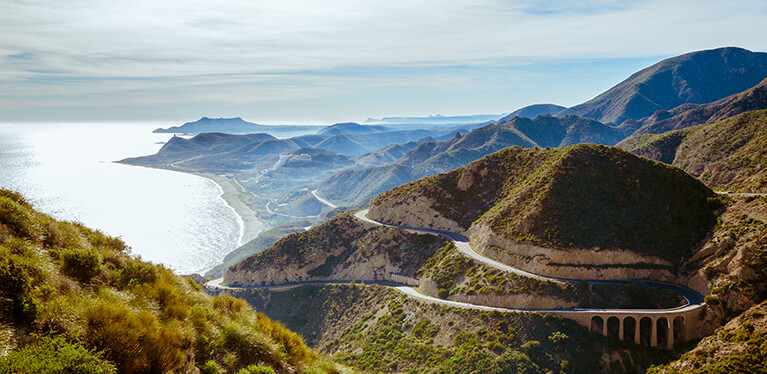 Popular airport locations in Spain
Popular car hire locations in Spain
Plan your trip in Spain in your hire car
Driving in Spain is beautiful, and with so much to see and explore you can really make the most of it in a rental car.

Why not start your Spanish car hire adventure in Madrid - Spain's elegant and exciting capital city. Madrid is famous for its museums and art galleries. A good place to start is the so called 'golden triangle of art', the Reina Sofía, Prado Museum and Thyssen-Bornemisza. This trio are often referred to as the most significant and important art museums in all of Spain. Later, when the sun sets get ready to enjoy the city's legendary night life.

Looking to combine history and architecture when driving in Spain? Then head for the UNESCO World Heritage site of Santiago de Compostela. The capital of the Galicia region of Spain, Santiago de Compostela is recognised as the destination for Christians following the Camino de Santiago pilgrimage route. The Old Town is where you'll find this city's treasures including the Holy Tomb of St James, one of Jesus Christ's apostles, as well as the impressive Romanesque cathedral.
Road trips in Spain when you rent a car
There's so much to see by hire car in Spain. You could meander down the rocky, cliff-edged Costa Brava all the way to the French border. Or, from Madrid, take in the Roman heritage of Segovia. Why not motor down to the sun-baked plains of Andalusia? Visit the medieval gem of Córdoba, or Seville for flamenco and tapas, before gazing up at the snow-capped peaks of the Sierra Nevada from Granada.

Madrid to Segovia
If you're starting in Madrid, head north in your rental car on the A-6 to begin your journey to Segovia, one of the most historic and beautiful cities in northwest Spain. The journey shouldn't take more than an hour and a half. If you fancy a break en route, why not stop at the mountain towns of Guadarrama and El Espinar on your way?

Segovia has a rich architectural history with buildings dating back to medieval times. The former royal palace is a must-see as well as the impressive Roman Aqueduct. Also, you'll also find Romanesque churches, a Gothic cathedral and medieval walls. Driving in Spain doesn't get much better than this.

Alicante to Valencia
From Alicante it's about two hours' drive north to the beautiful city of Valencia. Valencia's evocative old quarter dramatically contrasts with Europe's newest cultural and scientific complex, Ciudad de las Artes y las Ciencias. You'll find that Valencia is a city of architectural beauty and contrasts.
A thousand things to discover in your hire car ... Spain from North to South
In the north of Spain, the Spanish Pyrenees offer countless possibilities for ski lovers. Warm temperatures throughout the year, facilities for families and sports enthusiasts as well as huge ski areas make it a top choice destination for winter sports.

The North-West regions consist of Galicia, Asturias, Cantabria and the Basque Country. Green landscapes, mountains, Atlantic beaches and marine villages await. This region is known as Green Spain ... think water activities, hiking or adventure sports. Your Avis car hire is perfect for driving in Spain from village to village to discover this authentic region in a completely independent way.

Madrid: Andalusian rhythms
Rent a car in Spain and head to the capital which is all at once a regional hub, a place of relaxation, of culture and artistic convergence. A visit to the city will inevitably take you to the Plaza Mayor. The square is full of live 24 hours a day and is the heart of Madrid life. Do not miss the El Rastro Flea Market, one of the most famous in Europe. In search of culture? Madrid houses the paintings of the great Spanish masters Goya and Velasquez at the Prado Museum. To admire the works of Picasso you will have to go to the Queen Sofia Art Centre. Finally, do not leave the city without having experienced the cuisine and nightlife of Madrid which has the distinction of continuing very late into the night.

Barcelona: Architectural treasures
When driving in Spain nobody can resist the assets of the Catalan capital where the most eccentric artists of the 20th century have left their mark. The Sagrada Familia cathedral and Gaudi's Park Güell are the perfect illustrations. From Park Güell, go down Las Ramblas, the artery of the capital, to the port. The beaches of Barcelona are 10 minutes away from the city centre, so jump in your hire car and head for a day of rest and relaxation. Miles of golden sand and a resplendent sun from May to October await you.

To the beach
In the comfort of your Avis car hire, drive along the west coast of Spain to the region's beaches and seaside resorts. From north to south, you will pass the Costa Dorada, Costa del Ahazar, Costa Blanca and Costa Cálida before arriving on the Costa del Sol in Andalusia, the land of flamenco, bullfighting and Moorish palaces.
Driving rules in Spain
Which side of the road?
When driving in Spain, please drive on the right side of the road.

Country driving laws
Mobile phones may not be used at all whilst driving
Dipped headlights must be used in poor daylight visibility
Cyclists have right of way, at all times
Do not use headphones when driving (except hearing aids)
Always use indicators, you will be fined for not using indicators when needed

Speed limits
All speed signs will be in km/h.

For a standard Avis car hire with no trailers:
Urban areas: 50 km/h (31 mph)
Motorways: 120km/h (74mph)
Rural areas: 90 km/h (55 mph)

Unless indicated by road signs.

Child safety / Seatbelt laws
It is compulsory for the driver and all passengers to wear a seatbelt
Children aged under 12 are not allowed to sit in the front seat
Children aged under 12 and less than 135cm tall must be seated in an appropriate child restraint for their size

Please note, it is the child's parent / guardian or vehicle renter's responsibility to fit the child seat.

This road rules information is for provided for general guidance only. We endeavour to keep the information up to date and accurate, but any reliance you place on this information is at your own risk.