Welcome to Avis
Find the perfect car rental in Málaga
Our Málaga car hire services can be easily located at Málaga-Costa del Sol Airport as well as downtown at María Zambrano train station and near the city's busy port. Whether arriving by air, land or sea, our Málaga car rental team will check you in swiftly and efficiently so you can get on and enjoy your trip in the glittering south of Spain.

Málaga is the gateway to the Costa del Sol's picturesque rolling hills, white-washed towns and sparkling seas. The busiest city along Andalucía's coast, it welcomes almost 20 million visitors a year from across Europe and beyond.

Planning a one-way road trip? Make use of our flexible return options. Collect your hire car in Málaga and return it to us elsewhere in Spain or Europe.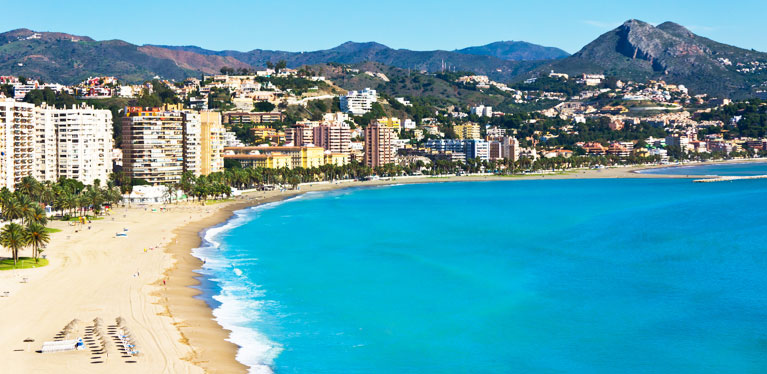 Discover Málaga by hire car
Exploring Málaga by hire car
Málaga was founded by the Phoenicians almost 3,000 years ago. With so much history, the city is full of wonderful architecture, beautiful churches and award-winning museums spanning the millennia right up to modern times—including the Picasso Foundation and the Centre Pompidou Málaga.
Find the central pulse of the city around the towering spires of its Catedral de la Encarnación de Málaga in the old part of town. Venture beyond its Baroque façade to discover magnificent frescos and sculptures dating back to the 16th century. Clustered around the cathedral are some of the city's most charming streets, lined with lively tapas bars, chic boutiques and bustling bodegas.

While summer is the busiest season in Málaga, spring and autumn are also wonderful times to visit, as the crowds disappear but the warmth remains. Winter can get surprisingly cold, especially when higher up in the region's more mountainous areas, but a thick hot chocolate and fresh churros in one of Málaga's many churrerías will soon warm you up.
Beyond Málaga
Nicknamed the Costa del Sol due to its year-round sunshine and shimmering Mediterranean waters, there's something to appeal to all tastes, from the glamour of Marbella to the old-world charm and sophistication of Granada and its magnificent Alhambra Palace.
The landscape rises from golden, sun-baked beaches to the rocky outcrops of the Sierra de las Nieves National Park, some 1,000m above sea level. In between, there are charming pueblos blancos (white villages), beautiful boutique haciendas, bodegas making delicious ronda wines and some of Spain's best jamón producers.
Most people, however, come for the beaches. Many stick to the resort-fringed seashores, but when you rent a car in Málaga, you can discover the secret coves and quiet expanses of sand favoured by in-the-know locals. Feast at charming chiringuitos (little seafront eateries) on fish and seafood plucked straight from local waters.
More than 3,000 fiestas occur within Andalucía every year, ranging from village fairs that celebrate the harvesting of sun-ripened olives and grapes in the autumn, to the blooming beauty of Spain's best flower show at the beginning of May, the highly-anticipated Patios de Córdoba.
In order to get the most out of your visit, hire a car in Málaga with Avis to explore everything the region has to offer.
Driving a hire car in Spain
Want a quick guide to the rules of Spanish roads? We've unlocked them for you here.