Welcome to Avis
Car Hire in Barcelona with Avis
Renting a car in Barcelona with Avis
Our Barcelona car rental services are conveniently located at Barcelona-El Prat Airport in Terminal 1, on the ground floor just after the baggage claim, and in the arrivals hall at Terminal 2, making your arrival into and departure from the vibrant Spanish city a breeze.
You'll also find our car hire services at Barcelona Sants Train Station and at major coach stations across the city. Wherever you choose to collect your vehicle, our efficient team will be on hand to check you in swiftly and efficiently so you can get on and enjoy your trip.
Famous for its outlandish Gaudí constructs, cosmopolitan nightlife and laid-back beach, the Spanish metropolis is the largest in the country to skirt the Mediterranean Sea and provides a bustling gateway to Montserrat's soaring peaks, the tranquil bays along the Iberian Peninsula and Catalonia's expansive landscapes.
Planning a one-way trip? We offer flexible one-way options, so you can pick up your hire car from any of our car rental locations in Barcelona and drop it off elsewhere at the end of your stay.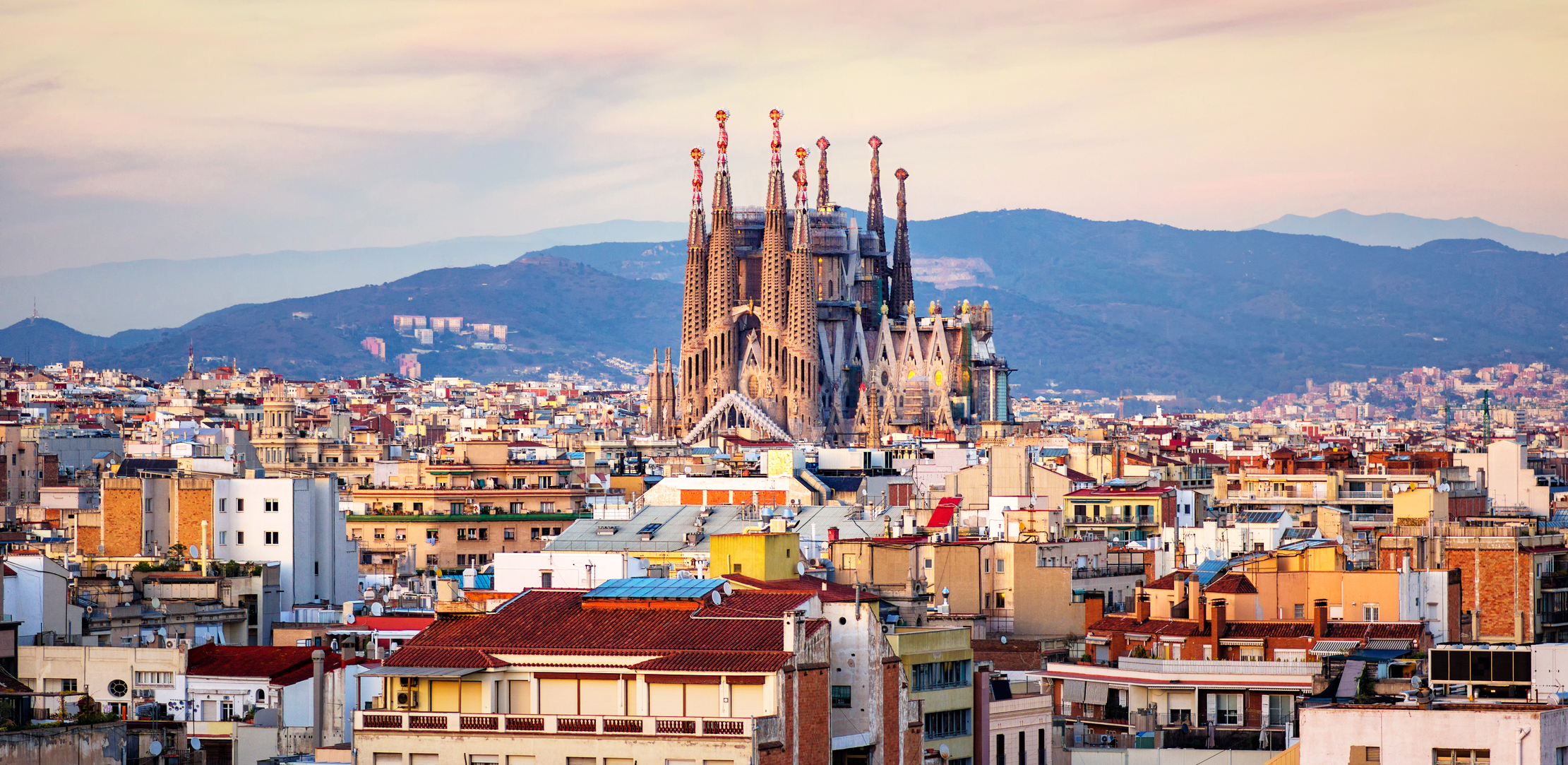 Car hire locations in Barcelona
Exploring Barcelona by hire car
Set up as an ancient Roman colony before staking its claim in the Kingdom of Aragon, Barcelona has a depth of history harking back to the 5th century. Today, its rich cultural heritage, wealth of art galleries, dynamic design scene and fresh Catalan cuisine draws in 5.5 million tourists per year, ranking it as the most visited city in Europe.

Reaching heights of 31°C in August, late spring and summer are the most popular times to visit. However, Barcelona continues to enjoy a warm Mediterranean climate well into autumn and its winters are mild, making this an appealing destination year-round.

A multitude of festas occur throughout the year, ranging from the live music festivals that commandeer Barceloneta beach during summer to the annual La Mercè celebration in September. Catalonia's largest festival, it showcases the province's rich food and wine, seasoned with a sprinkling of history, in a four-day series of colourful parades, concerts, fireworks and correfocs, or traditional 'fire runs'.

Scattered among Barcelona's busy streets and markets are several World Heritage buildings, including famed architect Antoni Gaudí's Cassa Mila in the old-meets-new Eixample district, the surreal Park Güell in the north of the city, and impressive architectural feats by modernist Catalan local, Lluís Domènech i Montaner.
Beyond Barcelona
Once you've indulged in the city's thrills, Catalonia's rural treasures are easily accessible with a hire car from Barcelona. The dramatic Montserrat mountain range lies an hour outside the city and juts 1,236m above sea level. Seeking a challenge? Hike up to the sacred Benedictine Monastery Santa Maria de Montserrat atop one of its peaks. It's considered to be the area's most important pilgrimage site and remains a popular place of worship for Benedictine monks and locals.

Enticing oenophiles is the rolling wine country that encircles Barcelona. Encompassing many Cava houses, journey out into the 300,000 hectares of vineyards and farmland to discover the many traditional barrel-lined bodegas in the vicinity.

A string of whitewashed seaside towns are all within comfortable driving distance from Barcelona. Vibrant Sitges, known for its annual carnival in early spring, and the tranquil fishing villages of Cadaqués and Roses, make good destinations for a quiet swim and sunbathe without the crowds that throng on Barceloneta.

Hire a car with Avis in Barcelona to make the most of the spectacular countryside, sleepy villages and pretty beaches surrounding Catalonia's cosmopolitan capital.

Day trips from Barcelona with your car hire
If you're looking for ideas for day trips from Barcelona, you'll be spoilt for choice. Beauty spots are never far from the city, and they range from rugged coastal areas to historic towns and dramatic mountain peaks.
Costa Brava
The Costa Brava starts about an hour north of Barcelona in Blanes and stretches all the way up to the French border. It is one of Spain's most alluring coastlines, famous for its crystal-clear waters and charming towns. Highlights include medieval Tossa de Mar, pretty Begur, and the coastal fishing village of Cadaques, whose surrounding landscapes were a source of inspiration for many of Salvador Dali's vivid surrealist paintings.
Girona
Girona is an easy day trip from Barcelona, approximately 62 miles north of Barcelona up the AP-7. This beautifully preserved medieval city is packed with interesting historical sights, a web of narrow streets and an awe-inspiring Cathedral that dominates the skyline. Uncover a plethora of museums, restaurants, independent shops and charming little nooks.
Sitges
24 miles south of Barcelona lies the seaside town of Sitges — a popular summer resort. Stroll along the palm-tree fringed seafront promenades, admire Modernist architecture and enjoy its many restaurants and lively night scene, which has earned Sitges the title of the "Sant Tropez of Spain".
Spanish driving guide
We've unlocked Spain's driving rules and regulations for your journey to help keep you safe and avoid the unexpected. Familiarise yourself with our comprehensive guide.
- What is Barcelona known for?
The glittering coastal city of Barcelona is known for its magnificent Modernist architecture, long sandy beaches, vibrant neighbourhoods, lively nightlife and world-class gastronomy — all of which attract visitors from around the globe. It is also famous for its exceptional football team, FC Barcelona – one of the best teams in the world.
- In which region of Spain is Barcelona located?
Barcelona is the capital of Catalonia, a region in the northeast of Spain. The city is nestled between the Mediterranean Sea and the Collserola mountains
- What's the nearest beach in Barcelona?
Barcelona has several beaches within the city. The closest beaches to the city centre are those in the neighbourhood of Barceloneta. Other popular beaches in Barcelona include Nova Icaria, Bogatell and Mar Bella.