Welcome to Avis

Rent a car in France with confidence. Full, fee-free cancellation guaranteed
Our car rental offices in France can be found across the country, and we offer a fast and efficient check-in and drop off wherever and whenever you decide to visit. You can rent a car in France at all the major airports, as well as from one of our offices conveniently located at each of the Eurostar destinations and at the Port of Calais. Whether arriving by air, sea or land, rest assured there will be one of our car hire offices nearby, with helpful staff waiting to assist you.

Whether calling on its many historic cities, enjoying a sojourn in Paris, the romantic French capital or breezing around the balmy Côte d'Azur, a hire car in France grants guaranteed access to the country's varied landscapes, rich culture and spectacular sights.

Embarking on a one-way journey across France in your hire car? Let us know your destination in advance and our teams will ensure that your rental vehicle drop-off is seamless, wherever you decide to meet us.
Going to France for the Rugby World Cup? Check out our tips for travelling between matches and find inspiration for where to head after the final whistle…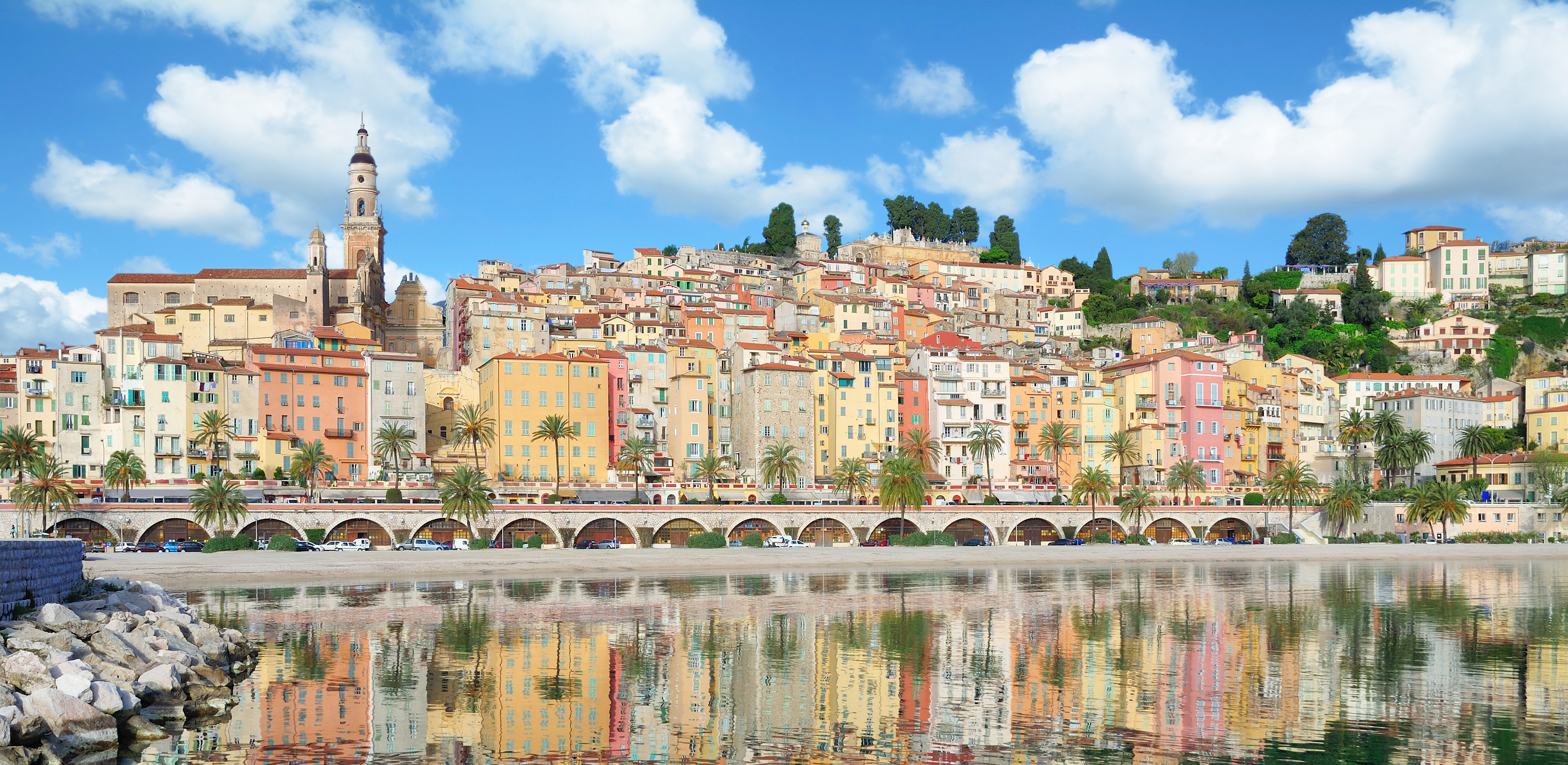 Best places to visit in France
With an extensive history that dates back to the Celts and Gauls in the 5th century BC, and spans the Iron Age, Middle Ages and the Renaissance, France houses a multitude of age-old ruins, world-famous museums, priceless artwork and stately chateaux, as well as fields of poppies to commemorate its battles in the First World War.

Every corner of the country has a unique appeal. St Tropez, Monaco and Cannes glitter with high-end boutiques, chic bars and buzzing clubs – not to mention the beaches, while Strasbourg, seat of the European Parliament, is defined by its imposing Gothic and German architecture.

Avid skiers and fans of the great outdoors will enjoy the scenic roads out to the Pyrenees, Mont Blanc and the Alps and the spectacular Jura Mountains. If food is more your thing, you'll relish France's cosmopolitan capital Paris, home to 70 Michelin-starred restaurants, as well as the multitudes of independent bistros, restaurants and cafés across the country.

There are vineyards a-plenty for oenophiles seeking out France's finest vintages, farmers' markets for those with a penchant for fromage, and a rich peppering of sleepy rural villages offering a sample of true laid-back vie en rose.

Bordered by Belgium in the north, Germany and Switzerland in the east and Italy, Monaco and Spain further south, the country is also a gateway to several other desirable destinations.

Many of the country's charming towns, historic chateaux and rolling vineyards are accessible only when you have your own vehicle. With an Avis hire car, get ready to experience the very best of France.
Driving rules in France
Which side of the road?
In France, please drive on the right side of the road.

Country driving laws
Mobile phones may only be used with a hands-free device. Do not use headphones or earpieces
Bus lanes are reserved exclusively for buses, taxis and bicycles
In towns and rural areas, on minor roads and where there is no clear indication of right of way, it may be prudent to give way to traffic coming from the right ("priorité a droite")
It is recommended that drivers use dipped headlights at all times

Speed limits

All speed signs will be in km/h.

For a standard Avis rental vehicle with no trailer:
Urban areas: 50 km/h (31 mph)
4-lane expressways (rural areas): 110 km/h (68 mph)
Rural areas: 80 km/h (50 mph)
Motorways: 130 km/h (80 mph)

Unless indicated by road signs. Be aware of changes to speed limits displayed on road signs due to adverse weather conditions.

Child safety / Seatbelt laws
It is compulsory for the driver and all passengers to wear a seatbelt
Children weighing up to 9 kg must travel in a rear-facing car seat, in the back of the car only
Children aged under 10 and weighing less than 36 kg must be seated in appropriate child restraint
Please note - It is the child's parent/guardian or vehicle renter's responsibility to fit the child seat.
If you want to learn more about driving in France, see the full France Road Rules guide.
Road trips around France
Brittany
It may be known for its stunning coastline, but the French region of Brittany in the north-west of the country is a place of never-ending contrasts. From gently rolling countryside to high peaks in the rugged Mountains D'Arrée, there is something for everyone. Check out our ultimate Brittany road trip and start planning your route today.
Montpellier to St Tropez
Our recommended route takes you through Provence and showcases the beauty of the southern coast of France.

Start in Montpellier and head north east to Nîmes, an important outpost of the Roman Empire and full of well-preserved monuments such as the Arena, an incredible Roman amphitheatre built around 70AD, that is still used for concerts and bullfights today.

From Nîmes, head east toward Aix-en-Provence, birthplace of the painter Paul Cézanne. This route takes you past the amazing views of the Provence countryside. Jump onto the A51, and head towards the south coast of France and past the breathtaking Massif des Maures. Stop off for a coffee or a meal in any one of the friendly cafes in the bustling seaside town of Toulon, before continuing your coastal journey to the beautiful port town of St Tropez.

Gateway to the French Riviera, St. Tropez was an artists' colony for many years, before becoming known in the 1960s as a playground for the rich and famous, due to its amazing beaches and nightlife.

Bordeaux to Biarritz
This fantastic road trip runs alongside the incredible Bay of Biscay and takes you right to the Spanish border.

Starting your journey from Bordeaux, we recommend taking the route through the Parc Naturel Régional des Landes de Gascogne, a national park famed for its scenery and abundant birdlife.

You have two options when you leave the park, you can either head west towards the ocean and drive along the coast to the town of Biarritz, or you can head straight there, both have their merits. The coast road is a beautiful drive and the beaches are incredibly popular with surfers from all over the world. Why not take the opportunity to stop off and enjoy a picnic? The drive straight is also scenic but not nearly as beautiful as the coastal route. But you will arrive in Biarritz about 40 minutes earlier, giving you more time to enjoy this elegant resort and all its attractions.
Is it worth hiring a car in France?
Hiring a car in France means you can travel from historic cities of culture like Paris or Bordeaux out towards the idyllic countryside. With your Avis hire car in France, you can also benefit from easy access to the many smaller villages, valleys and rivers that cover this unique landscape, and even head up towards the Pyrenees or the Alps.
Can you hire a car by the day in France?
You can enjoy affordable rates when you book one-day car rental with Avis. Submit your trip details into the online booking form so you can see the available vehicles and their one-day car rental cost.
What is the best car to hire in France?
If you are staying in Paris or another major city, you may feel more comfortable in a compact model that will be easy to park. Heading out of the city on a longer trip? Consider a snazzy convertible from our Prestige range or give your family a comfortable ride in an SUV or family-sized saloon.
Can I pick up my hire car in France in one place and return it to a different location?
Yes, with Avis one-way rental, pick up your rental car at any of our rental hubs in cities, airports and train stations across France and enjoy the freedom of dropping it off at one of our other locations across the country – or across Europe. Check the website or speak to one of our agents for more details.
Other Avis services in France
What do you need to shift? Our van rental fleet spans small hire vans, perfect for that weekend DIY project; medium vans, well suited to hauling rolls of carpet, heavy floor tiles, or moving the kids to university; and large vans to accommodate some or all of your worldly goods.
Why choose Avis for your car hire in France?
Fully flexible
Enjoy fee-free flexible booking with full cash refunds and no vouchers.

Savings on coverage
When you choose Avis Inclusive you can experience total peace of mind with no extras or surprises. Pay one upfront price for free Roadside Assistance Plus and 25% discount on comprehensive zero-excess cover.

Loyalty benefits
Join our free loyalty programme Avis Preferred, and benefit from priority service, discounts and more.
Safety first
From our well-maintained fleet to protecting your data, we take safety seriously. That means before each rental our vehicles are safety checked and cleaned in line with hygiene protocol.

Faster collection
Save time at the counter by registering your details in advance with our simple and free QuickPass. You could be on the road sooner than you think.

VIP treatment
Get priority counter service on collection with Avis Preferred. At our larger locations you can use our Avis app to go straight to your car where the keys will be waiting for you.