Welcome to Avis
Rent a car in Lyon
Our Lyon car rental desks can be easily located at Lyon Saint Exupéry Airport, as well as the city's three main train stations and a number of convenient posts downtown. Wherever you decide to check in, our efficient teams will soon have you en route to exploring France's third largest city and the mountainous Auvergne-Rhône-Alpes region.
Renowned for its unrivalled gastronomy and diverse architecture that's been shaped by 2,000 years of history, Lyon's nickname is the Capital of Lights due to the dazzling Fête des Lumières that's held here every December. Further afield, an assembly of charming medieval towns, including the historic Vienne, and the snow-capped French Alps await.
Heading on a one-way journey? Make the most of our flexible return options, which enable you to collect your vehicle in Lyon and drop it off elsewhere at the end of your trip.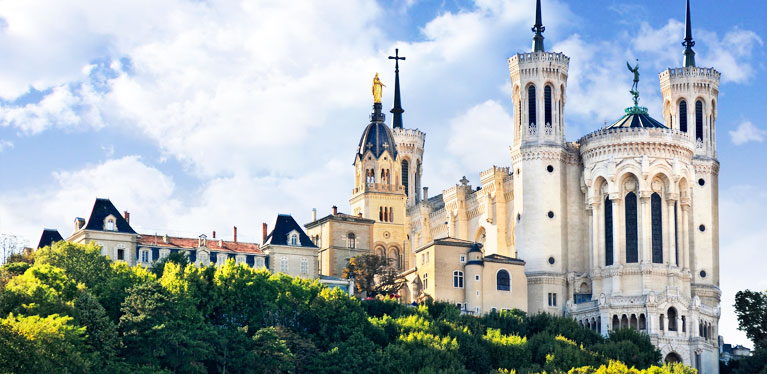 Book direct for the best Avis car rental experience. Here's what to expect:
Price Promise
You'll always get our best prices when booking on this site, or we'll refund the difference.

Peace of mind vehicle cover
Our Comprehensive Zero-Excess cover product means no need to pay or claim.

VIP Treatment
Go straight to your car at our larger stores. Your keys and paperwork will be waiting.

Free Cancellation
Cancel with no charge up to 24 hours before pick-up, if you 'Pay on Collection'

Speedy collection
Jump the queue with pre-prepared paperwork and your vehicle at the ready.

Member-only benefits
Unlock money-off vouchers, free weekends, upgrades and inclusive additional driver cover at no extra cost.
Plan your journey from Lyon
Lyon is an incredibly attractive city with a history dating back more than 2,000 years. Stunning architecture from ancient times through to the modern day is found at every turn. This includes the Great Theatre of Fourvière – France's oldest theatre built in the Roman times by Emperor Augustus around 15 BC. Today, this ancient site hosts outdoor performances and festivals.

Lyon town centre is brimming with grand buildings, monuments and fountains. Be sure to visit Lyon Town Hall – one of the city's largest and grandest buildings. This 17th century gem is located between Place des Terreaux and Place de la Comédie – two impeccably pretty public squares. In the summer, locals and visitors head to the Croix-Rousse district perched at the top of the city. Besides being a few degrees cooler due to its height, this area has a fascinating heritage.

A burgeoning silk industry began here in the 18th century, while this quarter was also home to Jacquard – the inventor of the loom machine. The history of this trade can be fully understood with a visit to the Maison des Canuts (House of the Weavers) museum. Other attractions here include a farmer's market, ancient churches, charming cafes and an array of quirky shops.

After discovering central Lyon, accelerate beyond its cultured city confines to discover a world of treats.


Beyond Lyon
From fascinating ancient towns and quaint villages to gorgeous landscapes filled with vineyards, road trips from Lyon guarantee scenic delight.

Vienne

Sitting majestically on the banks of the river Rhône, just 30 minutes south from Lyon, is Vienne – a city renowned for its art and history. The rich archaeological heritage can be appreciated through an abundance of ancient sights, including landmarks dating back to the Roman times. This includes the Théâtre Romain, a huge amphitheatre that was restored during the 20th century. It now hosts performances and leading events, including the annual summer International Jazz Festival. Another must-see sight is the Temple of Rome and Augustus that was built around 30 BC.

Beaujolais region

If you crave quintessentially French countryside, head north and in just 45 minutes you'll arrive in the beautiful Beaujolais area.

As a premium wine region, the landscape is picturesquely dotted with vineyard-covered rolling hills as far as you can see. Stunning views are pleasantly interrupted by charming villages and historic sights, including Beaujeu and its ancient Church of Saint-Nicholas. The Beaujolais region is also famous for its delicious food, so take your pick from the many fine restaurants.

With an Avis rental car, you can make the most of your time here in Lyon and beyond. All you have to do is drive.


Road rules in France
Which side of the road?
In France, please drive on the right side of the road.

Country driving laws
Mobile phones may only be used with a hands-free device. Do not use headphones or earpieces
In towns and rural areas, on minor roads and where there is no clear indication of right of way, it may be prudent to give way to traffic coming from the right ("priorité a droite")
Bus lanes are reserved exclusively for buses, taxis and bicycles
It is recommended that drivers use dipped headlights at all times

Speed limits

All speed signs will be in km/h.

For a standard Avis rental vehicle with no trailer:
Urban areas: 50 km/h (31 mph)
Rural areas: 90 km/h (55 mph)
4-lane expressways (rural areas): 110 km/h (68 mph)
Motorways: 130 km/h (80 mph)
Unless indicated by road signs.

Be aware of changes to speed limits displayed on road signs due to adverse weather conditions

Child safety / Seatbelt laws
It is compulsory for the driver and all passengers to wear a seatbelt
Children aged under 10 and weighing less than 36kg must be seated in appropriate child restraint
Children weighing up to 9 kg must travel in a rear-facing car seat, in the back of the car only
Please note - It is the child's parent / guardian or vehicle renter's responsibility to fit the child seat.

This road rules information is for provided for general guidance only. We endeavour to keep the information up to date and accurate, but any reliance you place on this information is at your own risk.