Welcome to Avis

Rent a car in Jersey with confidence. Full, fee-free cancellation guaranteed
You'll find the Avis car hire desk in Jersey Airport arrivals hall. From there, you'll be well-placed to take your hire car all the sandy beaches, rugged cliffs and quiet country lanes of the island. Out-of-hours returns are available for ultimate flexibility, so you can return your hire car when our office is closed.

With 350 miles of road, a hirel car is the best option to see Jersey's sights. Nestled in the English Channel, between the UK and France, this island mixes the best of French and British culture, making for a unique holiday destination.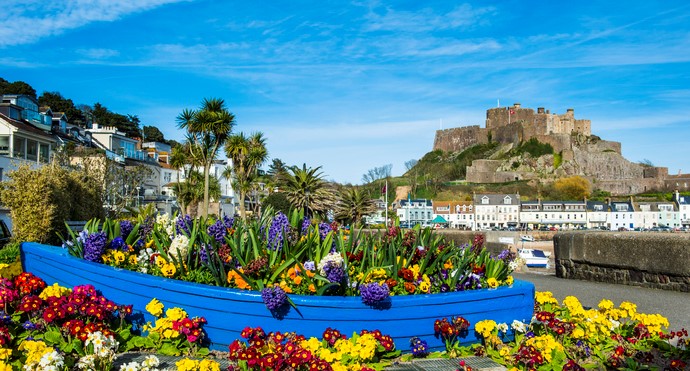 Popular airport locations in Jersey
Popular car rental locations in Jersey
Best places to visit in Jersey
Saint Helier
The island's capital and largest town, Saint Helier, is situated on the southern coast. Its excellent tourist infrastructure offers all the essentials for visitors, including top-end restaurants, hotels, shops, bars and cafés. As an added bonus, shopping here is tax free.

Wander around the Victorian Central Market, popular with tourists and locals alike, with stalls selling flowers and produce. Admire Elizabeth Castle towering over the city on its rocky islet and delve into the island's rich heritage at the Jersey Museum and Art Gallery.

Jersey War Tunnels
One of the most popular and poignant attractions on the island, the Tunnels offer a fascinating insight into the Nazi-occupied island as it was. Now a museum, the complex comprises a partially completed underground hospital and tunnel network built by slave labour during World War II.

My family and other animals
The Durrell Wildlife Park in Trinity is home to some of the rarest animals on the planet. The park was established by celebrated author and naturalist Gerald Durrell with the aim of preserving endangered species and allowing animals a considerable degree of freedom. Many of the residents can in fact roam freely in a natural wooded environment.

Events and festivals
Foodies who flock to the island to enjoy its famous produce will very much appreciate the annual food festival held in May. Celebrate the Jersey Royal potato and savour the abundant seafood. Attractions include tours of farms and dairies, low water walks and an al fresco food event in Saint Helier.

The Battle of Flowers Grand Day Parade is one of the most spectacular events of its kind. Held in August, the parade of flower-festooned floats and other entertainment brings visitors from all over the world. The Battle of Flowers Moonlight Parade, also held in August, is even more atmospheric. Floats are adorned with hundreds of lights to give this event a truly magical quality.
Driving rules in Jersey
Which side of the road?
In Jersey, please drive on the left side of the road.

Country driving laws
Mobile phones may only be used with a headset or hands-free device
There is a congestion charge payable when driving in London
Use the outside lane to overtake on motorways and dual carriageways
Zebra crossings (black and white stripes on the road) give pedestrians right of way to cross the road

Speed Limits
All speed signs will be in mph.

For a standard Avis rental vehicle with no trailers:
Urban and rural areas: 40 mph (48 km/h)
Unless indicated by road signs.

Child safety / Seatbelt laws
It is compulsory for the driver and all passengers to wear a seatbelt
Children aged under 12 or less than 135 cm tall must be seated in an appropriate child restraint for their size

Please note - It is the child's parent/guardian or vehicle renter's responsibility to fit the child seat.

This road rules information is for provided for general guidance only. We endeavour to keep the information up to date and accurate, but any reliance you place on this information is at your own risk.
Road trips around Jersey
Jersey is a small island (roughly 9 miles by 5 miles in area), but there's plenty to occupy you here, and you can cram a lot in a day or two with our car rental in Jersey. Take your Avis vehicle from the main population centre of St. Helier to the opposite side of the island, and stroll along the north-western coast, around St Ouens Bay. This is also one of the best beaches on the island, for soaking up rays or catching some waves.
On the south side of Jersey, the picturesque fishing village of St. Aubin is worth exploring for a few hours. It's a great place to get a spot of lunch, with a number of restaurants serving fine seafood and other local fare.
Around a 30-minute drive from Jersey Airport Shuttle (via the A2), or a 15-minute drive from St Helier, is Mont Orgueil Castle. Its fortifications protected the island from French invasion for over 600 years. It's now a popular sightseeing attraction offering a wealth of hidden treasures, winding staircases and imposing towers to explore.
How much does it cost to hire a car in Jersey?
Whether you are looking for a hire car for business or pleasure, Avis has something to suit all needs. Choose from a wide range of cars, SUVs and vans, and benefit from the latest online deals. You'll get our best prices when booking on our website.
Is Jersey part of the UK?
Though it's located very near to the coast of France, Jersey belongs to the British Isles. It's technically independent from the United Kingdom, but it does come under the protection of the sovereignty of Great Britain.
Is Jersey an easy place to drive around?
Traffic on the island is usually pretty manageable, but its many narrow, twisty country lanes can present a challenge to motorists. Accidents are surprisingly common, despite the low speed limit. Ensure that you drive carefully and read the road rules fully before you arrive.
What kind of car should I hire in Jersey?
Avis offers cars for every need and budget, from small and efficient compact cars to family sized saloons and spacious people carriers, right through to our top-of-the-line luxury Prestige models. Book now to see which models are available.
Why choose Avis for your Jersey car hire?
Fully flexible
Enjoy fee-free flexible booking with full cash refunds and no vouchers.

Savings on coverage
When you choose Avis Inclusive you can experience total peace of mind with no extras or surprises. Pay one upfront price for free Roadside Assistance Plus and 25% discount on comprehensive zero-excess cover.

Loyalty benefits
Join our free loyalty programme Avis Preferred, and benefit from priority service, discounts and more.
Safety first
From our well-maintained fleet to protecting your data, we take safety seriously. That means before each rental our vehicles are safety checked and cleaned in line with hygiene protocol.

Faster collection
Save time at the counter by registering your details in advance with our simple and free QuickPass. You could be on the road sooner than you think.

VIP treatment
Get priority counter service on collection with Avis Preferred. At our larger locations you can use our Avis app to go straight to your car where the keys will be waiting for you.