Welcome to Avis

Find a Car in Palma de Mallorca
Our Mallorca car rental desks are located at Palma de Mallorca Airport, as well as in various other convenient locations on the sunny Balearic island. If arriving by ferry, find our desk near the Puerto Alcudia Seaport.

Wherever you decide to collect your vehicle, our efficient teams will have you en route to the islnd's majestic mountains, boundless bays and cliff-top vistas in no time. Hiring a car is the ideal way to navigate Mallorca's rural inland tracks, breeze along its scenic coastal roads and stop off to explore the island's many captivating villages.

Arriving by plane and departing by boat? Make the most of our flexible return options, enabling you to pick up your hire car from one location and drop it off elsewhere at the end of your trip.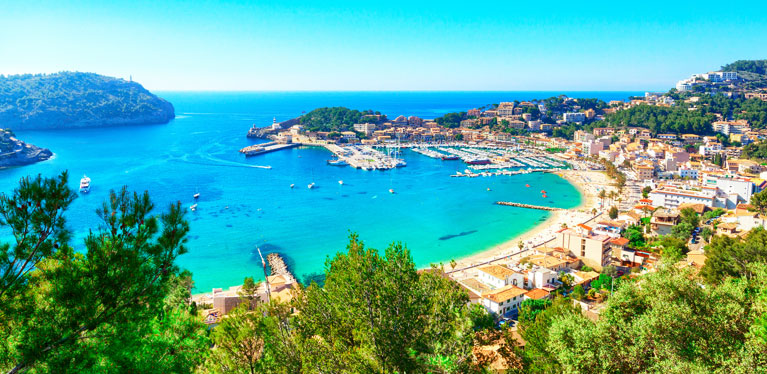 Car hire locations in Palma de Mallorca
Around Mallorca: Destination Features
Exploring Palma de Mallorca by hire car
Its charming historic capital Palma is a 20-minute drive away from the airport. It's a city of spires: the signature Gothic steeples that crown the 13th-century Palma de Mallorca Cathedral; the sky-piercing turrets of the Moorish Royal Palace of La Almudaina; and Castell de Bellver's imposing towers just outside Palma. Beyond its architecture, browse Palma's elegant boutiques, tasteful galleries and lively tapas bars to discover a buzzing cultural hub.
As lovely as Mallorca's capital is, sun-worshippers tend to head straight for the white sandy resorts surrounding it. The island's compact size means that in less than an hour from the city, you can be exploring its wild northernmost peninsulas or sunbathing on the shores of the horseshoe-shaped Badia d'Alcúdia.
From the balmy glamour that bejewels Mallorca's prestigious Puerto Portals—20 minutes southwest along the coast from Palma—to the ancient laid-back town of Puerto Pollença, an hour's drive north, there's a tempo to suit all tastes. Puerto Pollença's narrow streets and pretty squares are dotted with cafés—an ideal perch to while away an afternoon watching village life pass by.
Mallorca and beyond: Recommended day trips
With so many more rustic landscapes and pretty hilltop towns to visit—including Sóller, embedded in the island's valley of oranges, and Deià, which resides by a ravine at the foot of the Puig del Teix mountain—hire a car with Avis in Mallorca and uncover the island's most scenic sun spots, inaccessible without your own transport.
The earliest settlers in Mallorca were a Neolithic community that constructed stone compounds, the remains of which can still be explored at archaeological sites across the island. Waves of conquest continued to ravage its shores in the centuries that followed, with Roman, Visigoth, Muslim and Christian crusaders each plundering the island in turn. Fortifications designed to ward off such invaders—the Gothic-style Castell de Bellver, the inaccessible Castell d'Alaró and medieval Castell de Capdepera—are imposing reminders of Mallorca's past.
Hikers can take their pick between the Serra de Tramuntana in the west or the Serres de Llevant in the east, each spanning approximately 70km in length. Wind your way up to reach captivating vistas of clear, blue waters and honey-coloured houses in the villages below. The glimmering Mirador de Mal Pas and the Talaia d'Albercutx watchtower make spectacular viewing points along the Tramuntana mountain roads.
Why choose Avis for your Mallorca car hire?
Fully flexible
Enjoy fee-free flexible booking with full cash refunds and no vouchers.

Savings on coverage
When you choose Avis Inclusive you can experience total peace of mind with no extras or surprises. Pay one upfront price for free Roadside Assistance Plus and 25% discount on comprehensive zero-excess cover.

Loyalty benefits
Join our free loyalty programme Avis Preferred, and benefit from priority service, discounts and more.
Safety first
From our well-maintained fleet to protecting your data, we take safety seriously. That's why we've partnered with Dettol® to ensure both hygienic rental locations and thoroughly cleaned vehicles.

Faster collection
Save time at the counter by registering your details in advance with our simple and free QuickPass. You could be on the road sooner than you think.

VIP treatment
Get priority counter service on collection with Avis Preferred. At our larger locations you can use our Avis app to go straight to your car where the keys will be waiting for you.
What's the best area to stay in Mallorca?
From the buzzing capital of Palma to peaceful countryside retreats and buzzing nightlife, there's a little of everything on the largest of the Balearic Islands. The historic city of Palma is a charming town with a wide choice of restaurants and bars, great shopping and beautiful architecture. In the north, Mallorca's landscapes are defined by the magnificent Tramuntana Mountain range, with beautiful villages such as Deià, Valldemossa and Soller. The south and southeast offers swathes of gorgeous sandy beaches and vast salt plains. If you are looking for all-night action, head to the most developed part of the island in the west, where the resorts of Magaluf and Palma Nova keep the good times rolling into the early hours.
When's the best time to go to Mallorca?
While most holidaymakers choose the summer months with the promise of perfect sunny days and pristine sandy beaches, the island's mild winters and pleasant climate make it a year-round destination.
How much is the price of fuel in Palma de Mallorca?
The average price of unleaded 95 petrol in Mallorca is 1.468 €/litre.
What type of car is recommended for driving in Palma de Mallorca?
The type of car you choose depends on what you plan to do and the length of your rental. If you are travelling independently or as a couple, and you plan to spend your time between the busy city or resort towns and the beach, you might find our range of compact cars, economy cars or minis will suit your needs. With a compact car you'll find narrow streets and parking a breeze. If you plan to explore further, consider upgrading to a mid-size or luxury vehicle for added comfort.
If you are travelling as a family, check out our range of SUVs from the Prestige range, or our spacious family saloons that have more storage for luggage ad will keep everyone comfortable.
Where are the best places to park in Palma de Mallorca?
There are several car parks in Palma de Mallorca. The most convenient location is the Saba public car park on Plaza de San Antonio, just a short walk from the Cathedral of Palma de Mallorca.