Welcome to Avis
Aeropuerto De Alicante

Alicante
03071

Opening Times
Monday

08:00 - 23:45

Tuesday

08:00 - 23:45

Wednesday

08:00 - 23:45

Thursday

08:00 - 23:45

Friday

08:00 - 23:45

Saturday

08:00 - 23:45

Sunday

08:00 - 23:45
24-hour drop-off

Rent a car at Alicante Airport with confidence. Full, fee-free cancellation guaranteed
Rent a car at Alicante airport or pick up your Avis car rental from the Alicante Train Station and explore the hidden beaches along the Spanish Costa Blanca.

Our car hire Alicante Airport service greets visitors in the Arrivals hall, direct from their flight. Our efficient team offers a speedy check-in and drop-off service, ensuring you can get on and enjoy your trip.

A springboard to the Costa Blanca's coastal towns, dazzling beaches and craggy clifftops, as well as the region's charming inland villages and rural bodegas, Alicante-Elche Airport is one of Europe's 50 busiest, with just under 14 million passengers a year passing through its terminals.

Our Alicante car rental service offers flexible one-way options, so you can pick up your vehicle at the airport and drop it off at a different location at the end of your trip.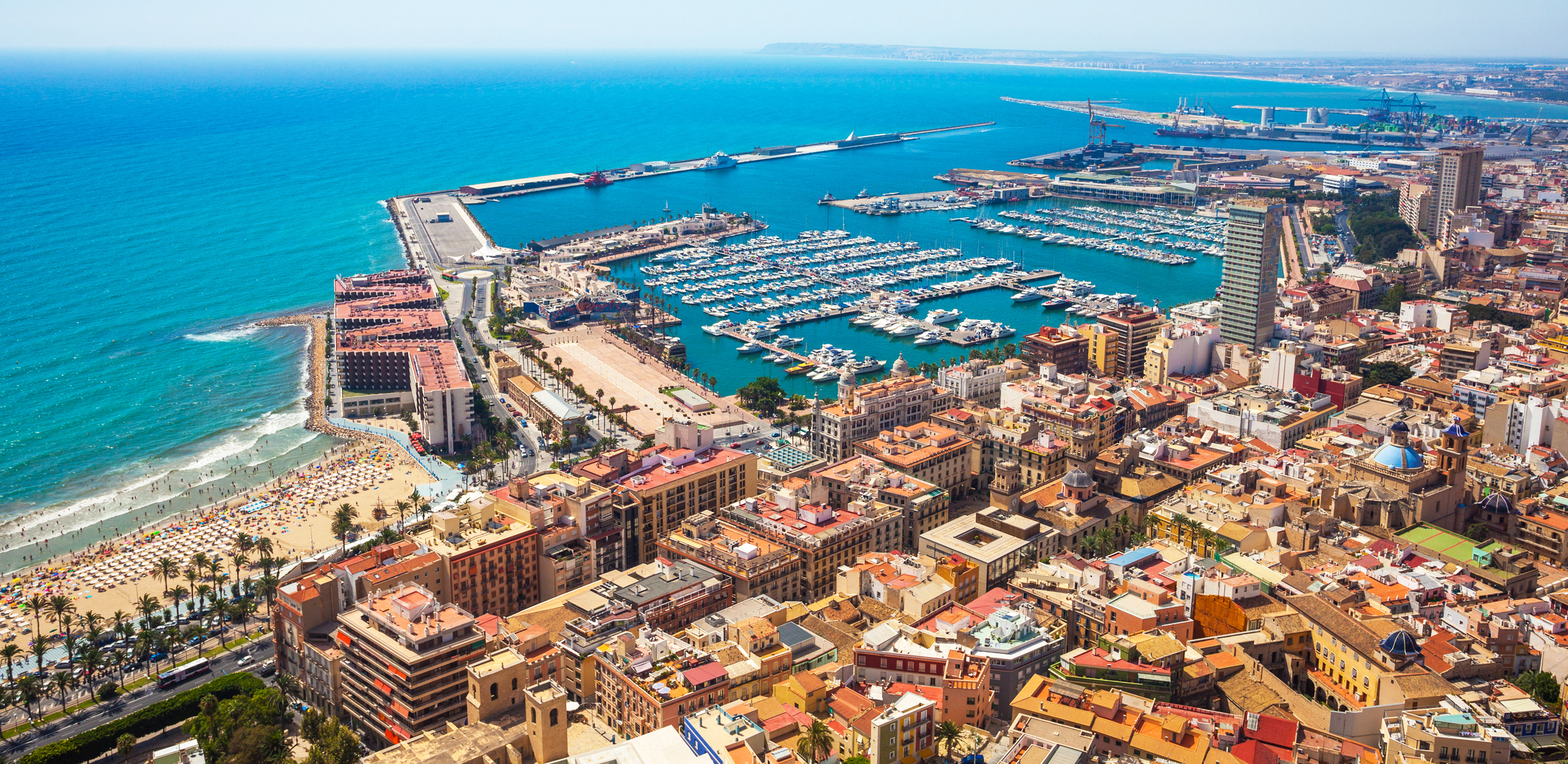 Top car hire locations around Alicante Airport
Discover cars to rent at Alicante Airport
Explore the port city of Alicante in your Avis hire car and make the most of all the city has to offer. Zip through the narrow streets of Barrio de Santa Cruz in a small hire car and admire its colourful houses and vivid nightlife scene, or take the entire family out on a day trip to the nearby towns of Benidorm or Altea in a large hire car.
Our range of Alicante Airport rental cars have got you covered with compact vehicles for tight turns and easy parking; practical economy vehicles (e.g. Volkswagen Polos that are compact yet spacious); mid-size automatics for day trips and holiday adventures; hatchbacks that are comfortable and stylish with plenty of space for the kids; as well as large cars, estates and people carriers with room for the extended family, plus all their gear. See our car rental Alicante airport fleet for more info.
Plan your journey from Alicante Airport
Once you've collected your Avis rental from the car hire Alicante Airport location, it's time to head off on a sun-filled adventure. Luckily, the city centre of Alicante is a short 20-minute drive from Alicante Airport via the N-332. From there, all of Alicante's top attractions are within easy reach. From the Picassos and Dalís adorning the interiors of Museo de Arte Contemporáneo to the fragrant paella simmering in the Mercado Central, you'll never run out of things to do and see in Spain's harbour-side City of Light.
With temperatures reaching heights of 30°C in the summer months, you might decide to skip past the city centre altogether and head straight to the beach in your Alicante hire car. The beaches of Costa Blanca span 15 km of Spain's coastline. Follow the N-332 up beyond Alicante to discover sunshine, sandy beaches, lively al-fresco cafes and tapas bars galore. Read more to discover the hidden beaches of Alicante and get your road-trip planning started.
Top tips for driving in Alicante
Which side of the road?
In Spain, please drive on the right side of the road.

Country driving laws
Mobile phones may not be used at all whilst driving
Dipped headlights must be used in poor daylight visibility
Cyclists have right of way, at all times
Do not use headphones when driving (except hearing aids)
Always use indicators, you will be fined for not using indicators when needed

Speed limits
All speed signs will be in km/h.
For a standard Avis rental vehicle with no trailers:
Urban areas: 50 km/h (31 mph)
Motorways: 120km/h (74mph)
Rural areas: 90 km/h (55 mph)
Unless indicated by road signs.

Child safety / Seatbelt laws
It is compulsory for the driver and all passengers to wear a seatbelt
Children aged under 12 are not allowed to sit in the front seat
Children aged under 12 and less than 135cm tall must be seated in an appropriate child restraint for their size

Please note – It is the child's parent/guardian or vehicle renter's responsibility to fit the child seat.

This road rules information is for provided for general guidance only. We endeavour to keep the information up to date and accurate, but any reliance you place on this information is at your own risk. Please see our Spain Driving Guide for more information.
Beyond Alicante with your hire car
With 200 km of the Costa Blanca to explore, there's plenty to fill your time beyond Alicante, and an Alicante hire car will grant precious access to the best bits. Choose a vehicle from our Avis rental fleet and glide along coastal roads to explore the beaches of Alicante. Boundless sandy bays, such as the golden Cape of Santa Pola (perfect for paddling and swimming) await. You might prefer to head inland and experience rural Spain with its rolling countryside, terracotta-roofed villas and charming hilltop churches.

Follow the scenic highway N-332 south of Alicante to historic Torrevieja, with its unusual pink and green salt lakes, or head north to reach the beautiful old city of Altea – a labyrinth of white-washed and blue-domed buildings. If you keep driving north past the resorts in Benidorm, you'll arrive in the sleepy town of Calpe. Here, 15th-century architecture, quiet beaches and a gigantic rock formation thrusting from the sea make for plenty to explore during your stay.

There are also three lesser-known wine regions in the vicinity, should you decide to traverse the province's undulating vineyards, olive trees and almond groves further inland. Foodies will love a culinary road trip of Alicante, with stopovers to taste charcuterie boards in Mercado Central, seafood paellas in Alicante's hotspots, and elegant wines to wet the taste buds along the Vinalopó River.

Make the most of everything the area surrounding Costa Blanca has to offer when you hire a car with Avis at Alicante Airport.
Why choose Avis for your Alicante Airport car hire?
Fully flexible
Enjoy fee-free flexible booking with full cash refunds and no vouchers.

Savings on coverage
When you choose Avis Inclusive you can experience total peace of mind with no extras or surprises. Pay one upfront price for free Roadside Assistance Plus and 25% discount on comprehensive zero-excess cover.

Loyalty benefits
Join our free loyalty programme Avis Preferred, and benefit from priority service, discounts and more.
Safety first
From our well-maintained fleet to protecting your data, we take safety seriously. That's why we've partnered with Dettol® to ensure both hygienic rental locations and thoroughly cleaned vehicles.

Faster collection
Save time at the counter by registering your details in advance with our simple and free QuickPass. You could be on the road sooner than you think.

VIP treatment
Get priority counter service on collection with Avis Preferred. At our larger locations you can use our Avis app to go straight to your car where the keys will be waiting for you.
Alicante Airport car rental FAQs
Can I pay for my Alicante Airport rental car with a debit card?
Yes. You can pay for your Alicante Airport car rental using Visa and MasterCard debit cards. However, there are a few exceptions: one credit card and one debit card may be required at the counter for higher-value vehicles in the UK. PREPAID cards are accepted online but not at the counter. Therefore, a non-PREPAID card must be shown at the car hire Alicante Airport station (together with a PREPAID card). A PREPAID card may be used to pay for the rental car when you return the vehicle at the end of your trip. Please remember that the name on your card must match the name on your driver's licence (i.e. someone else cannot pay on your behalf). Don't forget to bring your payment card when you collect your rental car.
What are the age requirements for hiring a rental car at Alicante Airport?
To drive our vehicles, you – and all your drivers – must be at least 21 years old and have held a full valid driver's licence for at least ½ year at the start of your rental. If you – or one of your drivers – are under the age of 25 when the vehicle is collected, a young driver surcharge will apply to each of you. There are no age restrictions as long as you have held a full valid driver's licence for at least ½ year.
Can I pick up my rental car at Alicante Airport and return it at another location?
Yes, with the Avis one-way rental that's not a problem. Pick up your one-way rental car at the Alicante Airport car rental station (or any of our locations throughout Europe) and return it at another rental location at the end of your trip.
What measures does Avis take to ensure my safety?
We take the utmost care to provide the highest levels of safety at our facilities and in our vehicles. This includes using counter screens to observe social distancing protocols at our Alicante Airport car hire location, providing hand sanitisers, and carefully cleaning every vehicle before each rental – with special attention paid to steering wheels, indicators, dashboards, hand grips, in-car entertainment controls, cup holders, centre consoles, and all door handles both inside and out. Read the Avis Safety Pledge for more info.