Welcome to Avis
Cointrin Airport

Geneva
1215

Opening Times
Monday

06:45 - 23:30

Tuesday

06:45 - 23:30

Wednesday

06:45 - 23:30

Thursday

06:45 - 23:30

Friday

06:45 - 23:30

Saturday

06:45 - 23:30

Sunday

06:45 - 23:30
24-hour drop-off

Rent a car at Geneva Swiss Side Airport with confidence. Full, fee-free cancellation guaranteed
Pick up your car hire at Geneva Airport (Swiss side) and explore this Swiss city and beyond at your own pace.
This destination has so much to offer, it's hard to know which way to turn. Car hire at Geneva Airport is particularly popular during the winter months, as it provides easy access to various ski resorts across Switzerland.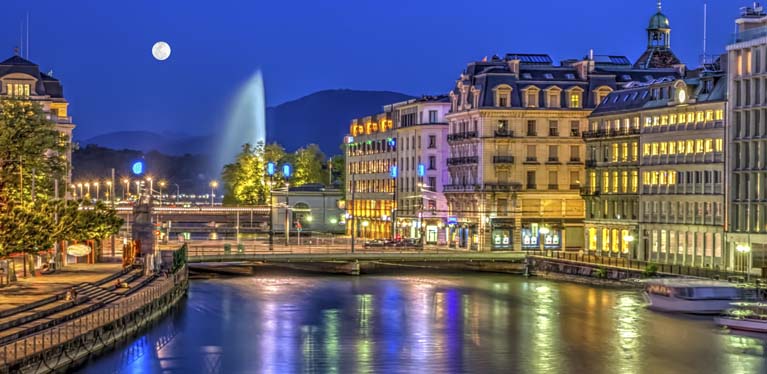 Top car hire locations around Geneva Swiss Side Airport
Discover cars to rent at Geneva Swiss Side Airport
What kind of vehicle do you need? A large SUV for a big family? An eco-friendly compact car to zip around the city? Whatever you're looking for, Avis car hire at Geneva Airport will have you covered. Our vehicles offer practicality, performance and comfort, so you can enjoy your trip as much as possible. Get in touch for more information about the exact models that are available.
Plan your journey from Geneva Swiss Side Airport
Geneva Airport (Swiss Side) is just 5km from Geneva city centre – an easy journey in your hire car. The city offers an enticing combination of cultural charm, world-class entertainment and top-notch cuisine. With numerous ski resorts within easy reach, there's much to do during winter months too.

Many of the city's most famous attractions are found in Geneva's old town, including the St Pierre Cathedral – more than 850 years old. Other attractions include the Barbier-Mueller Museum and the International Museum of the Reformation, housed in an 18th century mansion. If you fancy a relaxing meal, head to Place du Bourg-de-Four – the traditional heart of the old town – where numerous cafes and restaurants await.

From the old town you'll be able to see Geneva's most famous landmark: Jet d'Eau. At 140 metres high, this is the world's tallest water fountain. Every second, 500 litres of water pass through it at a speed of 200km per hour.

For retail therapy, head to Market Street which offers a high-quality collection of shops and boutiques. Also check out Plainpalais – host to Geneva's largest outdoor flea market.

From the comfort of your hire car, Geneva and beyond is yours to discover.
Top tips for driving in Geneva
In Switzerland, please drive on the right side of the road.
Unique Country Driving Laws
If involved in an accident, and Police are not needed, you must complete a European Accident Claim Form. Please return this to your Avis representative.
Speed Limits
For a standard Avis rental vehicle with no trailers:
Urban areas: 31 mph (50 km/h)
Motorways: 74 mph (120 km/h)
Rural areas: 49 mph (80 km/h)
Unless indicated by road signs.
Child Safety / Seatbelt Laws
It is compulsory for all inside the vehicle to wear a seatbelt.
Children under 12 and less than 150 cm must be seated in appropriate child restraint for their size.
Please note - It is the child's parent/guardian or vehicle renter's responsibility to fit the child seat.
Compulsory Equipment in your Avis rental car
Warning triangle
Please ask your Avis representative, whether snow tyres are compulsory at the time of your arrival.
Beyond Geneva Airport (Swiss Side)
The French-speaking part of Switzerland (sometimes referred to as "Romandie") offers visitors exciting cities, historic monuments and cultural excellence, as well as stunning Alpine scenery and numerous ski resorts. With the option to travel into neighbouring France too, Geneva provides many memorable road trips.

Montreux

Just under 100km from Geneva Airport, via the A1 and A9, is the resort of Montreux. With its world-famous jazz festival (June/July) and delightful lakefront promenade, it's a popular tourist haunt. Chillon Castle, perched on a rocky outcrop just offshore, is worth visiting and features fortified walls and a museum.

Lausanne

Travel via the A1 from Geneva Airport for 45 minutes and you'll arrive in the beautiful port of Lausanne. With its delightful old town (dominated by an impressive gothic cathedral) and vibrant nightlife, it's well worth visiting. Gourmands will also be impressed by the choice of restaurants, serving a variety of regional specialties.

Gruyères

Around a 90-minute drive from Geneva Airport (via the A1 and A12) is Gruyères – a typical Swiss Alpine village offering picture-postcard scenery, incredible mountain views and the famous Gruyères cheese factory. Here you'll also find a fine selection of restaurants, many of which specialise in cheese fondue. If you're a history buff, there's also a 13th century castle to explore.

Beyond Geneva Airport (Swiss Side), a kaleidoscope of attractions across Switzerland awaits. With the convenience of a hire car, you're free to discover them at your leisure.
Why choose Avis for your Geneva Swiss Side Airport car hire?
Fully flexible
Enjoy fee-free flexible booking with full cash refunds and no vouchers.

Savings on coverage
When you choose Avis Inclusive you can experience total peace of mind with no extras or surprises. Pay one upfront price for free Roadside Assistance Plus and 25% discount on comprehensive zero-excess cover.

Loyalty benefits
Join our free loyalty programme Avis Preferred, and benefit from priority service, discounts and more.
Safety first
From our well-maintained fleet to protecting your data, we take safety seriously. That's why we've partnered with Dettol® to ensure both hygienic rental locations and thoroughly cleaned vehicles.

Faster collection
Save time at the counter by registering your details in advance with our simple and free QuickPass. You could be on the road sooner than you think.

VIP treatment
Get priority counter service on collection with Avis Preferred. At our larger locations you can use our Avis app to go straight to your car where the keys will be waiting for you.
Geneva Swiss Side Airport car rental FAQs
How do I collect my hire car at Geneva Swiss Side Airport?
When you land at the Airport, head from the Arrivals hall to our desk. One of our members of staff will process your booking, and then you may proceed to collect your vehicle at the Car Rental Centre.
Can I return a rental car to the airport?
If you've rented a car from a different Avis hub but wish to return it at Geneva Swiss Side Airport, then you must arrange your return prior to the commencement of your rental agreement. If you return your car to the airport without specifying in your rental contract, a fee will apply.
Do I need winter tyres to drive in Switzerland?
No, there is no legal requirement for passenger cars in this country to be equipped with winter tyres. However, if you're heading up towards the Alps, they are recommended, and they are a legal requirement on the French and Italian side. Most of our cars in our Switzerland rental hubs will have winter tyres available.