Welcome to Avis
Aeropuerto De Palma
Palma De Mallorca
Palma De Mallorca
07611

Opening Times
Monday

07:30 - 21:00

Tuesday

07:30 - 21:00

Wednesday

07:30 - 21:00

Thursday

07:30 - 21:00

Friday

07:30 - 21:00

Saturday

08:00 - 19:00

Sunday

08:00 - 19:00
24-hour drop-off

Rent a car at Palma de Mallorca Airport with confidence. Full, fee-free cancellation guaranteed
Our car hire service at Palma Airport can be easily located as soon as you touch down in Mallorca's capital. Also known as Son Sant Joan Airport, Palma de Mallorca is Europe's busiest airport in the summer months, with 27 million passengers passing through each year.
The airport is a stone's throw from buzzing Palma, and is within easy driving distance of the sunny Balearic Island's sandy bays, family-friendly resorts and quiet rocky coves. Inland, discover breathtaking mountainous scenery, fascinating prehistoric settlements and an atmospheric network of subterranean caves.
Our Palma de Mallorca Airport drop-off post is open 24/7, ensuring your departure is as hassle-free as your arrival. We offer flexible, one-way rental options, so you can pick up your hire car from Palma Airport and return it to us elsewhere—we also have offices in downtown Palma, Cala Millor, Santa Ponsa and Alcúdia.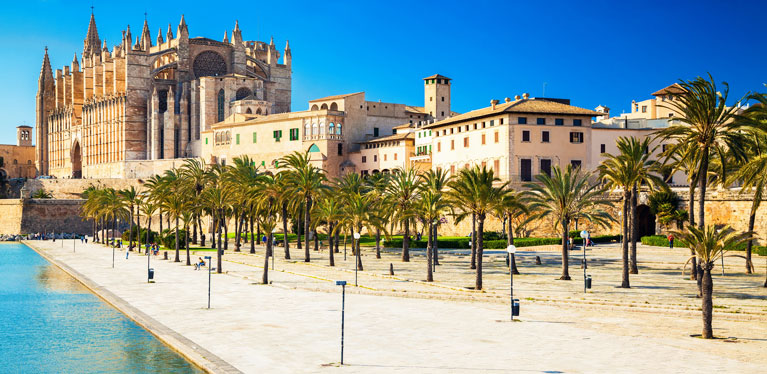 Top car hire locations around Palma de Mallorca airport
Discover cars to rent at Palma de Mallorca airport
Whether you're in Mallorca for the serenity of its pristine beaches and coves or for the excitement of the island's many festivities, cultural landmarks and art events – you can discover it all in an Avis car rental.
Our range of small cars (like the compact Fiat 500) are perfect for zipping through the cobblestone streets of Palma and squeezing into tight carparks. If you're searching for a car with extra space, our mid-size vehicles will be more your style. Give the Vauxhall Crossland or Seat Arona a spin and discover the benefits of a hatchback for your Mallorca adventure.
If your Mallorca adventure includes the whole family, you might consider a vehicle from our extensive range of large cars, estates and people movers. The Peugeot 3008, VW Passat and Skoda Octavia Auto are perfect for holidays with the kids in tow. And if your parents or extended family are partaking in adventures under the Mallorca sun, try our 7-seater Citroen Grand Picasso or Peugeot 5008 Auto on for size.
For the full range of Mallorca car rentals, see our Avis car rental fleet.
Plan your journey from Palma Airport
Your journey starts here
The gateway to Spain's sunshine island won't wait, so why should you? Drive the sunny terrain in style and with complete comfort. Whether you fancy a sprightly compact, homely hatch, executive saloon or spacious people carrier, unlock the perfect car.To get from our car hire Palma Airport location to Palma's city centre, head west of Palma Airport via the Ma-19 and Av. de Gabriel Roca. It's a short, scenic journey into Mallorca's thriving metropole – the entire journey will only take about 20 minutes.
Exploring Palma
Mallorca's dynamic capital is well worth exploring, with spectacular cathedrals, castles, fortresses and palaces thrusting up from its elegant harbourside sprawl. Springing to life in 123 BC as a Roman stronghold, and later captured by Byzantine, Arab and Christian conquests, the city houses a captivating range of architectural influences.
You can't miss the honey-hued Gothic Catedral de Santa María overshadowing the grassy stretch of Parc de la Mar. Take an al-fresco pew at one of the park's cafés and admire the soaring spires—its 44 m nave is Europe's second tallest. The surrounding manicured gardens are adorned by a colour-popping fresco, courtesy of celebrated Spanish surrealist painter Joan Miró.
Parc de la Mar isn't the only decent perch in Palma, though. Find one among the busy cafés that line its gracious tree-lined boulevards and the broad expanse of its grand Plaza Mayor. For a more contemporary setting, take in the shiny white yachts and palm tree-pierced skyline at Palma's busy marina.
When all the sea air makes you peckish, Palma offers some excellent seafood, best washed down with a gin-based tipple. The punchy spirit is distilled on the island and has been enjoyed by locals for centuries.
Top tips for driving in Mallorca
Which side of the road?
In Spain, please drive on the right side of the road.

Country driving laws
Mobile phones may not be used at all whilst driving
Dipped headlights must be used in poor daylight visibility
Cyclists have right of way, at all times
Do not use headphones when driving (except hearing aids)
Always use indicators, you will be fined for not using indicators when needed

Speed limits
All speed signs will be in km/h.

For a standard Avis rental vehicle with no trailers:
Urban areas: 50 km/h (31 mph)
Motorways: 120 km/h (74 mph)
Rural areas: 90 km/h (55 mph)

Unless indicated by road signs.

Child safety / Seatbelt laws
It is compulsory for the driver and all passengers to wear a seatbelt
Children aged under 12 are not allowed to sit in the front seat
Children aged under 12 and less than 135 cm tall must be seated in an appropriate child restraint for their size

Please note – it is the child's parent/guardian or vehicle renter's responsibility to fit the child seat.

This road rules information is for provided for general guidance only. We endeavour to keep the information up-to-date and accurate, but any reliance you place on this information is at your own risk. For more information, see the Spain Driving Guide.
Beyond Mallorca with your hire car
Sun worshippers often head straight for the golden shores stretching out from Palma's coastline, but with a hire car, so much more begs to be discovered. The lofty peaks of the Serra de Tramuntana mountain range are only half an hour away from the capital—the mountainous maze, revered among hikers, is a UNESCO World Heritage Cultural Landscape.
Alternatively, once you've indulged in the capital's chief thrills, head for further-flung Deià or S'illot to soak up their tranquil waters and surrounding peaceful coves. Deià is revered for its pine-carpeted clifftops that plunge into the Balearic Sea, as well as its secluded ambience. S'illot is a laid-back town on the east coast of Mallorca where the serious work of sunbathing, swimming and snorkelling prevail.
A 12-minute drive from S'illot, enter the subterranean realm of stalactites, stalagmites and mysterious pools in Cuevas del Drach (Caves of the Dragon). Here, discover one of the world's most immense underground lakes.
On the opposite flank to Palma, the charismatic, portside metropolis of Alcúdia is reached in just under an hour, owing to the island's compact size. Hire a car with Avis at Palma Airport and enjoy easy access to all of Mallorca's top sights.
Why choose Avis for your Palma de Mallorca Airport car hire?
Fully flexible
Enjoy fee-free flexible booking with full cash refunds and no vouchers.

Savings on coverage
When you choose Avis Inclusive you can experience total peace of mind with no extras or surprises. Pay one upfront price for free Roadside Assistance Plus and 25% discount on comprehensive zero-excess cover.

Loyalty benefits
Join our free loyalty programme Avis Preferred, and benefit from priority service, discounts and more.
Safety first
From our well-maintained fleet to protecting your data, we take safety seriously. That's why we've partnered with Dettol® to ensure both hygienic rental locations and thoroughly cleaned vehicles.

Faster collection
Save time at the counter by registering your details in advance with our simple and free QuickPass. You could be on the road sooner than you think.

VIP treatment
Get priority counter service on collection with Avis Preferred. At our larger locations you can use our Avis app to go straight to your car where the keys will be waiting for you.
Palma Airport car rental FAQs
Can I cancel my booking?
Yes. If you are using our car hire Palma Airport service (or rent a car via any of our Avis rental locations), your refund will be processed in full immediately and should reach your account within 5 working days – should you need to a cancel a booking. See our flexible cancellation policy for more information.
What are the age requirements for car hire in Mallorca?
To drive our vehicles, you – and all your drivers – must be at least 21 years old and have held a full valid driver's licence for at least ½ year at the start of your rental. If you – or one of your drivers – are under the age of 25 when the vehicle is collected, a young driver surcharge will apply to each of you. There are no age restrictions as long as you have held a full valid driver's licence for at least ½ year.
Can I pick up my hire car at Palma Airport and return it at another location?
Yes, with the Avis one-way rental that's not a problem. Pick up your one-way rental car from our car hire Palma Airport location (or any of our locations throughout Europe) and return it at another rental location at the end of your trip.
What measures does Avis take to ensure my safety?
We take the utmost care to provide the highest levels of safety at our service locations and in our vehicles. This includes using counter screens to observe social distancing protocols at our car hire Palma Airport location, providing hand sanitisers, and carefully cleaning every vehicle before each rental – with special attention paid to steering wheels, indicators, dashboards, hand grips, in-car entertainment controls, cup holders, centre consoles, and all door handles both inside and out. Read the Avis Safety Pledge for more info.