Welcome to Avis
Arrivals Hall
Dublin Airport
Dublin
K67 T1H9

Opening Times
Monday

05:00 - 00:15

00:00 - 00:15

Tuesday

05:00 - 00:15

00:00 - 00:15

Wednesday

05:00 - 00:15

00:00 - 00:15

Thursday

05:00 - 00:15

00:00 - 00:15

Friday

05:00 - 00:15

00:00 - 00:15

Saturday

05:00 - 00:15

00:00 - 00:15

Sunday

05:00 - 00:15

00:00 - 00:15
24-hour drop-off

Hire a car from Dublin Airport
Our car rental services at Dublin Airport can be found as soon as you touch down in the cheerful Irish capital. Our check-in desks are conveniently located in the arrivals hall in Terminal 1 and in the multi-storey car park in Terminal 2.

Handling almost 30 million passengers every year and just 10 km outside of Dublin, the airport is the international gateway to the vibrant capital city as well as to east Ireland's rural charms. The emerald peaks of Wicklow Mountains, characterful medieval hub of Kilkenny and Brittas Bay's rolling dunes all invite exploration.

Our offices are open between 5am and 11.30pm. If you'd like to collect your vehicle outside of those hours, please let us know in advance and we will arrange this for you.

Heading out on a one-way trip? Make use of our flexible service – you can collect your rental car at Dublin Airport and drop it off elsewhere at the end of your journey.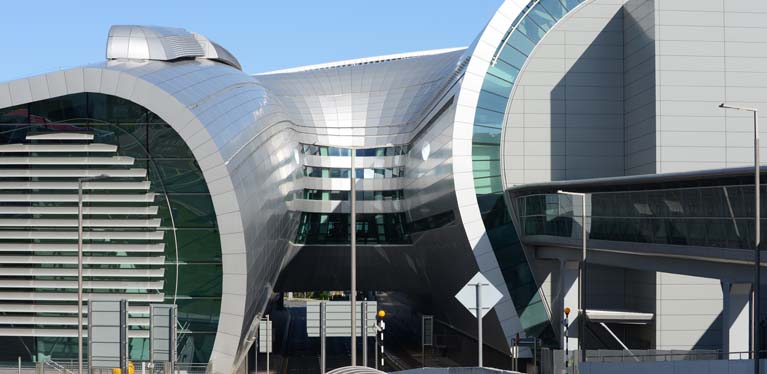 Plan your self-drive adventure from Dublin Airport
When you rent a car from Dublin Airport you should of course drive into town to explore the capital. With roots that trace back to the 9th century BC, Dublin is a city that is steeped in history and tradition. Originally a Viking stronghold, the area was later invaded by the Normans, whose Dublin Castle (built in 1204) now houses offices of the Irish government. Some parts of this imposing building are open to the public, so if you fancy a walk through some lavish chambers, this destination is well worth a visit.

Aside from Dublin Castle, Dublin's other historic architecture will exceed your expectations. Whether it's Georgian terraced townhouses or grandiose churches such as Ireland's largest cathedral, St Patrick's, or the opulent Christ Church, you won't be disappointed. If stunning architecture doesn't excite you but you're still a history buff, then be sure to take a look at the 1,200-year-old Book of Kells, a handwritten Celtic manuscript that's preserved inside the renowned Trinity College.

When the sun goes down, Dublin's nightlife shifts into gear with the city's lively Temple Bar district a must for those in search of fun and a few drinks. A trip to Dublin wouldn't be complete without a pint of Guinness, so be sure to pencil in a visit to the Guinness Storehouse, where the iconic stout has been brewed since 1759. Here you will find the Gravity Bar which offers magnificent views across Dublin.

Outside of the capital, Ireland's effortlessly traversable road network means the whole country is open for discovery. After you pick up your hire car from Dublin Airport, the Wicklow Mountains, surrounded by moors filled with beautiful heather, are just a quick hour's drive away from Dublin. Love the great outdoors? Ireland's scenic trails offer everything a hiker could ever want.

Elsewhere, Glendalough is sure to impress with its awe-inspiring glacial valley and monastic settlement that dates back to medieval times. Alternatively, Brittas Bay, which boasts a 4km stretch of breath-taking coastline next to rolling sand dunes, is just waiting to be discovered. Just as popular with swimmers and nature lovers are Bray, Dalkey and Howth with their glittering shorelines.

If you're looking for a city alternative to Dublin, then Kilkenny is a quick 90-minute drive away from our car rental service at Dublin Airport. Known as the Marble City thanks to its illustrious history of exporting black marble, this is one place that rivals the capital's architectural splendour. Not to be missed is the 800-year-old Kilkenny Castle, alongside the city's historic pubs such as the Kytelers Inn which has been serving thirsty customers since 1324.

With so much to uncover on the captivating island, hire a car with Avis at Dublin airport to access the best of it.
Driving rules in Ireland
Which side of the road?
In Ireland, please drive on the left side of the road.

Country driving laws
Mobile phones may not be used at all whilst driving, other than to contact emergency services
In rural areas, you are likely to encounter tractors and animals on the road. Please drive slowly and carefully as roads are often very narrow
If you're caught committing a driving offence, the police can issue an on-the-spot fine
Do not use the horn between 23:30 and 07:00
It is recommended that drivers use dipped headlights at all times

Speed limits

All speed signs will be in km/h.

For a standard Avis rental vehicle with no trailers:
Urban areas: 50 km/h (31 mph)
Rural areas: 80 km/h (50 mph)
Motorways: 120km/h (74mph)

Unless indicated by road signs.

Child safety / Seatbelt laws
It is compulsory for the driver and all passengers to wear a seatbelt
Children aged under 12 and less than 150cm tall, and weighing less than 36 kilograms must be seated in an appropriate child restraint for their size

Please note - It is the child's parent / guardian or vehicle renter's responsibility to fit the child seat.

This road rules information is for provided for general guidance only. We endeavour to keep the information up to date and accurate, but any reliance you place on this information is at your own risk.