Welcome to Avis
Car Rental in Bordeaux with Avis
Rent a car in Bordeaux
Our Bordeaux car rental services are located across the city. Find us at Bordeaux–Mérignac Airport, as well as at Gare de Bordeaux Saint-Jean train station and downtown in the city centre. Wherever you decide to collect your rental vehicle, our team will check you in quickly and efficiently so you can get on and enjoy your trip in the scenic southwest of France.
Thrumming with culture and fine French cuisine, the riverside city is all majestic 18th-century architecture, pretty café-scattered squares and, well, wine bars—it is the capital of wine after all. Beyond the city, vineyards punctuated with elegant châteaux roll out under endless skies, inviting visitors to venture beyond Bordeaux's urban perimeters into southwest France's captivating countryside.
Embarking on a one-way adventure? Make the most of our flexible return options. You can collect your hire car in Bordeaux and drop it off elsewhere in France or Europe.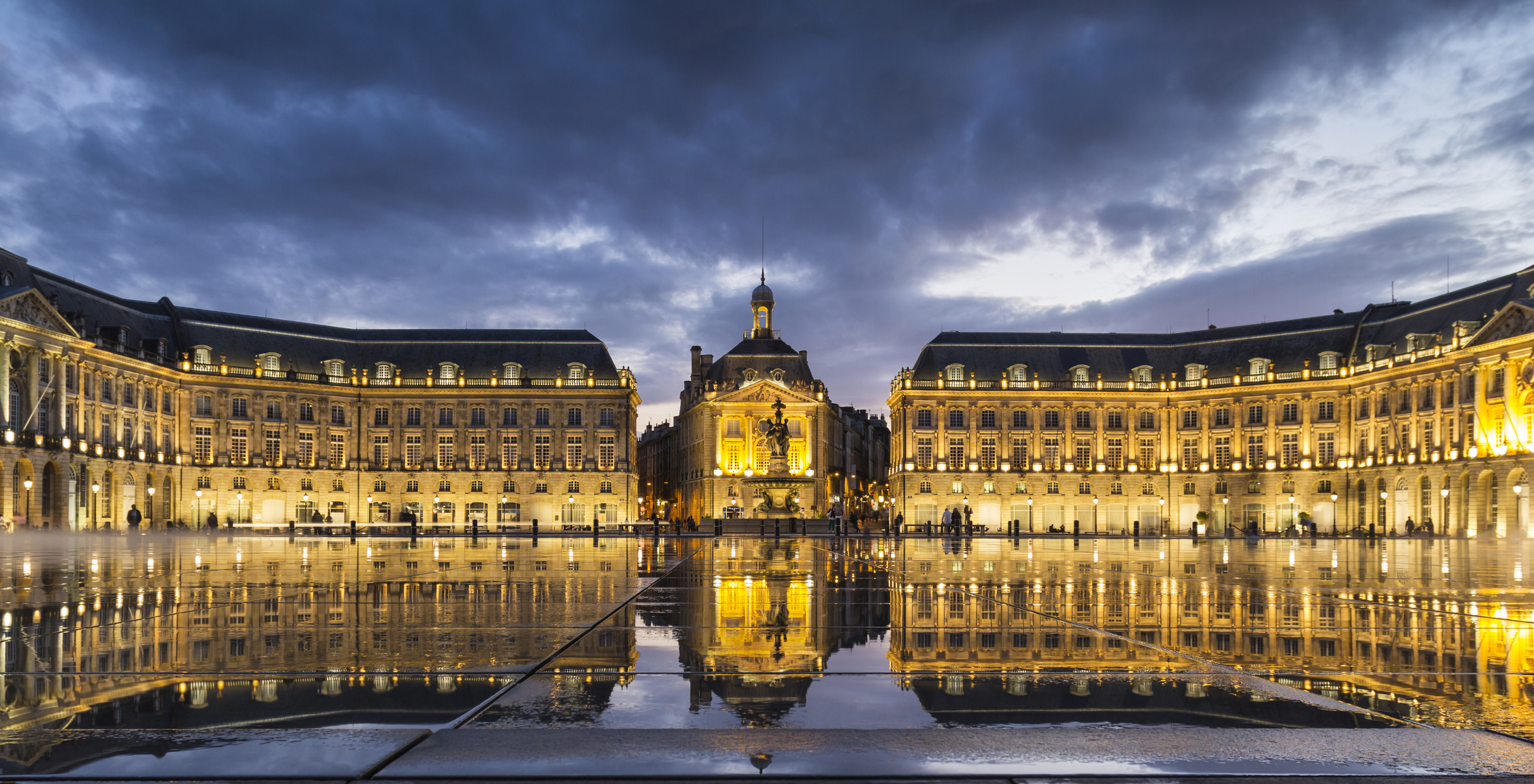 Car hire locations in Bordeaux
Drive around Bordeaux with your hire car
The city of Bordeaux is the epitome of all things chic. Major efforts have been made in recent years to buff and polish the area, transforming it from a tired looking town into a vibrant hub. Buildings have been refurbished, tram lines installed and riverbanks reclaimed.

A drive around Bordeaux in your rental car provides great opportunities to see a number of attractions during your stay in the city. There are plenty of historical landmarks to see like the Victory Arch, Pey-Berland Tower and the Town Hall. Museums worth visiting during your city break include the Musée des Arts Deco and the Musée des Beaux Arts.

Bordeaux has many stunning squares. Place de la Bourse overlooks the Garonne River and is considered one of France's most attractive areas. Spend an afternoon strolling around the 18th century facades or during the evening when the fountain is lit up. The heart of the city is Place Gambetta, which has beautiful landscaped gardens, numerous shops, and dining venues.

There's so much to discover in Bordeaux. Hire an Avis car to see the city in style and comfort.

Beyond Bordeaux
Driving out of Bordeaux provides scenic views of the beautiful vineyards. Whether you decide to head off on a road trip from Bordeaux to the coast or explore the region further inland, you'll discover plenty of charming spots.

Lacanau
A one hour drive to the west of Bordeaux is Lacanau. This is a laidback seaside resort that attracts families looking for a fun day out at the beach and surfers trying to catch some waves. During the summer months, the area is teeming with visitors from France and Europe. It's a haven for outdoor sports enthusiasts. As well as water sports, there are also facilities for golf, horse riding, cycling and tennis.

Arachon
The coastal town of Arachon is less than an hour by car from Bordeaux. It's often a weekend destination for people from the city. The main attractions are the sandy beaches, such as Pereire, that stretch for miles. The town is divided into different parts, each named after a season. Don't leave the town without sampling some seafood dishes, such as moules frites to oysters.

Saint-Émilion
Head west from Bordeaux and in less than an hour you'll reach the town of Saint-Émilion. This old town is made up of gold-coloured stone buildings, ancient walls and well-kept ramparts. The streets are filled with restaurants, cafes, bakeries and wine stores. Tours to the pretty local vineyards are offered, although you are welcome to explore the area independently as well.

Bordeaux and the south-west of France are yours to discover. All you have to do is drive.
Driving rules in France
We've unlocked France's driving rules and regulations for your journey to help keep you safe and avoid the unexpected. Familiarise yourself with our comprehensive guide.
Book direct for the best Avis car rental experience. Here's what to expect:
Price Promise
You'll always get our best prices when booking on this site, or we'll refund the difference.

Peace of mind vehicle cover
Our Comprehensive Zero-Excess cover product means no need to pay or claim.

VIP Treatment
Go straight to your car at our larger stores. Your keys and paperwork will be waiting.

Free Cancellation
Cancel with no charge up to 24 hours before pick-up, if you 'Pay on Collection'

Speedy collection
Jump the queue with pre-prepared paperwork and your vehicle at the ready.

Member-only benefits
Unlock money-off vouchers, free weekends, upgrades and inclusive additional driver cover at no extra cost.
FAQ
- What is the city of Bordeaux famous for?
The city and region of Bordeaux is famous for its vineyards, tantalising gastronomy and for producing some of the world's finest wines.
- Is Bordeaux a good holiday destination?
Bordeaux offers visitors a thrilling combination of top museums, vibrant culture and world-famous wine. The city is awash with sophisticated bars and restaurants. It is also located within easy reach of the ocean, with a number of beautiful beaches less than an hour's drive from the city.
- Do people speak English in Bordeaux?
French is the official language in Bordeaux but as one of France's most popular tourist destinations you will find that in hotels, restaurants and bars, some English is also spoken.
- How many days should I stay in Bordeaux?
Three days is a perfect amount of time to discover the city's main attractions, sample the world-famous gastronomy and enjoy a day trip to a vineyard or chateau.