Welcome to Avis
Aeroport De Blagnac Hall C

Blagnac
31700

Opening Times
Monday

06:30 - 23:59

Tuesday

06:30 - 23:59

Wednesday

06:30 - 23:59

Thursday

06:30 - 23:59

Friday

06:30 - 23:59

Saturday

08:00 - 22:00

Sunday

08:00 - 23:59
24-hour drop-off

Rent a car at Toulouse Airport with confidence. Full, fee-free cancellation guaranteed
This beautiful city in the south of France brings together a rich history with cutting-edge technological innovation. It's the country's fourth-largest city, and is currently the centre of Europe's aerospace industry. Toulouse Airport car hire from Avis will allow you to explore the cultural wealth of this bustling metropolis.
Hire a car in Toulouse and discover southwest France.

Toulouse-Blagnac Airport provides perfect access to France's mountains and Mediterranean relaxation. Some of the most beautiful French countryside is within an hour's drive in the Languedoc-Roussillon and Midi-Pyrénées regions. No matter the time of year, Toulouse is situated perfectly for either ski or sun holidays.

How to find the Avis car rental desk at Toulouse-Blagnac Airport?
When exiting arrivals, please leave the Airport Terminal and head towards car park P2. Avis is located on the bottom floor of the car park.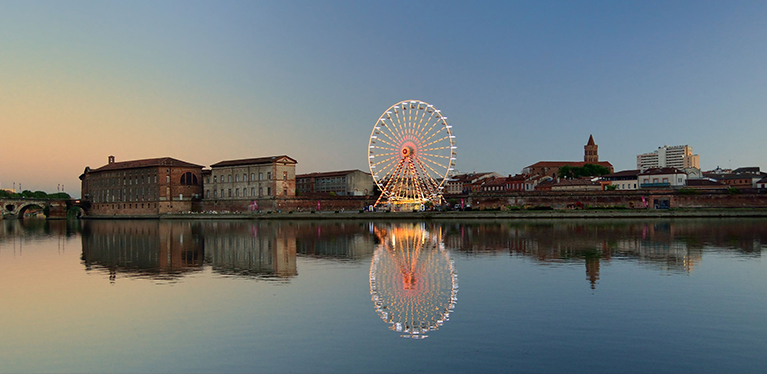 Top car hire locations around Toulouse Airport
Discover cars to rent at Toulouse Airport
Whether you're holidaying with the whole family in tow, or just zipping around town for meetings and conferences, Avis has the ideal option for your Toulouse Airport car hire. We have 7-seaters and people carriers for big groups, and economy vehicles to suit those on a budget. There are also high-end models available if you check out our Avis Prestige premium service.
Plan your journey from Toulouse Airport
Toulouse-Blagnac Airport is located northwest of the city of Toulouse. If you are heading into the centre, you'll need the D901 and the journey will take around 15 minutes.

Known as La Ville Rose, thanks to the colour of the bricks used to construct many of its buildings, the city of Toulouse has much to recommend it – a lively cultural scene, fine food markets and restaurants and a superb location at the confluence of the Canal du Midi and the River Garonne.

The Place du Capitole is at the city's heart, where locals congregate to sip coffee or an aperitif and watch the world pass by. To the south of the square take time to explore the city's Old Quarter, brimming with cafes, shops and eateries.

On the city's outskirts you'll find Cité de l'Espace, a fascinating exploration of the role of Toulouse in France's aerospace industry. The museum brings this industry to life through fascinating, hands-on exhibits and full-scale replicas of iconic spacecraft.
Top tips for driving in Toulouse
In France, please drive on the right side of the road.
Unique Country Driving Laws
In built-up areas give way to traffic coming from the right "priorité a droite"
Bus lanes are reserved exclusively for buses, taxis and bicycles
Traffic on a roundabout has right of way
Speed Limits
For a standard Avis rental vehicle with no trailers
Urban areas: 31 mph (50 km/h)
Motorways: 80 mph (130 km/h)
Rural areas: 50 mph (80 km/h) or 62 mph (100 km/h)
Please be aware of changing speeds indicated by road signs and change of speed due to Weather conditions (130 km/h is reduced to 110 km/h)
Child Safety / Seatbelt Laws
It is compulsory for all to wear a seatbelt inside the vehicle. Children under 10 must be seated in a child seat.
Please note - It is the child's parent/guardian or vehicle renter's responsibility to fit the child seat.
Beyond Toulouse with your hire car
The airport is ideally placed for driving further afield. If you're heading to the Pyrenees, you'll need to head south on the A64.

The Pyrenees
If you're heading to the Pyrenees, you'll need to head south on the A64. The Parc National des Pyrénées is wonderful walking terain, with its high peaks, streams, forests and wildlife. The steep and windy mountain passes offer incredible vistas and there are plenty of opportunities for a pit stops in the charming mountain villages. The Pyrenees is also the location of one of the world's most important pilgrimage sites – Lourdes, which receives around six million visitors a year.

Carcassonne and Languedoc-Roussillon
Head east to Languedoc-Roussillon, with its rocky coastline, rugged interior and spectacular canyons. It's a province filled with Romanesque abbeys and churches, Cathar castles and vineyards. Enjoy the stunning views as you negotiate winding hilltop roads and coastal drives. It's an area steeped in history, often rebellious and resistant to foreign invaders and religions, and fortresses and lookouts that dot the landscape are a glimpse into that past.

Don't miss the magnificent walled city of Carcassonne. Perched high on a rocky outcrop, this medieval walled city offer winding, cobbled streets and ancient stone houses and views for miles of the countryside beyond.

Pézenas
The old town of Pézenas is a full of grand old town houses, narrow cobbled streets, antique shops and flea markets. Try to visit on a Saturday, when many of the streets are filled with market stalls selling local produce and bric-a-brac.
Why choose Avis for your Toulouse Blagnac Airport car hire?
Fully flexible
Enjoy fee-free flexible booking with full cash refunds and no vouchers.

Savings on coverage
When you choose Avis Inclusive you can experience total peace of mind with no extras or surprises. Pay one upfront price for free Roadside Assistance Plus and 25% discount on comprehensive zero-excess cover.

Loyalty benefits
Join our free loyalty programme Avis Preferred, and benefit from priority service, discounts and more.
Safety first
From our well-maintained fleet to protecting your data, we take safety seriously. That's why we've partnered with Dettol® to ensure both hygienic rental locations and thoroughly cleaned vehicles.

Faster collection
Save time at the counter by registering your details in advance with our simple and free QuickPass. You could be on the road sooner than you think.

VIP treatment
Get priority counter service on collection with Avis Preferred. At our larger locations you can use our Avis app to go straight to your car where the keys will be waiting for you.
Toulouse Airport car rental FAQs
How do I collect my hire car at Toulouse Airport?
When you land at Toulouse Airport, head from the arrivals hall to our desk. One of our members of staff will process your booking, and then you may proceed to collect your vehicle at the Car Rental Centre.
Can I return a rental car to the airport?
If you've rented a car from a different Avis hub but wish to return it at Toulouse Airport, then you must arrange your return prior to the commencement of your rental agreement. If you return your car to Toulouse Airport without specifying in your rental contract, a fee will apply.
Do I need winter tyres to drive in France?
No, there is no legal requirement for passenger cars in France to be equipped with winter tyres or chains. However, most of our cars in our Toulouse rental hubs will have winter tyres available.