Welcome to Avis
Aeropuerto De Lanzarote
Guasimeta Arrecife
Lanzarote
35550

Opening Times
Monday

07:00 - 22:00

Tuesday

07:00 - 22:00

Wednesday

07:00 - 22:00

Thursday

07:00 - 22:00

Friday

07:00 - 22:00

Saturday

07:00 - 22:00

Sunday

07:00 - 22:00
24-hour drop-off

Hire a car at Lanzarote Airport with confidence. Full, fee-free cancellation guaranteed.
Boasting extraordinary volcanic landscapes and idyllic beaches, Lanzarote bubbles with natural wonder. Travelling soon to Lanzarote? With an Avis hire car you can get even more out of your trip. Begin your tour of this exotic Canary Island as soon as you arrive. With the Avis counter situated in the arrivals area of Lanzarote Airport, you can collect your hire car as soon as you touch down and start your holiday in complete comfort and luxury.

Make your trip an unforgettable one. Search online and find the best deals on your perfect rental car before you travel, then all that's left is to pick up the keys from our friendly team and away you go.

At Avis we offer a wide range of vehicles to fit exactly what you are looking for, whether you are travelling as a couple, a family or a group of friends. From small and practical cars to premium luxury models – there's a hire car for every journey.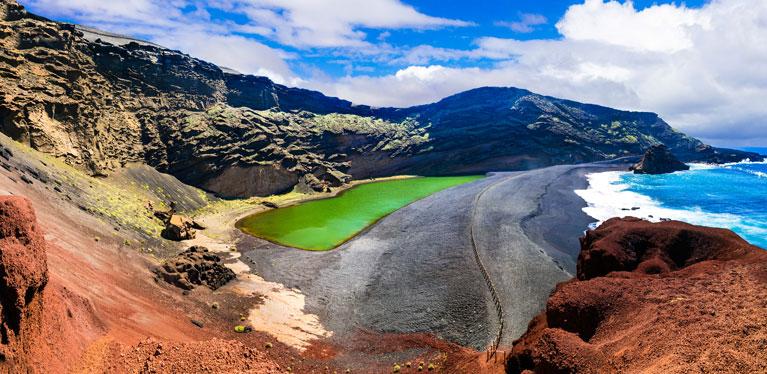 Plan your journey from Lanzarote Airport
Just 125km from the coast of West Africa, the Spanish island of Lanzarote is a melting pot of cultural influences. From the airport, it's just a 10-minute drive to the island's capital, Arrecife.

Lanzarote is designated a UNESCO Biosphere Reserve and the island has a myriad of unique landscapes for visitors to explore. Arrecife provides the perfect gateway to these treasures. Costa Teguise, a beach offering world-class windsurfing and diving, and the lively beach resort of Puerto del Carmen, are within easy reach from the city.

The late César Manrique is inextricably linked with the island. A Lanzarote local and internationally acclaimed artist, he influenced many of the island's major sights and landmarks. Manrique established building restrictions across Lanzarote to help preserve its beauty. His very own home, spread across five volcanic craters, provides a truly memorable afternoon trip.

With a backdrop of beautiful beaches and stunning scenery, Arrecife is the perfect base to see the wonders of Lanzarote.

Road trips from Lanzarote Airport
With rugged volcanoes and serene beaches, the best way to take in the beauty of Lanzarote is to drive. All the sights are within easy reach with your Avis hire car.

Beaches of Lanzarote
Famed for its unspoilt coastline, Lanzarote is bordered by impeccable stretches of sand. On the island's north shore, the rugged Famara is a favourite with surfers and bohemian beach lovers. At the southernmost tip of the island, Playa Blanca (Lanzarote's exclusive beach resort) is tucked away from the main crowds. The white sands of Papagayo draw locals and visitors, while at Órzola there are natural volcanic pools. All of these beaches can be reached within just 40 minutes from Arrecife.

Timanfaya National Park
The black lava fields at Timanfaya National Park are one of the island's top attractions. Designated an area of outstanding natural beauty, this is where the famous volcanic Fire Mountains are located. The site of a major eruption 250 years ago, Timanfaya National Park now boasts some of the world's most fascinating scenery. The park's narrow roads are lined with volcanic rock formations and despite its seemingly uninhabitable landscape, a variety of plants – including fig trees and lichen - grow here. Just a 30-minute drive from Arrecife along the LZ-2, this beautiful park is a sight to behold.

The easiest and most comfortable way to discover Lanzarote is with a rental car. Simply collect the keys from Lanzarote Guasimeta Arrecife Airport and start your journey.
Lanzarote travel features and guides