Welcome to Avis
Car Hire Santiago De Compostela
Hire a car in Santiago De Compostela with confidence. Full, fee-free cancellation guaranteed.
We make car hire easy, because we know you can't wait to feel the freedom of the road. Wherever your travels take you, the keys are waiting to unlock the world.

Where would you like to meet us and begin your journey in Santiago De Compostela? Have a specific place in mind? Use the search bar above to find it. Looking for inspiration? Scroll down to discover our top Santiago De Compostela rental locations and pinpoint the best spot to collect and return your hire car.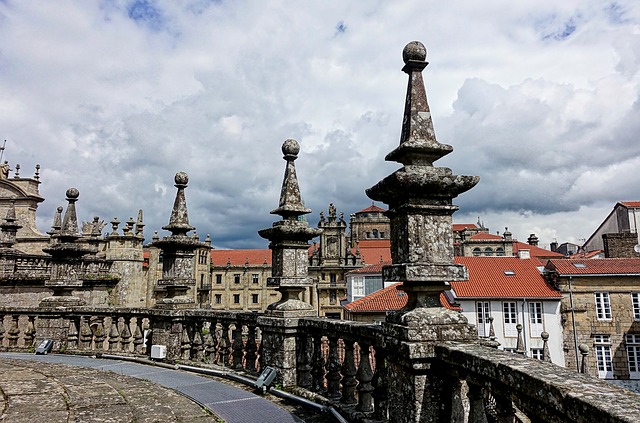 Where to find car rental in Santiago de Compostela?
What to do in Santiago de Compostela?
Santiago de Compostela is a hidden gem destination in Spain's north west Galician region, offering a special combination of history, culture, scenery, food and wine. Get lost in its enchanting medieval streets, admire lavish Gothic architecture, dip into fascinating museums and sample local cuisine.

With an Avis hire car unlock the magic of this destination that has been the destination of pilgrims for centuries. With a hire car you can immerse yourself in the medieval splendour of this city and then later explore the surrounding areas with ease.

Avis is not only conveniently situated at Santiago de Compostela Airport but it also has offices in the centre, at the railway station, so no matter how you choose to come here (even it's on foot!), you'll find it easy to come and collect your rental from our office. Arriving and departing from different places? Make the most of your travel time by booking your car with our flexible one-way rental option – so you can pick up your hire in Santiago and return it somewhere else. Start your Spanish adventure here!
Road Trips around Santiago de Compostela
Pick up your hire car at one of our offices in Santiago and take to the open road to discover one of Spain's most beautiful yet unexplored areas.

Characterised by rolling green hills and dramatic coastlines, Galicia offers some of Spain's most exciting scenery, and there are also plenty of opportunities to sample exquisite white wines and some of the world's best seafood.

Travel south on the AP-9 towards Pontevedra. From here you can trundle at your own pace along the "rias baixas" which run all the way down to the Portuguese border. You'll find incredible scenery, sleepy fishing villages, unbeatable cuisine and lush green landscapes rolling down to sparkling bays.

If you are feeling more adventurous, head north west on the AC-441 towards the windswept Costa da Morte, an area of wild rugged beauty and crashing waves. Stop at Cape Finisterre, the western most part of Spain, in time to admire an amazing sunset. Or keep heading north on the AC-552 to the "city of glass" A Coruña with its unique architecture and vibrant food scene.
Santiago De Compostela's historic centre
The Plaza del Obradoiro sits at the midpoint of the city, where the Cathedral, the Hostal de los Reyes Católicos, the San Xerome College and the Raxoi Palace (City Hall) are located. In the centre of the square you will discover a plaque considered by pilgrims "kilometre zero", point of arrival of all the roads that lead to the Apostle.

The Cathedral (Romanesque with a Latin cross plan) was built on the spot where the Apostle's tomb appeared. The facade of the Obradoiro is topped by the masterpiece of Romanesque sculpture, the Portico de Gloria.

Other places that deserve a look-see: the Plaza de la Inmaculada, Plaza de la Quintana and the Plaza de las Platerías. There are numerous Renaissance, Baroque and Neoclassical mansions: the Pazo de Monroy, the Vaamonde, the Bendaña, the Santa Cruz or the Fonseca.

The Convent of San Domingos de Bonaval (Museum of Pobo Galego), the church of the same name, the Galician Centre of Contemporary Art and the Monastery of San Martiño Pinario (whose main altarpiece is one of the best examples of Spanish Baroque).

Avis will help make your arrival seamless at this fantastic destination and any stop you wish to make along the way.
Driving rules in Spain
Which side of the road?
When driving in Spain, please drive on the right side of the road.

Country driving laws
Mobile phones may not be used at all whilst driving
Cyclists have right of way, at all times
Dipped headlights must be used in poor daylight visibility
Do not use headphones when driving (except hearing aids)
Always use indicators, you will be fined for not using indicators when needed

Speed limits
All speed signs will be in km/h.

For a standard Avis car hire with no trailers:
Urban areas: 50 km/h (31 mph)
Motorways: 120km/h (74mph)
Rural areas: 90 km/h (55 mph)

Unless indicated by road signs.

Child safety / Seatbelt laws
It is compulsory for the driver and all passengers to wear a seatbelt
Children aged under 12 are not allowed to sit in the front seat
Children aged under 12 and less than 135cm tall must be seated in an appropriate child restraint for their size

Please note, it is the child's parent / guardian or vehicle renter's responsibility to fit the child seat.

This road rules information is for provided for general guidance only. We endeavour to keep the information up to date and accurate, but any reliance you place on this information is at your own risk.