Welcome to Avis
London City Airport

London
E16 2PX

Opening Times
Monday

08:00 - 18:00

Tuesday

08:00 - 16:00

Wednesday

08:00 - 16:00

Thursday

08:00 - 18:00

Friday

08:00 - 20:00

Saturday

08:00 - 13:00

Sunday

08:00 - 13:00
24-hour drop-off

Rent a car at London City Airport with confidence. Full, fee-free cancellation guaranteed
Our London City Airport car hire branch is conveniently located only a few minutes' walk from the DLR and in close proximity to all major motorways, as well as top attractions like the O2 and the Excel Centre Docklands.
The Avis desk is located in the Car Rental building outside the Terminal. This can be found by leaving through the main entrance and turning left. Once inside the car rental building, the middle one of the three desks is Avis.
Returning your Avis hire car:
Following signs for A13 Docklands and City Airport.

If you are returning your car outside opening hours, park the car in the Avis Car Hire Returns bays. Make note of your mileage, the fuel reading and date of time of arrival on the document wallet. Put the keys inside the document wallet and take paperwork out. If the airport is still open, please leave the keys at the Airport Information Desks. If closed, you must press the buzzer at the door of the Terminal to summon security and leave the keys with security.
Click here for the returns map.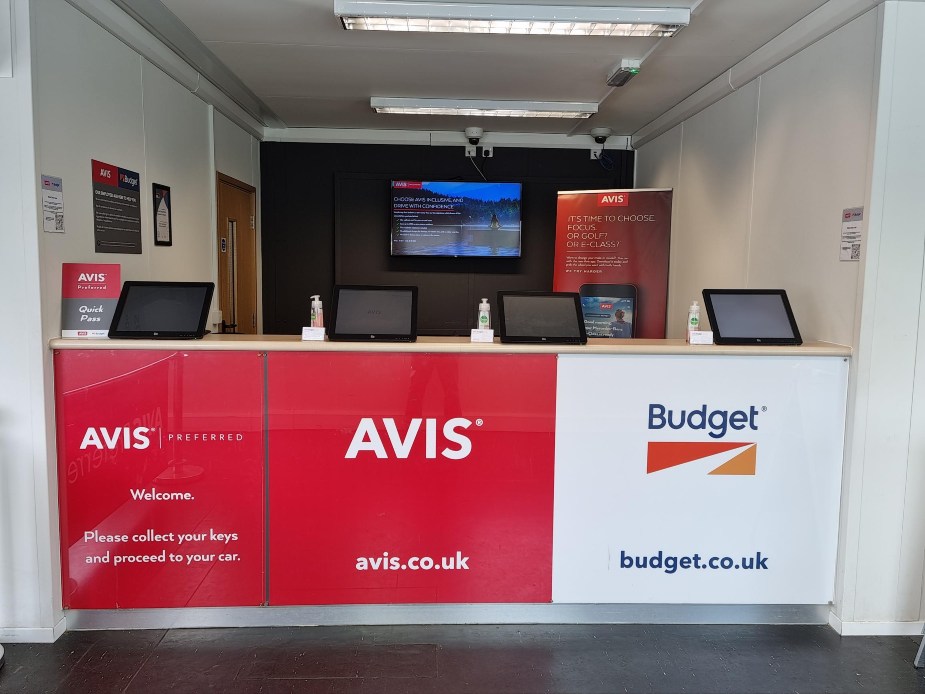 Top car hire locations around London City Airport
Discover cars to rent at London City Airport
The moment you arrive, we've got you covered. Whether you fancy a cute compact for an urban jaunt, an elegant saloon for a business trip or a spacious people carrier for a family holiday, your perfect vehicle awaits.We'll pack all the extras you need to get the most from your venture – from sat nav and super-fast mobile Wi-Fi, to our tailored range of child seats. And, you don't have to drive full circle: why not make the most of one way car hire?
Plan your journey from London City Airport
London City Airport is located less than 10 km from the iconic sights and attractions of London's city centre. If you are heading into the capital, exit the airport onto Hartmann Road and then follow signs for the A1020, A1261 and A1203 which will take you towards London Bridge, the City of London and the West End. The A4200 will bring you up to north London, or use Southwark Bridge to cross the River Thames and take the A3 towards south London.

London's Orbital Motorway, the M25, encircles most of London and is the best way to cross from one side of the city to another, without needing to go through the city centre. If you are heading away from London, the M20 will take you south-east towards Southampton, the M4 goes west towards Bristol and the M1 is the key route for northern destinations.

Keep in mind that in central London there is a congestion charge at peak traffic times and some roads in and around London have tolls. Parking is plentiful and you'll find both metered parking and long- and short-stay car parks throughout the city.
Don't forget the London Congestion Charge
London City Airport is not in the London Congestion Charge zone, but drivers entering central London must have permits when driving within the congestion zones (look out for the Congestion Charge signs). The charge is payable on a daily basis. The official site has maps and full details on pricing, when you need to pay and how to pay the charge.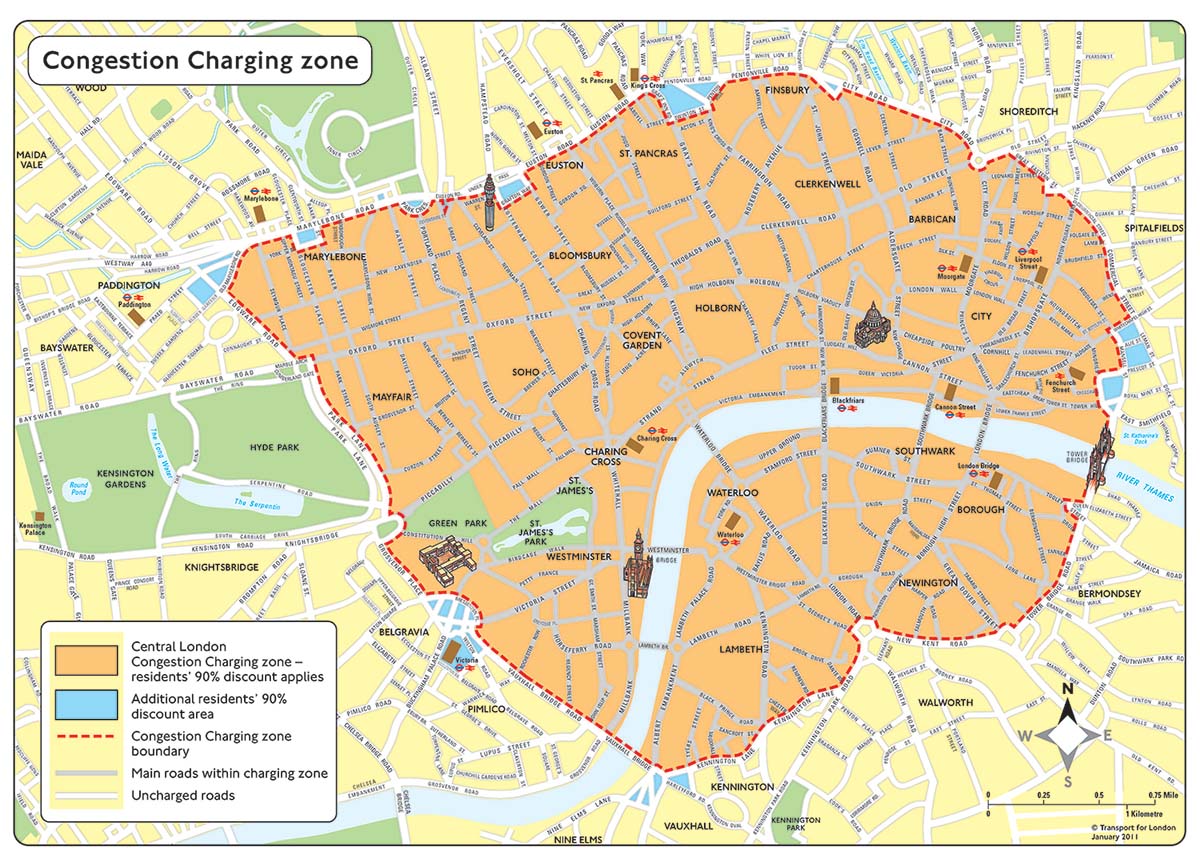 London's Ultra Low Emission Zone (ULEZ)

In a bid to improve air quality, the Ultra Low Emission Zone (ULEZ) has been expanded to cover all of Greater London. We're pleased to say that all the vehicles in our fleet meet the ULEZ emissions standards and are exempt from the ULEZ charge.

Dartford Crossing

You will see notifications about a charge as you pass through the Dartford Crossing. You don't need to do anything, or pay the fee in advance, as we will make the payment on your behalf. The crossing fee will be charged to the payment card registered to your rental within 14 days of the authority notifying us of the crossing, with no additional costs included.
Top tips for driving in London
Which side of the road?
In the United Kingdom, please drive on the left side of the road.

Country driving laws
Mobile phones may only be used with a headset or hands-free device
There is a congestion charge payable when driving in London
Use the outside lane to overtake on motorways and dual carriageways
Zebra crossings (black and white stripes on the road) give pedestrians right of way to cross the road

Speed Limits
All speed signs will be in mph.

For a standard Avis rental vehicle with no trailers:
Urban areas: 30 mph (48 km/h)
Motorways: 70 mph (112 km/h)
Rural areas: 60 mph (96 km/h)
Unless indicated by road signs.

Child safety / Seatbelt laws
It is compulsory for the driver and all passengers to wear a seatbelt
Children aged under 12 or less than 135cm tall must be seated in an appropriate child restraint for their size

Please note - It is the child's parent / guardian or vehicle renter's responsibility to fit the child seat.

This road rules information is for provided for general guidance only. We endeavour to keep the information up to date and accurate, but any reliance you place on this information is at your own risk.
Beyond London with your hire car
Not only is London City Airport conveniently placed for central London, but its close proximity to the M25 connects it to many of Britain's major motorways. So, if you're planning to drive to destinations further afield, you'll have quick access to many places.

Brighton is a must-visit destination, less than a two-hour drive south of London. Once you arrive, park up and put your best foot forward—it's time to explore the city's shopping, café culture and gorgeous seafront.

Just one hour straight up the M11 brings you to the historic city of Cambridge with its centuries-old buildings, famous university and charming pubs. Or if a country retreat is more your thing, a journey west along the M40 brings you to the unique beauty of the Cotswolds. From here you can drive on to Bristol to discover its cultural scene, or go sightseeing in Bath.

The M20 brings you directly down to Dover and the ferries for mainland Europe, while the M1 connects you to the north for destinations including Manchester and Leeds.
Why choose Avis for your London City Airport car hire?
Fully flexible
Enjoy fee-free flexible booking with full cash refunds and no vouchers.

Savings on coverage
When you choose Avis Inclusive you can experience total peace of mind with no extras or surprises. Pay one upfront price for free Roadside Assistance Plus and 25% discount on comprehensive zero-excess cover.

Loyalty benefits
Join our free loyalty programme Avis Preferred, and benefit from priority service, discounts and more.
Safety first
From our well-maintained fleet to protecting your data, we take safety seriously. That means before each rental our vehicles are safety checked and cleaned in line with hygiene protocols.

Faster collection
Save time at the counter by registering your details in advance with our simple and free QuickPass. You could be on the road sooner than you think.

VIP treatment
Get priority counter service on collection with Avis Preferred. At our larger locations you can use our Avis app to go straight to your car where the keys will be waiting for you.
Services and additional extras
Avis Preferred: Our customer loyalty programme rewards our loyal customers with a series of benefits. We know your time is precious, and that's why we prepare your paperwork in advance. When you come to our branch, you just need to show your driving licence – we won't ask for your autograph. Sign up online before you travel – the programme is completely free.

Breakdown assistance: A breakdown in one of our vehicles is highly unlikely but our breakdown assistance service means you can tackle any journey worry-free.

Optional extras

Child seats: If you're travelling with children, make sure you book child seats when you reserve your vehicle.

Satellite navigation: Driving in London can take a bit of getting used to, but with our satellite navigation system it needn't be stressful. Make sure you're on the right road from the word go by requesting this service when you make your booking.
London City Airport car rental FAQs
How do I collect my hire car at London City airport?
When you land at London City Airport, head from the Arrivals hall to our desk. One of our members of staff will process your booking, and then you may proceed to collect your vehicle at the Car Rental Centre.
Can I return a rental car to the airport?
I' you've rented a car from a different Avis hub but wish to return it at London City Airport, then you must arrange your return prior to the commencement of your rental agreement. If you return your car to the airport without specifying in your rental contract, a fee will apply.
Do I need winter tyres to drive in the UK?
No, there is no legal requirement for passenger cars in the United Kingdom to be equipped with winter tyres. However, most of our cars in our London rental hubs will have winter tyres available.