Welcome to Avis

Find car hire in Gloucester
Discover car hire in Gloucester – cathedral city of the Cotswolds. Pick up your rental car from the Avis Car Hire office in Gloucester city centre and zoom off into the countryside in comfort.

With some of the most picturesque parts of the United Kingdom on its doorstop, hiring a car in Gloucester promises a pleasant drive to your destination. If you're stopping in the area for a while, make sure to stop off and see the cathedral, museums and shopping on offer in this quaint area of the country.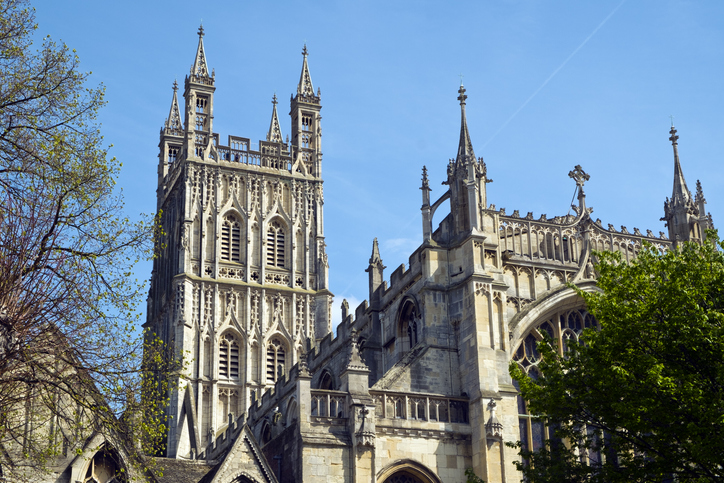 Why choose Avis for your Gloucester car hire?
Fully flexible
Enjoy fee-free flexible booking with full cash refunds and no vouchers.

Savings on coverage
When you choose Avis Inclusive you can experience total peace of mind with no extras or surprises. Pay one upfront price for free Roadside Assistance Plus and 25% discount on comprehensive zero-excess cover.

Loyalty benefits
Join our free loyalty programme Avis Preferred, and benefit from priority service, discounts and more.
Safety first
From our well-maintained fleet to protecting your data, we take safety seriously. That's why we've partnered with Dettol® to ensure both hygienic rental locations and thoroughly cleaned vehicles.

Faster collection
Save time at the counter by registering your details in advance with our simple and free QuickPass. You could be on the road sooner than you think.

VIP treatment
Get priority counter service on collection with Avis Preferred. At our larger locations you can use our Avis app to go straight to your car where the keys will be waiting for you.
Your journey starts here
The moment you arrive, we've got you covered. Whether you fancy a cute compact for an urban jaunt, an elegant saloon for a business trip or a spacious people carrier for a family holiday, your perfect vehicle awaits.

We'll pack all the extras you need to get the most from your venture – from sat nav and super-fast mobile Wi-Fi, to our tailored range of child seats. And, you don't have to drive full-circle: why not make the most of one way car hire?

Simply choose a date and time and we'll prepare your quality hire vehicle.
The best is yet to come …
From the car you drive, to the service you receive our goal at Avis is to make sure that every aspect of your hiring experience is as easy and enjoyable as can be.
Frequent renters get upgraded – and additional days for free – by signing up for Avis Preferred loyalty benefits.
What to do in Gloucester
Hire a car with Avis when you next visit Gloucester to discover the best of the city and its picturesque surrounds. Located in the west of England and surrounded by some of England's most beautiful scenery, Gloucester's roots date back to Roman times. Dubbed the cathedral city of the Cotswolds, it offers visitors an abundance of historical landmarks, shopping and cultural spots.

During your tour of Gloucester, the timbered Tudor houses, Gloucester Cathedral - which dates way back to 681 - and the pretty dockland and quayside areas alone are sure to leave a lasting impression. Children will also love the city of Gloucester. The cloisters of the cathedral formed part of Hogwarts School in the films depicting JK Rowling's world of Harry Potter, and the shop which inspired Beatrix Potter to pen "The Tailor of Gloucester" still exists in its original building.

Renting a car in Gloucester gives you the freedom and flexibility to get to know the city while having easy access to the breathtaking countryside and villages beyond.
Road trips from Gloucester
Hire a car in Gloucester and you'll be connected to many parts of the UK, with a network of roads that run towards Cheltenham, Bristol, Bath and beyond. The Cotswolds, just east of the city, provide the perfect backdrop to start an unforgettable road trip. As you leisurely weave your way from one sleepy village to the next, you'll feel as though time has stopped, while discovering centuries-old cottages, churches from the Middle Ages, and half-timbered buildings.

After the tranquil scenery of the Cotswolds, feel refreshed to then journey south to the Georgian spa city of Bath, further east to the university city of Oxford, or an hour north to the town where Shakespeare was born, Stratford-Upon-Avon. Driving west from Gloucester will bring you over the border into Wales and the Brecon Beacons National Park. Get back to nature by exploring this stunning mountain range that showcases vast green valleys, flourishing landscapes and spectacular lakes.

If you still have time on your hands, consider continuing south to the bright lights of Cardiff. If you have chosen our flexible one-way car hire option, you can even finish your journey here instead of doubling back.