Welcome to Avis
Hire a car in Milan with confidence. Full, fee-free cancellation guaranteed.
Find our Milan car rental desks at both of the city's major airports, in addition to several other convenient locations around Milan, including its main train stations. Linate Airport is 12km east of the city centre and Malpensa Airport lies 48km to the northwest. Further afield, our car hire service at Milan-Bergamo Airport is a 60km drive to Milan and provides quick access to the picturesque city of Bergamo and the Alps.
Italy's cultural core, Milan is a powerhouse of fashion, opera, art and design. But while the stylish metropolis' high-end shops and spectacular shows might appeal, don't leave without exploring its surrounding Lombardy region. You'll discover the glittering tranquility of Lakes Como and Garda and the dizzy heights of the Dolomites.
Heading across Italy on a one-way road trip? Make the most of our flexible return options by picking up your hire car in Milan and dropping it off at a different location at the end of your journey. Wherever you decide to check in with us, our efficient teams will ensure you're on Italy's easily navigable Autostrade in no time.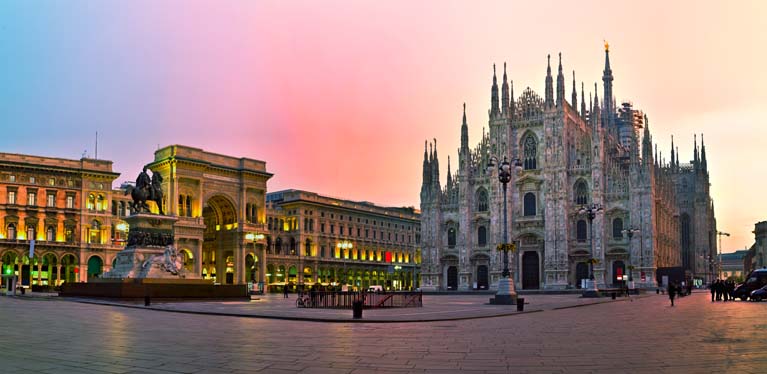 Exploring Milan
Founded in around 600BC by the Celtic Insubres before submitting to Roman rule in 222BC, the city was later subject to imperial French, German, Spanish and Austrian intrusions. Meanwhile, the governing Visconti family transformed Milan into an art and architectural hub. As a result, spectacular relics such as Leonardo da Vinci's Il Cenacolo (Last Supper) remain inside architectural wonders like the UNESCO World Heritage Santa Maria delle Grazie church.
It was around 1980 that iconic fashion heavyweights including the likes of Versace and Dolce & Gabbana set up shop here, and fashionistas started flocking. The city is now the second-most populous in Italy after Rome, and hosts eight million visitors per year. Its chief draws, for the couture crowd that is, are the glitzy designer flagship-lined Via Montenapoleone and Via della Spiga. Maxed out your credit card? Duck into the tranquil environs of the restored Castello Sforzesco, followed by a wander around the immense Duomo Cathedral, which took six centuries to complete.
Food aficionados will have plenty to discover too, from gelataria and paticceria serving traditional treats, to the Italianate delis offering cured meats and a feast of cheeses. In the world's Michelin star list, Milan ranks fifth, and you'll find many of its prime eateries in the sophisticated Brera district. For something more down-to-earth, look for Al Pont de Ferr, a well-loved osteria serving Michelin-starred pasta.
Beyond Milan
Once you've cut your teeth on Lombardy's striking capital, Italy's mountainous north with its celebrated lakes await. Outdoorsy types can reach the beguiling peaks of the Parco delle Orobie Bergamasche in less than two hours. En route, the glimmering fingers of Lakes Como and Lecco offer unrivalled swimming and hiking.
Lake Garda is a two-hour drive to the east of Milan, and skirts the medieval city of Verona. Awarded UNESCO World Heritage status, wander through its Romeo and Juliet-famed cobbled streets and happen upon Juliet's balcony at Casa di Giulietta. Chase a lazy espresso at one of the cafés lining Piazza delle Erbe with a peek at the magnificent Arena di Verona Roman amphitheatre. If you're lucky you'll be able to attend its opera festival, organised every summer since 1936.
Continue further east to Venice's waterways or venture high into the hills of the Dolomites. Heading west, you'll discover Turin – prepare to be very impressed by its extravagant architecture. These are just a handful of the region's treasures to uncover when you hire a car with Avis in Milan,.
Day trips from Milan with your Avis car
Take a leaf out of the milanesi's book and drive off to the lakes, mountains or even the seaside. All are within easy reach of the city.

Trade Shows
Business before pleasure, however. If you're intending to visit one of the city's famous trade shows, car hire is a must as most events are now held in a location approximately 10 miles from the city centre. Fiera Milano at Rho can be reached via the A4 and the A8/A9 motorways or the tangenziale ovest.

Lake Como
Take a trip to the scenic Lake Como, about 25 miles to the north, with its scenic views and lush vegetation. The town of Como is also the centre of the silk industry and the best place to shop for the material.

Pavia
Pavia is perhaps not one of the best known destinations in Italy, but is something of a hidden gem. This university city was once known as the city of a hundred towers, although few are left today. The impressive Certosa di Pavia monastery in Gothic and Renaissance style lies 5 miles north of the city.

Vigevano
Nearby Vigevano has arguably one of the finest piazzas, the Piazza Ducale, in the town centre, designed by Bramante.

Skiing in Italy
If travelling here in winter, we can supply ski racks and snow chains for your trips to any one of the many ski resorts within easy distance of the city. Livigno offers duty-free shopping as well as facilities for winter sports. Bormio has over 45 miles of slopes for skiers of all levels.
Driving rules in Italy
Which side of the road?
In Italy, please drive on the right side of the road.

Country driving laws
Mobile phones may only be used with a hands-free device
Use the outside lane to overtake on motorways and dual carriageways
There are historical areas in which you cannot drive. Look out for "Zona traffico limitato"
Dipped headlights must be used in poor daylight visibility when driving on motorways, dual carriageways, and rural roads
Do not use the horn in a built up area unless in danger

Speed limits

All speed signs will be in km/h.

For a standard Avis rental vehicle with no trailers:
Urban roads: 50 km/h (31 mph)
Secondary extra-urban roads: 90 km/h (56 mph)
Motorways: 130 km/h (80mph)
Urban highways: 70 km/h (44 mph)
Main extra-urban roads (Expressways): 110 km/h (68 mph)
Unless indicated by road signs.

Be aware of changes to speed limits displayed on road signs due to adverse weather conditions.

Child safety / Seatbelt laws
It is compulsory for the driver and all passengers to wear a seatbelt
Children weighing up to 9kg must be seated in a rear-facing child restraint, in the back of the car only
Children aged under 12 and less than 150cm tall must be seated in an appropriate child restraint for their size

Please note - It is the child's parent / guardian or vehicle renter's responsibility to fit the child seat.

This road rules information is for provided for general guidance only. We endeavour to keep the information up to date and accurate, but any reliance you place on this information is at your own risk.