Welcome to Avis
Aeroporto Di Napoli

Napoli
80144

Opening Times
Monday

07:30 - 23:30

Tuesday

07:30 - 23:30

Wednesday

07:30 - 23:30

Thursday

07:30 - 23:30

Friday

07:30 - 23:30

Saturday

07:30 - 23:30

Sunday

07:30 - 23:30
24-hour drop-off

Book your car rental at Naples Airport with Avis
Looking for quality car hire in Naples? With its Renaissance architecture and easy access to the famous Pompeii site, Naples is a place you'll want to spend time in. There's no better way to explore everything this diverse city has to offer than with your own set of wheels.
When you land at Naples Capodichino Airport, you'll find our rental counters in the Arrivals area, so you'll be on your way in no time. We offer a wide range of vehicles including compact, standard, family-sized, luxury and more. Be sure to check out any extras you may need such as an additional driver, GPS or a baby car seat.
Once we hand over the keys, it's just a short walk to the car park where you'll find your hire car ready and waiting. Drive off in your Avis car rental and explore this fascinating city and the wider region in style and comfort.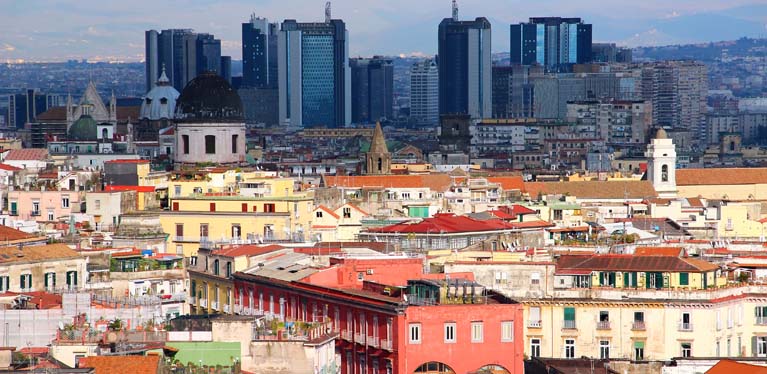 Plan your journey from Capodichino Airport
After picking up your Avis car rental, drive from Capodichino Airport to Naples on the A56 - it'll only take 25 minutes – and start your sightseeing in the historic city centre. Naples was founded by Greek settlers in 470 BC, and since then has been home to many cultures, reflected in the town's architecture. You'll see a host of impressive monuments like the Church of Santa Chiara and the Castel Nuovo. There's also the Church of San Francesco di Paola, known for its iconic pillars and massive portico.

Visit the National Archaeological Museum, where you can learn about Pompeii and Herculaneum, and head to Sant'Elmo castle for a 360-degree view of the city and the bay. Be sure to visit the Royal Palace, with its Museum of the Historical Apartments that you can tour. And if you want to take in some more culture, get tickets to the opera at San Carlo Theatre.

While you're here, make sure you try some Neapolitan pizza and follow it up with a sfogliatella for dessert, which has pastry dough on the outside and sweet ricotta cheese inside. Then it's time to do some shopping on Via San Gregorio Armeno, famous for its craftspeople selling nativity scenes.

Exploring Naples is easy once you have your Avis car hire.

Beyond Naples Airport
With its ancient ruins and classic coastal towns, the region around Naples has a little something for everybody.

Pompeii

Visiting Pompeii is definitely a must-do while in Italy, and it's just a 25-minute drive from Naples on the A3. When Mount Vesuvius erupted in 79 AD, the 12,000 residents of Pompeii had no idea of the devastation that it would wreak. The ensuing volcanic debris preserved the town, so that you get a real glimpse of what life was like during that period. There are even haunting plaster casts of people in their final moments.

Sorrento

Sorrento is an hour's drive from Naples on the A3 and SS145. Not technically part of the Amalfi Coast, Sorrento's coastline makes for a stunning drive anyway. There are several great gelato shops here, and shopping around the centre of town for souvenirs is a great idea. See the Marina Grande, or spend some time at Correale House and the Correale Palace. The cathedral is another must-see.

Herculaneum

Herculaneum is another ancient city devastated by the 79 AD eruption of Mount Vesuvius. Just take the E45 from Naples to reach it. Herculaneum was a favoured resort spot for the wealthy, and touring here will give you some idea of their opulent lifestyle. Here, you must check out the beautifully preserved wall paintings of the Villa Oplontis at Torre Annunziata.

Get out and explore Italy from Naples. With your Avis car rental, there's so much to see.
Driving rules in Italy
Which side of the road? In Italy, please drive on the right side of the road.

Country driving laws
Mobile phones may only be used with a hands-free device
Dipped headlights must be used in poor daylight visibility when driving on motorways, dual carriageways and rural roads
Use the outside lane to overtake on motorways and dual carriageways
Do not use the horn in a built up area unless in danger
There are historical areas in which you cannot drive. Look out for "Zona traffico limitato"
Speed limits
All speed signs will be in km/h. For a standard Avis rental vehicle with no trailers:
Urban roads: 50 km/h (31 mph)
Urban highways: 70 km/h (44 mph)
Secondary extra-urban roads: 90 km/h (56 mph)
Main extra-urban roads (Expressways): 110 km/h (68 mph)
Motorways: 130 km/h (80mph)

Unless indicated by road signs.

Be aware of changes to speed limits displayed on road signs due to adverse weather conditions.

Child safety / Seatbelt laws
It is compulsory for the driver and all passengers to wear a seatbelt
Children aged under 12 and less than 150cm tall must be seated in an appropriate child restraint for their size
Children weighing up to 9kg must travel in a rear-facing child restraint, in the back of the car only
Please note - it is the child's parent/guardian or vehicle renter's responsibility to fit the child seat.

This road rules information is for provided for general guidance only. We endeavour to keep the information up to date and accurate, but any reliance you place on this information is at your own risk.