Welcome to Avis

Need fast, reliable car hire in Siena? Rent a quality car or van and find great offers with Avis. Explore everything that Siena has to offer.
Offering a unique blend of history, culture and natural beauty, Siena is a stunning city located in Tuscany. With a hire car in Siena, you can explore everything this charming city has to offer from the winding streets of the city to the stunning hills of the surrounding countryside, dotted with vineyards, olive groves and medieval villages.

Raring to get behind the wheel? From the moment you arrive, we've got you covered. Whether you fancy a cute compact for the city, an elegant saloon for a business trip or a spacious people carrier for a family holiday, your perfect vehicle awaits.

We'll pack all the extras you need to get the most from your venture – from sat nav and super-fast mobile Wi-Fi, to our tailored range of child seats. And, you don't have to drive full-circle: why not make the most of one way car hire?

Simply choose a date and time and we'll prepare your quality hire car.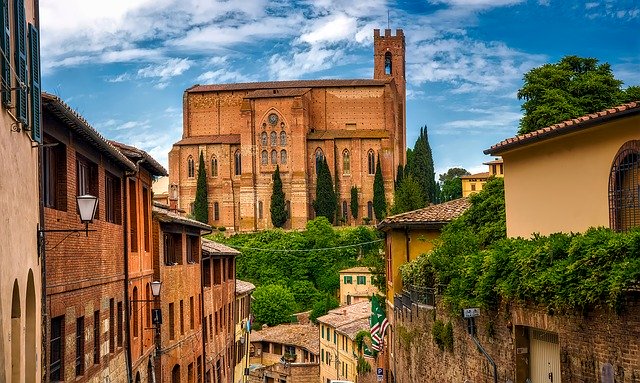 Popular car rental locations in Siena
Popular airport locations in and around Siena
Explore Siena with your hire car
Siena is a must-see destination for any visitor to this region of Italy. Known for its beautiful medieval architecture, stunning countryside and rich cultural heritage, there are countless attractions to explore.
You'll find an abundance of historic landmarks, such as the impressive Piazza del Campo famous for its unique shell shape and imposing grand Palazzo Pubblico and Civic Museum, home to some of the most important artworks in Siena. Nearby visit the striking Gothic-style Siena Cathedral featuring stunning frescoes, stained-glass windows and breathtaking panoramas from the top of the cathedral. The best way to get around the city centre is on foot. So park up and wander through the winding streets to discover quaint shops, cafes and art galleries.
Just a short drive from the city centre is the Chianti wine region, a beautiful area characterised by rolling hills, vineyards and ancient medieval towns.
Top tips for driving in Siena
Which side of the road?
In Italy, please drive on the right side of the road.

Country driving laws
· Mobile phones may only be used with a hands-free device
· Use the outside lane to overtake on motorways and dual carriageways
· There are historical areas in which you cannot drive. Look out for "Zona traffico limitato"
· Dipped headlights must be used in poor daylight visibility when driving on motorways, dual carriageways, and rural roads
· Do not use the horn in a built up area unless in danger

Speed limits

All speed signs will be in km/h.

For a standard Avis rental vehicle with no trailers:
· Urban roads: 50 km/h (31 mph)
· Secondary extra-urban roads: 90 km/h (56 mph)
· Motorways: 130 km/h (80 mph)
· Urban highways: 70 km/h (44 mph)
· Main extra-urban roads (Expressways): 110 km/h (68 mph)
Unless indicated by road signs.

Be aware of changes to speed limits displayed on road signs due to adverse weather conditions.

Child safety / Seatbelt laws
· It is compulsory for the driver and all passengers to wear a seatbelt
· Children weighing up to 9 kg must be seated in a rear-facing child restraint, in the back of the car only
· Children aged under 12 and less than 150 cm tall must be seated in an appropriate child restraint for their size

Please note - It is the child's parent/guardian or vehicle renter's responsibility to fit the child seat.

This information regarding road is provided for general guidance only. We endeavour to keep the information up to date and accurate, but any reliance you place on this information is at your own risk.
If you want to learn more about driving in Siena, see the full Italy Road Rules guide.
Road trips from Siena
Hitting the open road in Siena is a unique and unforgettable way to explore the beauty of Tuscany at your own pace. With breathtaking scenery, delicious cuisine and world-class wines, the Chianti wine region is a must-see. Characterised by its rolling hills, vineyards and charming medieval villages, take in sights such as the stunning Castello di Brolio which dates back to the 11th century.
Another popular route from Siena is the Val d'Orcia, a UNESCO World Heritage Site known for its rolling hills, cypress trees and golden fields. One of the area's most picturesque villages, Pienza, is known for its delicious Pecorino cheese, while Montalcino is famous for its prestigious Brunello wine.
If you are looking to get off the beaten track, head to the Maremma region on the west coast of Tuscany where unspoilt beaches, crystal clear waters and archaeological sites abound.
Or you can head south to the region of Montepulciano, known for its beautiful Renaissance architecture and world-renowned Montepulciano wine.
With so much to see and do, get ready to hop into your hire car in Siena for an out-of-city adventure like no other.
What is the weather like in Siena?
Siena enjoys a warm Mediterranean climate, with mild winters that can sometimes be rainy, and hot sunny summers.
Is it worth hiring a car in Siena?
Hiring a car in Siena means you can be sure to enjoy everything the city and the surrounding region has to offer at your own pace. There are many enticing day trips from Siena that take in charming hilltop towns, wineries and scenic countryside.
What is Siena famous for?
Siena is renowned for its Piazza del Campo – a large open space and site of the Palio di Siena (a horse race that takes place twice a year), stunning Gothic architecture and many beautiful works of art.
Which is the closest airport to Siena?
Florence Airport is the closest airport to Siena, located approximately 70 kilometres northwest of Siena. Pisa Airport is approximately 140 kilometres from Siena.
Other Avis services in Siena
We'll pack all the extras you need to get the most from your venture – from sat nav and super-fast mobile Wi-Fi, to our tailored range of child seats. And, you don't have to drive full-circle: why not make the most of one way car hire?

If you're moving house or travelling with a heavy load, a van might be the best choice for you. Check out our van hire options – whatever your needs, there's something for everyone.
Why choose Avis for your Siena car hire?
Fully flexible
Enjoy fee-free flexible booking with full cash refunds and no vouchers.

Savings on coverage
When you choose Avis Inclusive you can experience total peace of mind with no extras or surprises. Pay one upfront price for free Roadside Assistance Plus and 25% discount on comprehensive zero-excess cover.

Loyalty benefits
Join our free loyalty programme Avis Preferred, and benefit from priority service, discounts and more.

Safety first
From our well-maintained fleet to protecting your data, we take safety seriously. That means before each rental our vehicles are safety checked and cleaned in line with hygiene protocols.

Faster collection
Save time at the counter by registering your details in advance with our simple and free QuickPass. You could be on the road sooner than you think.

VIP treatment
Get priority counter service on collection with Avis Preferred. At our larger locations you can use our Avis app to go straight to your car where the keys will be waiting for you.