Welcome to Avis
Value Car Hire Guernsey Apt
La Villiaze, Forest
Guernsey
GY8 0DS

Opening Times
Monday

08:00 - 20:00

Tuesday

08:00 - 20:00

Wednesday

08:00 - 20:00

Thursday

08:00 - 20:00

Friday

08:00 - 20:00

Saturday

08:00 - 20:00

Sunday

08:00 - 20:00

Hire a car at Guernsey Airport
Lush green landscapes, sheer cliffs, idyllic villages and secluded coves abound in Guernsey. Why not get the most out of your stay by hiring a car to travel from A to B. Whether you are visiting Guernsey for business or leisure, Avis car hire offers a wide range of vehicles. Choose from efficient compact run-arounds to practical-sized vehicles for the whole family. Or perhaps you want to jump behind the wheel of a sporty convertible and put the roof down – our Prestige range will make your trip to Guernsey unforgettable.

Picking up your rental car at Guernsey Airport when you arrive is a breeze. Simply head to the Avis collection point and our dedicated team will be waiting to hand you the keys of your chosen car. All that's then left for you to do is take to the open road and explore this beautiful island as you please.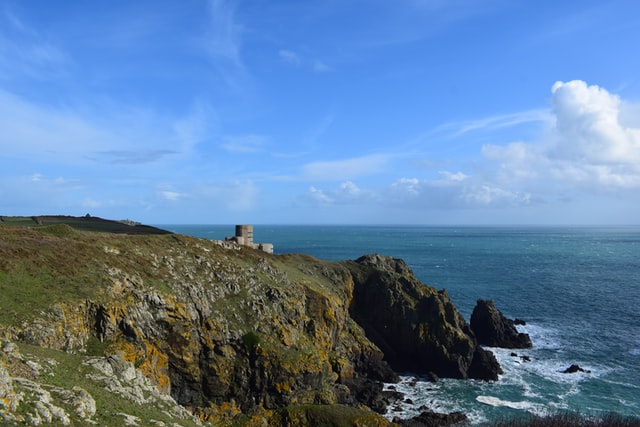 ​​​​​​​Fuel upfront in the Channel Islands
Please note, fuel is charged upfront in the Channel Islands.

Fuel Upfront Charges at Avis Guernsey

1 Day rental - £5
2 Day rental - £10
3 Day rental - £15
4 Day rental - £20
5 Day rental+ - £25

Please do not refuel your Avis car hire when returning it, leave it as empty as possible.

Unlike larger Airports, our Avis Guernsey location is not open 24 hours a day.
Plan your journey from Guernsey Airport
You have arrived at one of the most popular destinations in the Channel Islands, so waste no time in getting out there and exploring the best of Guernsey.
Guernsey Airport is planted right in the middle of the island. Since the whole island of Guernsey spans just 10km by 5km, many destinations can be reached in a matter of minutes.

Castle Cornet is the most significant cultural attraction on the island. Housed within this charming castle space, you'll find no fewer than five museums. Learn about the sight's history (dating back to the 13th century) and dive into the island's maritime history. Arrive at midday to catch the Noonday Gun – the ritual daily firing of a 19th century gun.

Guernsey is also an island with astounding natural beauty. The most celebrated sandy stretch on the island is Shell Beach, boasting 2km of white sand to relax on and a cafe supplying snacks and meals.

If you appreciate seafood, sampling a freshly caught supper before you leave is a must. The sea bass and lobster on the island is particularly tasty. If you really want to indulge, head to the island's popular Michelin starred restaurant: Christophe's.
Road trips from Guernsey Airport
Guernsey is well served by a ferry port, making it easy to explore the best of the surrounding Channel Islands during your trip.

Herm

The island of Herm is even smaller than Sark. And just 5km from Guernsey, it's even easier to reach from St Peter Port Harbour. Like Guernsey and Sark, this is an island bursting with stunning scenery and beautiful views. The island offers plenty for adventurers too, with rock pooling, snorkelling and crabbing among the many activities on offer.

Get behind the wheel of your Avis car hire and explore the Channel Islands in your own time.