Welcome to Avis
Road Trips With Avis: Catalonia
Around Barcelona: Homage to Catalonia
Discover hidden beaches to all-out adrenalin in an Avis hire car
Barcelona may be the bustling heart of Catalonia, but north of the capital are the fishing villages and secretive beaches of the craggy Costa Brava, plus plush lush volcanic landscapes that are ideal for the adventure sports nut.

Test drive this two-day road trip for the best of Catalonia
Pick up your Avis hire car from Barcelona International Airport and head north along the coast on the C-32 to the beaches and fishing villages strung along the Costa between Blanes and Port Bou. Dive the ocean corals at L'Estartit and admire the surreal art at the Dali Museum at Figueres.

From there you begin the exhilarating climb into Garrotxa National Park, through beech forests and the medieval towns and villages of Banyoles and Santa Pau, before heading back to soak up the mineral-rich waters of Caldes de Maravella.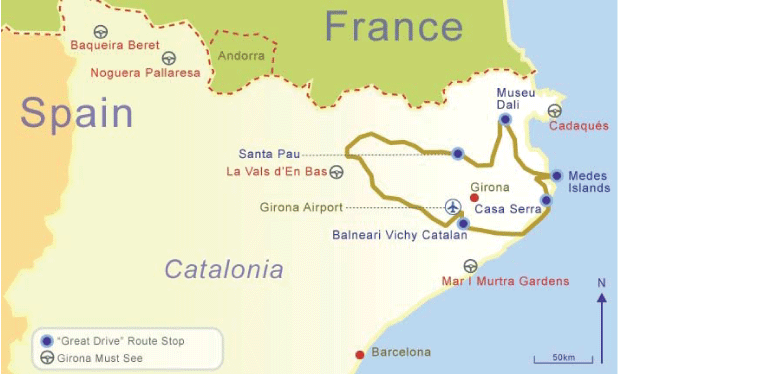 High points en route
Palufragell – Sweet pleasures
Al Gore and Jose Carreras are fans of this smart, family-run Casa Serra food emporium. It's set back two miles from the smart strip of Costa Brava coast, between Begur and Llafranc, a good hour's drive along the coast from Barcelona. It's worth sniffing out and the delicious but sugary Bispalenc cakes.

L'Estartit - Dive into the blue
This gorgeous beach resort – just 10km further drive from Begur – is also a departure point for the Medes Islands (a mile offshore), an archipelago of seven islands with coral reefs teeming with marine life. Grab some scuba gear at one of the local diving centres, take a glass-bottomed boat tour or just kick back on 5km of unspoiled sandy beaches.

Figueres – Be surreal
Don't be surprised when you first spy the surreal Dali Museum, set in a once-crumbling theatre opposite the church where Dali was baptised, a 15km motor inland. Its ochre colour and egg battlements merely set the tone for what's to come inside. Illusions include gazing at a mirror through Mae West's nostrils and the Palace of the Wind room – Dali's take on the Sistine Chapel's fresco.

Santa Pau - Float away
From Banyoles, meander along the picturesque GI-524 to the village of Santa Pau for a scenic balloon flight. Gaze down at the cobbled streets and Romanesque church before taking a trail leading to the forrested Garrotxa volcanic region. Crunch over the lava beds and cross the ridge into the stunning Fageda d'en Jorda beech woods.

Caldes de Maravella – Swim in bubbly
Chill out with a spa treatment in the mineral-rich waters of Balneari Vichy Catalan. The Romans discovered bubbly Vichy Catalan water, and now you'll find it on every boardroom table in Catalonia. This is your chance to take a dip.
Free time on your hands? Take your pick from the following gems
1. Blanes - Garden with a view
Drive sharply uphill from Blanes seafront to the lush Mar l Murtra (Sea and Myrtle) gardens, grown to reveal stunning views onto the deep blue Mediterranean. Take in an hour's green walk at this tropical haven with spiky cacti forests, shady bamboo and banana trees.

2. Cadaqués - The art of eating
An hour's cruise up the coast is the classic white-washed fishing village of Cadaqués – hangout for avant-garde artists including Picasso and Dali. These days it's more chic than "bohemian retreat", and a perfect spot to while away a few hours. Visit Dali's home at nearby Port Ligat or the three-Michelin-star El Bulli, a short drive away (April-September only; reservations mandatory).

3. La Vals d'En Bas - Go back in time
To see old Catalonia, head south from Olot and take the winding country road towards La Vals d'En Bas, passing farmsteads, all the way to Els Hostalets d'En Bas.

4. Sort, Noguera Pallaresa Valley - Waterworld
Adrenalin junkies should head west to the Noguera Pallaresa River – it's the most challenging white-water spot in Spain. Whatever your bag – rafting, canoeing or the latest must-do extreme water sport, hydrospeed – there are over 50 navigable kilometres to play with, gushing down from the high Pyrenees. Don't forget your armbands.

5. Vall d'Aran - Ski like a king
Straddling the French border at 1,800 metres altitude is the trendy ski resort of Baqueira Beret. Fanning out over the beautiful Vall d'Aran, it was all but inaccessible a decade ago. Now it offers the best downhill skiing and boarding in Spain (ask King Juan Carlos, he skis here every year).