Welcome to Avis
Road Trips With Avis: Milan
Around Milan - Style with substance
From the latest Ferrari to lakeside retreats, immerse yourself in history and tranquillity
There's a lot more to Lombardy than fashion and football. This is where the Alps give way to the calming influence of the Lakes, where driving becomes a leisurely pleasure and time s-l-o-w-s down. Head south to uncover palaces, piazzas, galleries and Ferraris. Milan's catwalk queens and soccer gods can wait.

Test drive this two-day tour for the best of Lombardy
Rent in Milan from our Avis Bergamo Airport car hire branch and head east along the E64, past Lake Iseo to Brescia, darting up to the phenomenal Pyramids at Zone. Stop for a snack in Mantova, then motor on down through utopian Sabbioneta. Take a bow at the home of the violin, Cremona, and pause at the university town of Pavia.

Head north, around Milan, to reach Como, keeping an eye out for a Versace or Clooney at the gates of a millionaire's villa. Follow the majestic shoreline of Lake Como to leave just a short drive back to the airport, to drop-off your Avis rental vehicle.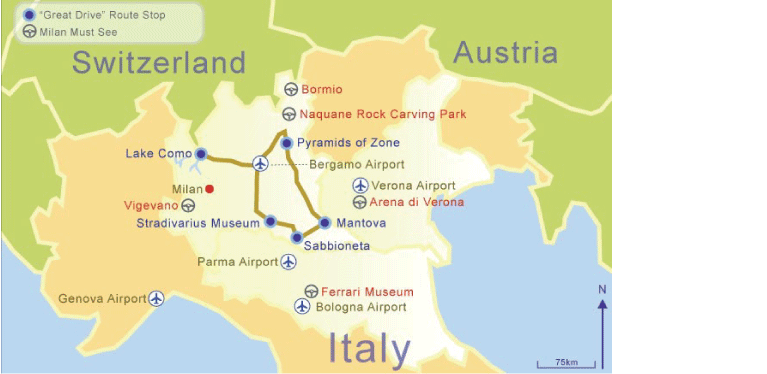 High points en route
Pyramids of Zone – Glacial architecture
Lake Iseo gets overlooked, sandwiched between the more fashionable Como and Garda – but it's far less visited and so more serene. A short detour up the eastern shoreline leads you to the Pyramids of Zone nature reserve, where glacial erosion has left a dramatic landscape of natural pyramids and rock pillars.

Mantova – Dine in style
This region around Mantova is gastronomic heaven, twinkling with Michelin stars. A short drive out of town, the Dal Pescatore and L'Ambasciata restaurants have five between them. In town, off the 13th-century Piazza Sordello, is the supremely elegant Aquila Nigra (one star) which, at about 70-80 euros a head before drinks, won't totally bust the budget.

Sabbioneta – Reflections of grandeur
Renaissance duke Vespasiano Gonzaga had dreams of grandeur. Between 1560 and 1591 he built Sabbioneta, a utopian city designed to recreate the splendour of ancient Greece. Enjoy the peace and quiet as you wander the old palaces and fortifications.

Cremona – Fun with strings attached
Sherlock Holmes owned one and US$2,032,000 was paid for one in 2005. Stradivarius (or Strad) are the crème de la crème of violins, made by the ultra-rich Stradivari family. Antonio Stradivari (1644-1737) is the famous son of Cremona, and you can learn about his life and work at the Stradivarius Museum at the Palazzo Affaitati. Don't forget to try some of the famous local cheese and mustard before you leave.

Como – Stirred not shaken
The town and the lake with the same name have long been a playground for the rich and famous. With George Clooney an occasional resident, Donatella Versace throwing her star-studded parties up here and David Beckham rumoured to be looking for a property in the area there may never be a better time to stop and stare.
Free time on your hands? Take your pick from the following gems
1. National Rock Carving Park, Naquane – Italian graffiti
Drive along the SS510 to Naquane to see around 30,000 carvings, etched into the rock from Neolithic to medieval times. A chance to find out about ancient customs and traditions in the days before blogs!

2. Ferrari Museum, Maranello – Bring on the prancing horses
You don't have to be a petrol head to be seduced by the sheer beauty and power of a Ferrari. In Maranello, an hour's drive south from Mantova, you'll find the plant where these chic cars are still manufactured today. The awesome Ferrari Museum has a boutique of exclusive gadgets and displays of historic and new models.

3. Vigevano – Cobbles and cobblers
If it has been tough driving up to now, maybe it's time to go shopping? Vigevano, about 40km south-west of Milan on the SS494, is an ancient shoemaking town with a beautiful piazza and, for dedicated followers of fashion, designer clothes and shoe shops filled with Versace, Armani and Dolce & Gabbana.

4. Bormio – Sloping off
This Alpine winter ski resort just three hours drive north of Bergamo morphs into the perfect base for mountain biking and walking in spring and summer. Its famous thermal baths and hot springs ease away the aches and pains of a day's exertions on the slopes or in the saddle.

5. Verona – Sing your heart out
Cross into Veneto from Lombardy, taking the scenic route along Lake Garda and on to one of Italy's most romantic cities. Catch an opera performance at the magnificent Roman Arena di Verona, walk streets of rose-coloured marble and marvel at the Basilica of San Zeno Maggiore.