Welcome to Avis
Book your car rental at Paphos Airport
Our car hire service means never having to miss out on any of the attractions Cyprus has to offer. With Avis car hire you can start your adventure as soon as you arrive at Paphos Airport. The Avis car rental counter is easy to find, located in the Arrivals hall of Paphos Airport, and our friendly team will be waiting to hand over the keys as soon as you arrive – so you'll be on your way in no time.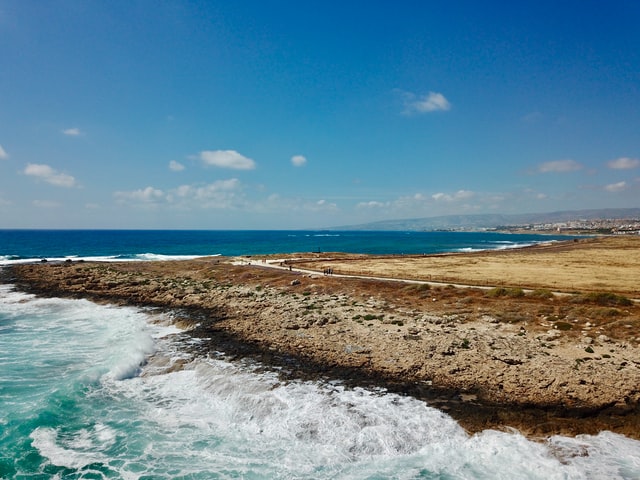 Address & Contact Details
Office Located In Arrivals Hal, Paphos. Tel: 00357 24205666

Opening Times
| | |
| --- | --- |
| Monday | 08:00 - 02:30 |
| Tuesday | 08:00 - 01:30 |
| Wednesday | 08:00 - 01:30 |
| Thursday | 08:00 - 00:30 |
| | |
| --- | --- |
| Friday | 08:00 - 02:30 |
| Saturday | 08:00 - 02:30 |
| Sunday | 08:00 - 02:30 |
Plan your journey from Paphos Airport
With its sunny climate and thousands of years of history, Paphos in Cyprus is a dream destination for many. Paphos Airport is the country's second largest airport and is situated about 20 minutes from Paphos town centre. After collecting your Avis hire car, exit the airport and follow signs for the B6 for the town centre or take the A6 to head east towards Limassol, which is about 50 minutes away. Other popular towns and villages can be reached along this route, including Pissouri, Larnaca and of course, the beach parties and nightlife of Ayia Napa.

Most destinations in Cyprus are easily reached by car rather than public transport, therefore hiring a car is your best option for convenient and flexible travel. If you pre-book your rental car online with Avis, you can pick up your chosen vehicle as soon as you touch down in Paphos and you'll be cruising towards your destination of choice in no time. Don't forget to check out our add-ons which include additional drivers, child seats and GPS.
Road Trips from Paphos Airport
Whether you plan to spend your days sinking your toes into white sandy beaches and plunging into turquoise blue waters, or discovering mind-blowing archaeological ruins, hiring a car with Avis will ensure you get the most out of this enticing holiday destination.

With a car you can spend your time exploring many of the area's charming villages and historical sites, or enjoy soaking up the sun with miles of pristine coastline. With a legacy as the birthplace of Aphrodite, the Goddess of beauty and love, history buffs are sure to have their curiosity piqued at sites such as the Paphos Archaeological Park, while those seeking solace in nature will be blown away by areas such as the Troodos Mountains and Mount Olympus – Cyprus's tallest peak.

When you've had your fill of sightseeing, you may just feel like hitting the beach. Well you are in luck, as the area of Paphos has plenty of unspoilt beaches to choose from that cater as much for couples seeking seclusion as for those looking for family-friendly amenities.
Car rental branch information
It's easy to find our branch at the airport – just follow the signs and we'll be waiting to welcome you.

The airport is situated just off the B6 road, which leads directly to the town centre. Your journey time into town will be approximately 20 minutes, while Limassol to the east is about 50 minutes away via the A6. The village and resort of Mandria is just 15 minutes away from the airport and Kouklia village 20 minutes away. Even popular resorts on the other side of the island, such as Ayia Napa and Protaras, only take around 2 hours to reach by car.

Drivers from the United Kingdom will be pleased to know that the standard here is to drive on the left-hand side on the road. There are however a few laws which you may not be familiar with, and it's worth noting the following before you start your travels:

The speed limit in built-up areas is 50 or 65 km/h (31 or 40 mph) according to the road type, 80 km/h (49 mph) outside built-up areas and 100 km/h (62 mph) on motorways. There is also a minimum speed on motorways of 65 km/h (40 mph).

Eating and drinking while driving is not allowed.


Services and optional extras

Your holiday on Cyprus will get off to a great start thanks to the services and extras offered by Avis car rental.

Out-of-hours return: We're well aware that flights to most destinations take off and land at all hours of the day and night. We've therefore put in place our out-of-hours return service, making use of a secure key drop-off facility.

Breakdown assistance: The appeal of Cyprus as a destination lies in the fact that many of the sights are in remote spots. Our breakdown assistance service means that you can travel anywhere, safe in the knowledge that help will always be on hand should the unexpected happen.


Optional extras

Child seats: Don't forget to request any child seats you may need – children under the age of five are required by law to travel in one in the back of the vehicle.