Welcome to Avis
Find the perfect car rental in Cyprus
Cyprus is the ideal holiday destination to explore by car. It only takes three hours to drive from east to west, and since public transport is in short supply, car hire in Cyprus is indispensable. To make life even easier, our branches can be found in most large cities and airports across the island.
When you choose to hire a car in Cyprus, you will certainly not be disappointed. An island country in the Eastern Mediterranean, this is the place for exploring fascinating cities, sunbathing on beautiful sandy beaches, driving through valleys of vineyards and hiking up pine-covered mountains.
As a key location in the Middle East, Cyprus has been occupied by several major powers over the years, including the empires of the Assyrians, Egyptians and Persians. Successive rule by Egyptians, Romans and Arabs have all left an indelible impression on third most populous island in the Mediterranean. Hire a car in Cyprus where the possibilities are as limitless as your imagination.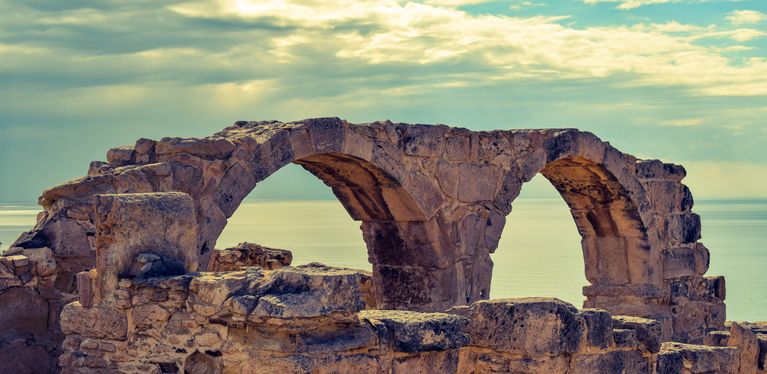 Popular airport car hire locations in Cyprus
Why rent a car in Cyprus?
Rent a car in Cyprus and you'll find yourself exploring the third largest island in the Mediterranean Sea, just across the water from Turkey, Syria and Lebanon. A turbulent history involving Greece and Turkey led to the effective partitioning of the island into the Turkish north and Greek south in 1974. A distinct influence from both cultures can be seen in the country's arts, music and cuisine. The island also occupies an important role in Greek mythology, being the birthplace of Aphrodite and Adonis and home to King Cinyras, Teucer and Pygmalion.
For lovers of the great outdoors, Cyprus has a beach for every type of traveller, if you are looking to indulge in some well-deserved rest and relaxation. For the more active types there is also a wide array of water sports on offer, including everything from snorkelling and scuba diving, to windsurfing and kite boarding. If you prefer green meadows and inviting hiking trails to sandy beaches, then Cyprus also delivers on this front. Hiking, mountain biking and even skiing in winter months are all enjoyed on the island by tourists and locals alike.
Enveloped in mythology, Cyprus is also home to Neolithic ruins, Bronze Age tombs, mountaintop castles and Byzantine churches – to name but a few. Those looking to unearth the history of Cyprus and the wider Mediterranean will be well rewarded here.
When you rent a car and discover Cyprus you will be welcomed by two distinct Cypriot communities, Greek and Turkish, who call the island home and give Cyprus its unique flavour. Driving around the country you are sure to experience the famously warm Cypriot hospitality, which is alive and well thanks to the upkeep of traditional family values. A whole world of delights is on offer here, it's just up to you to go and find them.
Things to see and do
This is an island with a little bit of everything: historical sites infused with Greek mythology, beautiful beaches, mountain trails and vineyards. If that's not enough, it even has its very own party capital, Ayia Napa, a lively resort famous for its sandy beaches and active nightlife. Reach the places you want to see and experience the things you want to do in comfort with a car rental from Avis.

The big cities

Nicosia: Like the whole island, the capital city and main business centre is also divided into north and south. Access between the two parts has often been restricted in the past, but in recent years has become generally problem-free, so you can roam where you like. North Nicosia has many old, narrow streets interspersed with fabulous architecture. There are plenty of fine museums and the old city also has a covered market called Belediye Pazari.

Limassol: During Byzantine times, this city was known as Neapolis (new town). Today, Limassol is Cyprus's second largest city, located on Akrotiri Bay on the southern coast. It has a long cultural tradition but also a growing profile as home to the University of Technology. The town has a number of interesting museums and archaeological sites, plus no fewer than nine medieval castles to explore. There are also some lovely public gardens and sculptures.

Paphos and Polis: On the southwest coast, Paphos is just over 30 miles from Limassol and has its own international airport. It was the capital during Greco-Roman times and the entire city is like an open museum. The remains of a Roman governor's palace and extensive fine mosaics explain why it is on the World Cultural Heritage List for UNESCO. A key attraction is the Petra tou Romiou, or Aphrodite's Rock, a sea stack said to be the birthplace of the Greek goddess of love. If you need a break after all that culture, why not book a weekend car hire and head to Coral Bay, just four miles north of Paphos? The resort is popular with locals and tourists, boasting a soft, white sandy beach forming a crescent shape along the 600-metre coast.

The quieter resort of Polis is situated on the north-western part of the island close to the Akamas Peninsula, a beautiful nature reserve where the renowned baths of Aphrodite can be seen. Walk along the nature trails and take in the panoramic view of Polis bay.

Festival in Cyprus

It's well worth timing your visit around the various festivals and events throughout the year when you choose a car hire in Cyprus. Limassol hosts the Carnival Festival, a masquerading event harking back to old pagan rituals, for the 10 days before Lent. During the summer there's an International Music Festival at the Kourion Theatre in mid-July, and the Paphos Aphrodite Festival, an open-air opera festival that usually takes place in late August. These are followed by a wine festival in the first week of September, celebrating Cyprus as one of the oldest wine-making countries in the world.
Please be aware that crossing the border to North Cyprus is NOT allowed.
Please contact the rental station you're collecting your vehicle from for more information.