Welcome to Avis

Hire a car in Milan with confidence. Full, fee-free cancellation guaranteed.
Our Bari car rental services are easily located at Bari Palese Airport, aka Bari Karol Wojtyła Airport, as well as at numerous convenient posts downtown. Wherever you decide to pick up your hire car in Bari, our friendly team is waiting to check you in quickly and efficiently so you can get on and enjoy your trip in the sunlit heel of Italy.
Nudged up against the picturesque Adriatic coast and basking in southern Italy's consistent warm temperatures, it's easy to see why the port city of Bari receives such an influx of visitors—more than four million a year. As capital of Puglia, Bari is a cultural stopover before heading out to explore the area's rolling vineyards, olive groves and turquoise-rimmed coastline.
Arriving in Bari and leaving from a different location? Make use of our flexible one-way options and drop off your vehicle elsewhere at the end of your trip. Should you require this service, please let us know ahead of time and we will arrange it for you.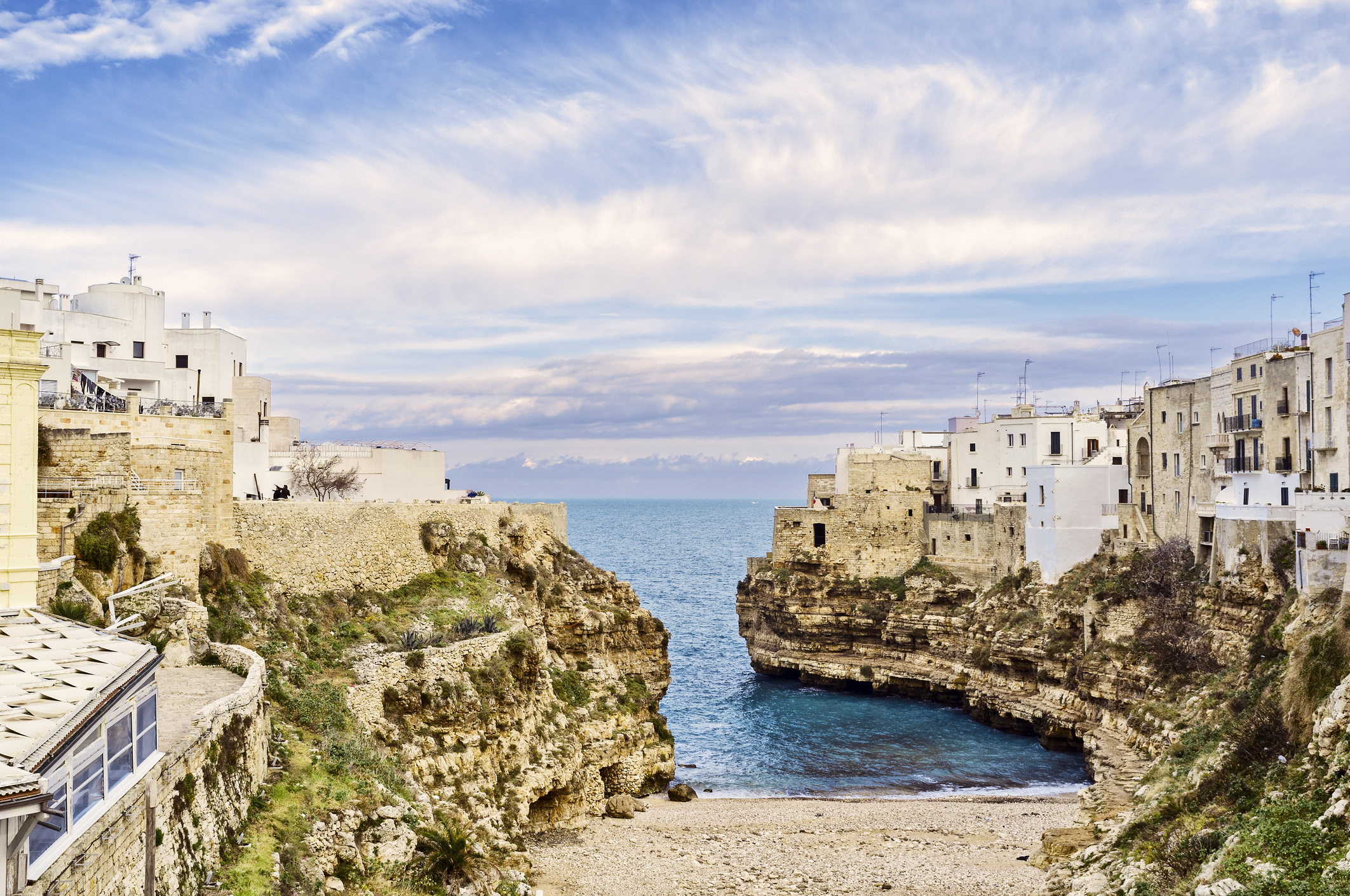 Car hire locations in Bari
What to do in Bari?
While Bari isn't short on things to do, it's really the allure of surrounding Puglia that attracts visitors in their droves. With a coastline that stretches 800km north and south of its capital, rolling landscapes studded with historic villages, and some serious wine country, there's something here to suit all tastes.
The UNESCO World Heritage Castel del Monte, a 13th-century octagonal structure crowning a hilltop an hour's drive out of Bari, should be on every itinerary. With no known purpose—although it was later turned into a prison and used as a refuge during the plague—it's a fascinating feat of architectural genius. The drive out there is spectacularly scenic, and you can chase your visit with lunch in the pretty hamlet of Andria, in the heart of some of Puglia's finest vineyards.
Sun-worshippers will relish the chain of white sandy shores and pebbled coves along Puglia's coast. Head south from Bari and you'll discover the pretty private beaches fringing Polignano a Mare, while further north, the shallow sprawl flanking historic Giovinazzo is popular with families.
Hire a car with Avis in Bari for easy access to Puglia's remotest beaches, furthest-flung sights and pretty historic villages.
Exploring Bari by hire car
While Bari isn't exactly famed for its tourism, its history cements it as a definitive place of culture and interest. The port's easy access to the Adriatic's wealth of seafood made Bari an ideal stronghold for the Romans, with its harbour first mentioned in 180BC.
The old city crowds into the base of a peninsula in the south of the harbour, and is punctuated by the remains of Bari's rich past. The gleaming white 12th-century Romanesque Cattedrale di San Sabino is its grandest landmark. A few steps away is the imposing Norman Castello Svevo, a sprawling fortress that's now home to a collection of fascinating museum artefacts. Nearby, the Basilica San Nicola guards the remains of Bari's patron saint and is a popular pilgrimage site.
Absorb Bari's laid-back pace of life over an espresso at one of the cafés lining the elegant Piazzas Mercantile and del Ferrarese. Early risers should head to Porto Vecchio to watch fishermen bringing in their daily catch to sell on the waterfront—including the freshest oysters you'll ever taste.
Day trips from Bari with your Avis car
Some of Italy's prettiest coastlines, historic towns and some of the clearest waters in Italy are just a short drive from Bari.
A treasure trove of attractions awaits, including the lovely town of Alberobello, which is famous for its "trulli" a series of white, cone-shaped houses that will truly amaze you. From here you can head out to the coastal village of Monopoli, one of Puglia's most picturesque seaside towns. Stroll round the old town and stop for a bite to eat in the bustling Piazza Giuseppe Garibaldi.
Once you have spent enough time exploring Monopoli, you might feel like a dose of culture. One hour south of Monopoli brings you to Lecce, also known as the Florence of southern Italy. Soak in the majestic Baroque architecture, enchanting piazzas and delicious food.
Nestled between Bari and Alberobello, discover the remarkable subterranean passageways that make up the Grotte di Castellano. This series of grottos is the biggest in Italy. Witness the passage of time in the many beautiful structures – including stalagmites and stalactites - that have formed over thousands of years.
Driving rules in Italy
Which side of the road?
In Italy, please drive on the right side of the road.

Country driving laws
Mobile phones may only be used with a hands-free device
Use the outside lane to overtake on motorways and dual carriageways
There are historical areas in which you cannot drive. Look out for "Zona traffico limitato"
Dipped headlights must be used in poor daylight visibility when driving on motorways, dual carriageways, and rural roads
Do not use the horn in a built up area unless in danger

Speed limits

All speed signs will be in km/h.

For a standard Avis rental vehicle with no trailers:
Urban roads: 50 km/h (31 mph)
Secondary extra-urban roads: 90 km/h (56 mph)
Motorways: 130 km/h (80mph)
Urban highways: 70 km/h (44 mph)
Main extra-urban roads (Expressways): 110 km/h (68 mph)
Unless indicated by road signs.

Be aware of changes to speed limits displayed on road signs due to adverse weather conditions.

Child safety / Seatbelt laws
It is compulsory for the driver and all passengers to wear a seatbelt
Children weighing up to 9kg must be seated in a rear-facing child restraint, in the back of the car only
Children aged under 12 and less than 150cm tall must be seated in an appropriate child restraint for their size

Please note - It is the child's parent / guardian or vehicle renter's responsibility to fit the child seat.

This information regarding road is provided for general guidance only. We endeavour to keep the information up to date and accurate, but any reliance you place on this information is at your own risk.
What is Bari famous for?
This off-the-beaten-track gem of a destination in Italy's beautiful Puglia region is known for its stunning old town, large port overlooking the Adriatic Sea, fantastic food and relaxed lifestyle.
Is Bari safe for tourists?
These days Bari is considered a very safe place to visit for tourists, whether travelling independently, with family or with friends. Like any European city, it pays to be aware of pickpockets.
Does Bari have a beach?
You will find a number of stunning sandy beaches in Bari itself, including the urban Pane e Pomodoro beach and Lido San Francesco. The region of Puglia offers some of the most scenic shorelines in Italy. If crystal clear waters and swathes of soft white sand are on your holiday hit list, check out Cala Cavallo and Cala Paguro.
How many days do you need in Bari?
A trip to Bari can range from a weekend city getaway to a week or two taking in the city of Bari and the surrounding region and coastline. In 2-3 days, you can visit all the cultural and historic sights of Bari and enjoy some of Italy's tastiest cuisine while you're at it.