Welcome to Avis
Aeroporto Bari Palese
Viale Enzo Ferrari
Bari
70057

Opening Times
Monday

08:00 - 23:30

Tuesday

08:00 - 23:30

Wednesday

08:00 - 23:30

Thursday

08:00 - 23:30

Friday

08:00 - 23:30

Saturday

08:00 - 23:30

Sunday

08:00 - 23:30
24-hour drop-off

Rent a car at Bari Palese Airport with confidence. Full, fee-free cancellation guaranteed
Southern Italy is full of beautiful cities and towns, all easily explored on a road trip from Bari.

All you need to do is collect your Avis hire car and set out on the open road, with the green hills and stunning coast of southern Italy ahead of you.

We make car rental easy, because we know you can't wait to feel the freedom of the road and get the very most out of your stay. Wherever your travels take you, the keys are waiting for you to unlock the world.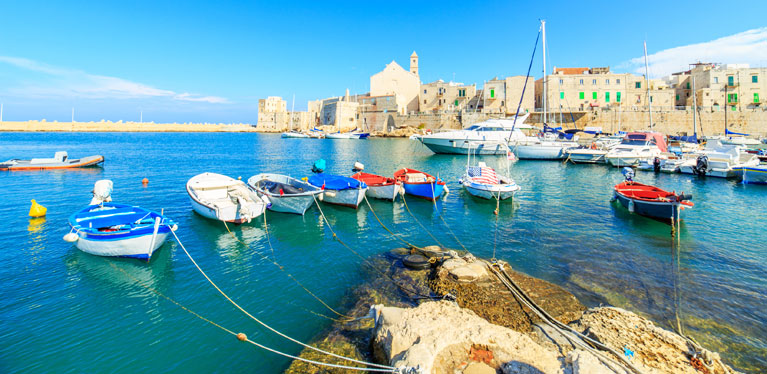 Top car hire locations around Bari Airport
Discover cars to rent at Bari Airport
The moment you arrive, we've got you covered. Whether you fancy a cute compact for an urban jaunt, an elegant saloon for a business trip or a spacious people carrier for a family holiday, your perfect vehicle awaits.
We'll pack all the extras you need to get the most from your venture – from sat nav and super-fast mobile Wi-Fi, to our tailored range of child seats. And, you don't have to drive full circle: why not make the most of one way car hire?
Plan your journey from Bari Airport
Bari is the capital of the region of Puglia and one of the wealthiest cities in southern Italy. From the up-and-coming restaurants in its many piazzas, to the many ancient buildings dominating the city, Bari never fails to impress. Just a 25-minutes drive from Bari Palese Airport, it's effortless to reach with a rental car.

The quaint old town, Bari Vecchia, is where the majority of the city's historic buildings stand. Here, hidden amongst the labyrinth of tiny streets, you'll find some extraordinary examples of medieval architecture. Over 40 churches are squeezed into this maze-like area, with the Cathedral of Bari, built in the 11th century, one of the most impressive. But it's the Basilica di San Nicola that's the region's main attraction. Otherwise known as the Cathedral of St. Nicholas, this sight was originally built to house the remains of the famous saint (commonly called Father Christmas).

While you're here, be sure to visit the Pinacoteca Provinciale – an impressive art gallery housed in the Palazzo della Provincia showcasing works by southern Italian artists.

Away from the city bustle, the Grotte di Castellana (the Castellana Caves) provide a unique sightseeing experience. To enter this attraction, you'll have to traverse a 60-metre vertical tunnel into the main cave, known as La Grave. Inside you'll discover a network of other caves to explore too.

Frequent renters get upgraded – and additional days for free – by signing up for Avis Preferred loyalty benefits. Simply choose a date and time and we'll prepare your quality hire car.
Top tips for driving in Bari
Which side of the road?
In Italy, please drive on the right side of the road.

Country driving laws
Mobile phones may only be used with a hands-free device
Use the outside lane to overtake on motorways and dual carriageways
There are historical areas in which you cannot drive. Look out for "Zona traffico limitato "
Dipped headlights must be used in poor daylight visibility when driving on motorways, dual carriageways, and rural roads
Do not use the horn in a built up area unless in danger
Speed limits

All speed signs will be in km/h.
For a standard Avis rental vehicle with no trailers:
Urban roads: 50 km/h (31 mph)
Secondary extra-urban roads: 90 km/h (56 mph)
Motorways: 130 km/h (80 mph)
Urban highways: 70 km/h (44 mph)
Main extra-urban roads (Expressways): 110 km/h (68 mph)
Unless indicated by road signs.
Be aware of changes to speed limits displayed on road signs due to adverse weather conditions.

Child safety / Seatbelt laws
It is compulsory for the driver and all passengers to wear a seatbelt
Children weighing up to 9 kg must be seated in a rear-facing child restraint, in the back of the car only
Children aged under 12 and less than 150 cm tall must be seated in an appropriate child restraint for their size
Please note - It is the child's parent/guardian or vehicle renter's responsibility to fit the child seat.
This road rules information is for provided for general guidance only. We endeavour to keep the information up to date and accurate, but any reliance you place on this information is at your own risk.
Beyond Bari with your hire car
Bari is a beautiful, historic city nestled on Italy's southeast coast. While there is much to see and do here, beyond city limits there are plenty of other sights waiting to be discovered.

Lucera

Under 90 minutes north from Bari Palese Airport is the town of Lucera, home to the most impressive fortress in the Puglia region – Fredrick II's castle. The city streets are brimming with boutique shops that are sure to catch the eye of visitors in need of some retail therapy, while the old town centre – constructed largely from yellow brick and decorated with exceptionally beautiful stonework – is a must-see.

Martina Franca

Drive south from Bari Palese Airport for just over an hour and you'll arrive in Martina Franca – an ancient town that's gradually modernising itself, pinning it firmly on the map as a top tourist destination. Head into the old quarter and stroll around the airy Piazza Roma, where the town's most famous attraction stands – the Palazzo Ducale. This 17th century castle is now home to the city hall and a museum.

Gallipoli Cognato Park

This huge park covers almost 30,000 hectares of land and was established as a protection zone for flora and fauna. Less than two hours from Bari Palese Airport (via the SS96 and SS407), Gallipoli Cognato Park is an ideal place to go hiking, as well as to spot deer, hedgehogs, foxes, barn owls and much more in its forests.

Wherever you travel in Italy, an Avis hire car will make your escape worth the trip.
Why choose Avis for your Bari Airport car hire?
Fully flexible
Enjoy fee-free flexible booking with full cash refunds and no vouchers.

Savings on coverage
When you choose Avis Inclusive you can experience total peace of mind with no extras or surprises. Pay one upfront price for free Roadside Assistance Plus and 25% discount on comprehensive zero-excess cover.

Loyalty benefits
Join our free loyalty programme Avis Preferred, and benefit from priority service, discounts and more.
Safety first
From our well-maintained fleet to protecting your data, we take safety seriously. That's why we've partnered with Dettol® to ensure both hygienic rental locations and thoroughly cleaned vehicles.

Faster collection
Save time at the counter by registering your details in advance with our simple and free QuickPass. You could be on the road sooner than you think.

VIP treatment
Get priority counter service on collection with Avis Preferred. At our larger locations you can use our Avis app to go straight to your car where the keys will be waiting for you.
Bari Airport car rental FAQs
How do I collect my hire car at Bari Airport?
When you land at Bari Airport, head from the Arrivals hall to our desk. One of our members of staff will process your booking, and then you may proceed to collect your vehicle at the Car Rental Centre.
Can I return a rental car to the airport?
I' you've rented a car from a different Avis hub but wish to return it at Bari Airport, then you must arrange your return prior to the commencement of your rental agreement. If you return your car to Bari Airport without specifying in your rental contract, a fee will apply.
Do I need winter tyres to drive in Italy?
No, there is no legal requirement for passenger cars in Italy to be equipped with winter tyres. However, most of our cars in our Bari rental hubs will have winter tyres available.