Welcome to Avis
Car Rental in Brindisi with Avis
Rent a car in Brindisi
Our Brindisi Airport car rental desk can be found moments from the arrivals terminal in a well-signposted, easy-to-find location. Our efficient team will check you in as soon as you land, allowing you to get on and enjoy your trip in the sunlit heel of southern Italy.
Located a mere 6km from the lively port city of Brindisi, and at the heart of the picturesque Puglia region, Brindisi Papola Casale Airport is an ideal launchpad for a road trip around Italy's south. And with annual visitor numbers at over two million and rising, Brindisi is fast establishing itself as a global gateway to Puglia's villages, beaches and historic treasures.
Our car rental office opening hours are 8.30am and 11.30pm. For those wishing to collect or drop off their vehicle outside those hours, please let us know in advance and we will make alternative arrangements for you.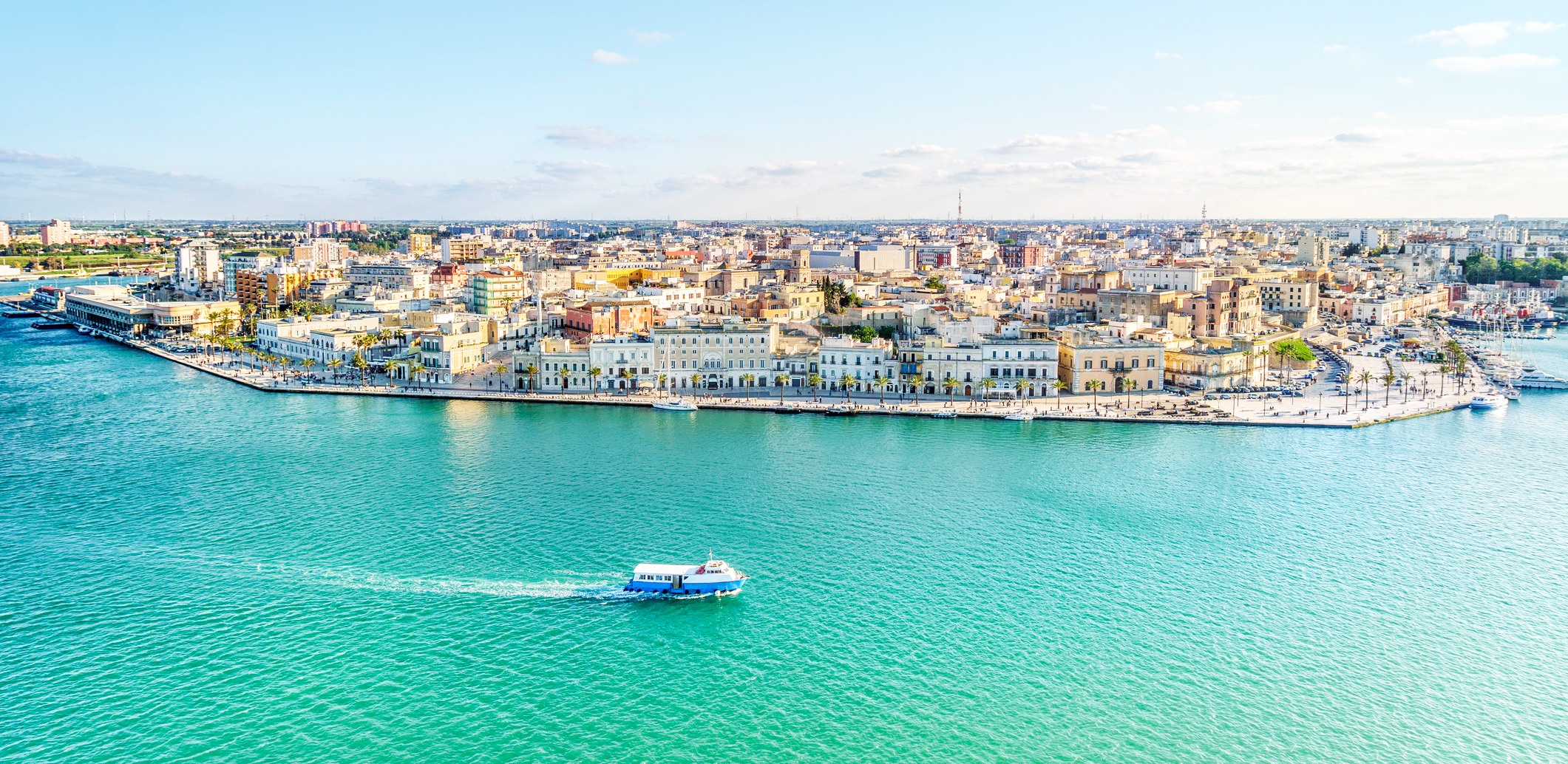 Car hire locations in Brindisi
Exploring Brindisi by hire car
With its port opening out into the Adriatic Sea, Brindisi has been a gateway to the east and a land of conquest for centuries, changing hands between the Romans, Ostrogoths, Lombards and kings of Sicily. While the city was the country's provisional seat of government during the Second World War, life in contemporary Brindisi moves at a pleasantly leisurely pace.
Architecture lovers can saunter through historic squares and admire the Renaissance-style Palazzo Granafei-Nervegna or the sweeping archways supporting the Porta dei Cavalieri Templari, a relic from the times of the Knights Templar. A single Roman column at the top of a sun-whitened stairway marks the start of the Via Appia, which leads all the way to the capital, Rome.
The market on the corner of Via Pace Brindisina and Via Santa Maria Ausiliatrice is a bustling hub of locally cooked and freshly sourced produce, and the restaurants here offer excellent samples of the province's fresh mussels, white fish and prawns. Walk off your lunch with a potter along the lungomare (seafront) for views of the sparkling marina, dotted with rustic fishing boats and shiny yachts.
Sun-worshippers won't be disappointed. Protected nature reserve Torre Guaceto in nearby Carovigno is regarded as one the country's most attractive white sandy stretches. With your Avis hire car, the entirety of Puglia's 800km-long coastline is easily accessed. After Sardinia and Sicily, this is Italy's lengthiest.
Road trips from Brindisi
Referred to as the 'granary of Italy', many travel to Puglia's gently rolling hills, olive groves and vineyards simply for the food and views. The balmy south of Italy is all about indulging in hearty meals, roaming through farmer's fields and following the glimmering Adriatic until it merges with the Ionian further south.
Discover the Florence of the east, aka neighbouring township Lecce, just 40 minutes away from Brindisi. Here, characterful churches and ancient structures, including its grandiose amphitheatre, are the main sights. Head to the cathedral city of Ostuni and lose yourself in its white-washed Old Town, peppered with quaint trattoria and artisan shops and guarded by Sant'Oronzo's column.
The wider region of Puglia is home to an array of geographical wonders, including the pink salt mines of Margherita di Savoia, dramatic rocky canyons in Castellaneta and the shimmering Alimini Lakes. Visit each of these striking locations with your Avis hire car from Brindisi Airport.
The moment you arrive at your location, we've got you covered. Whether you fancy a cute compact for an urban jaunt, an elegant saloon for a business trip or a spacious people carrier for a family holiday, your perfect vehicle is standing by.
Frequent renters get upgraded – and additional days for free – by signing up for Avis Preferred loyalty benefits.
Driving rules in Italy
We've unlocked Italy's driving rules and regulations for your journey to help keep you safe and avoid the unexpected. Familiarise yourself with our comprehensive guide.
Book direct for the best Avis car rental experience. Here's what to expect:
Price Promise
You'll always get our best prices when booking on this site, or we'll refund the difference.

Peace of mind vehicle cover
Our Comprehensive Zero-Excess cover product means no need to pay or claim.

VIP Treatment
Go straight to your car at our larger stores. Your keys and paperwork will be waiting.

Free Cancellation
Cancel with no charge up to 24 hours before pick-up, if you 'Pay on Collection'

Speedy collection
Jump the queue with pre-prepared paperwork and your vehicle at the ready.

Member-only benefits
Unlock money-off vouchers, free weekends, upgrades and inclusive additional driver cover at no extra cost.