Welcome to Avis
Find the perfect car rental in Norway
Norway is a land of spellbinding contrasts. The country is worth visiting for its natural wonders alone, from majestic fjords to spectacular glaciers, dense forests and sweeping snow-capped mountains. On the other hand, no trip could be considered complete without visiting its cosmopolitan cities, such as Oslo and Bergen. We want you to get the most out of both our service and your trip, and there can be no better way to see it all than with the flexibility of your own rental car.

Add satellite navigation to your car rental and explore this fascinating and vast country with confidence. In the unlikely event of your vehicle breaking down, you can also relax in the knowledge that our breakdown assistance service will bring you the help you need wherever you are. Hitting the slopes? Be prepared for winter conditions by choosing snow chains and tyres. Add a ski-rack to your booking and enjoy the array of wonderful pistes Norway has to offer.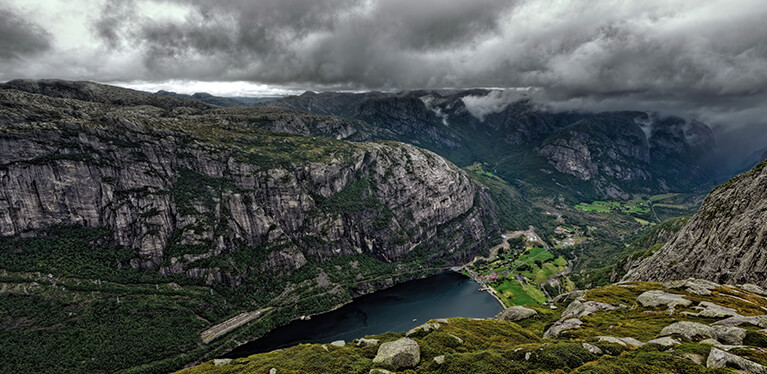 Plan your trip to Norway
Norway is rightly known for its spectacular scenery, from deep coastal Fjords to mountains and glaciers. Collect your Avis hire car from a choice of Norwegian car rental stations and explore what this wonderful country has to offer.

Oslo, Norway's capital, is a city of green spaces and museums. Head to Bygdøy Peninsula where the Norwegian Maritime museum and the Viking Ship museum are located and discover the rich seafaring history dating back to the 9th century. Oslo is famous for its thriving cafe and bar scene, with excellent restaurants and nightlife ranging from nightclubs to opera.

A trip to Oslo is not complete without a visit to the Nasjonalgalleriet, a major city highlight. The museum contains the largest collection of Norwegian art in the world and is home to many of Edvard Munch's best known creations including "The Scream".

Bergen in the south west, with its colourful houses, is the gateway to the Norwegian Fjords and sits next to the Sognefjord, Norway's longest and deepest. Bergen was also home to composer Edvard Grieg; his former house is now a museum detailing his life in music. Bryggen, Bergen's oldest quarter, boasts a spectacular waterside location and retains the atmosphere of an intimate waterside community. In recent years the quarter has become a haven for artists and there are various boutiques and galleries to explore.

While Norway is rightly known for the beauty of its coastline its interior is equally spectacular. Røros, a UNESCO world heritage site, is a former copper mining town. Its colourful wooden houses climb the mountainside alongside relics of the towns past, all framed by a spectacular view out across the landscape.

Road trips around Norway
An Avis hire car is the perfect way to discover everything Norway has to offer. With locations throughout Norway we will always be nearby with a range of vehicles to suit your needs. Here's a selection of our highlights.

Fredrikstad
An hour's drive south from Oslo, via the E6, Fredrikstad sits on the mouth of the river Glomma. Founded in 1567 by King Frederik II, this is one of the best preserved fortified towns in the Nordic region. Relax in the town square at one of the many cafes or visit the galleries and boutiques that sit behind the town ramparts.

Drammen
Forty-five minutes' drive south-west of Oslo, via the E18, Drammen once had a reputation of a rather grey industrial town but much has changed. Fashionable surroundings and a modern city beach sit alongside smart cafes and restaurants. The city is renowned for its music scene and those seeking a change of pace will find both Norwegian and international acts performing across the cities venues.

Oscarsborg Fortress
Driving south for 40 minutes from Oslo via the E6 to Drøbak, it's a five-minute ferry ride to Oscarsborg Fortress. Open year-round Oscarsborg is perfect for families and those seeking culture and history. Explore the fortress and its underground tunnels and discover the role it has played as far back as the 1600's. In summer Oscarsborg is the backdrop for many open-air concerts, theatre and opera performances.

Norway driving guide
Want a quick guide to the rules of Norwegian roads? We've unlocked them for your journey.

And to help you plan your trip we've created Great Drive guides to some of the best driving locations in Norway and beyond.