Welcome to Avis
Key road rules in Luxembourg you need to know
When you are hiring a car abroad, it's useful to be prepared for the different driving laws in the country you are travelling to as well as checking the documents you need to carry.
To help make your trip to as smooth as possible, we've put together some of the key road rules in Luxembourg.
These rules are to be used as a guide and are subject to change. Please check with your Avis representative if you have any questions.
Your Avis representative can advise you on toll and road charges before leaving the Avis car hire location and whether snow tyres or chains are needed.
Take a look at our Luxembourg location page for ideas, travelling tips and booking information.
Frequently asked questions
What side of the road do they drive on in Luxembourg?
In Luxembourg, they drive on the RIGHT-HAND side of the road.
What are the driving requirements in Luxembourg?
The legal driving age ranges from 16-21. To hire a car, you must be at least 18 years old. There's no maximum age for renters.
Can I use my UK driving licence in Luxembourg?
Yes. IDP (International Driving Permits) are also recognised.
Are there any rules on on-street parking I need to know in Luxembourg?
There are some free parking spaces, mostly available on weekends.
Are there special road rules I need to know for driving in Luxembourg?
Buses have right of way when pulling out. On steep roads, cars driving uphill have priority.
What are the laws on overtaking in Luxembourg?
You may overtake on the left side.
Can you turn right on a red light in Luxembourg?
No, turning right at a red light is prohibited.
Are there any unique traffic signs I need to know in Luxembourg?
Tram crossing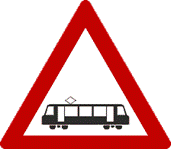 What are the rules on alcohol in Luxembourg?
The BAC (Blood Alcohol Content) limit is 0.05%. For drivers with less than 2 years' experience the limit is 0.02%.
What are the rules on using headlights in the day in Luxembourg?
It's recommended you use dipped headlights during the day.
Do the same road rules in place across the whole country?
Yes. The driving laws are very similar to those found in the UK.
Does Luxembourg have toll roads?
All roads are toll-free for private vehicles.
Unique Country Driving Laws
There are no motorways in Luxembourg.
Mobile phones may only be used hands free while driving.

Use of winter tyres is compulsory for car drivers in winter conditions, including when frost, black ice or ice sheets are present on the road. This restriction also applies to cars driving through Luxembourg.
Speed Limits
For a standard Avis rental vehicle with no trailers:


Urban areas: 31 mph (50 km/h)

Rural areas: 55 mph (90 km/h)

Motorways: 80mph (130km/h)

Unless indicated by road signs.
Child Safety / Seatbelt Laws
Seatbelts must be worn in the front and back seats by all adults.
Children under 3 should be seated in a proper child seat that corresponds appropriately to the weight of the child.
Children aged 3 to 18 years who are under 1.50 metres in height must be properly harnessed in an appropriate seat.
Children over 1.50 metres tall should be secured with a seatbelt in the front or back.

Please note - It is the child's parent / guardian or vehicle renter's responsibility to fit the child seat.


Compulsory Equipment in your Avis rental car
A warning triangle. In the event of an accident or breakdown, the triangle must be placed 30 meters behind the vehicle on ordinary roads, and 100 meters on motorways, to warn following traffic.
A first aid kit.
A fire extinguisher.
A reflective vest must be put on before getting out of the car in the event of an accident or breakdown on any road.
Emergency Services
Police

113

Ambulance

112

Fire Department

112

European Emergency Number

112
Other Countries Road Rules