Welcome to Avis
CAR HIRE IN THE FAROE ISLANDS
Find the perfect car rental in the Faroe Islands
We make car hire easy, because we know you can't wait to feel the freedom of the road. Wherever your travels take you, the keys are waiting to unlock the world.

Where would you like to meet us and begin your journey in the Faroe Islands? Have a specific place in mind? Use the search bar above to find it. Looking for inspiration? Scroll down to discover our top Faroe Island rental locations and pinpoint the best spot to collect and return your hire car.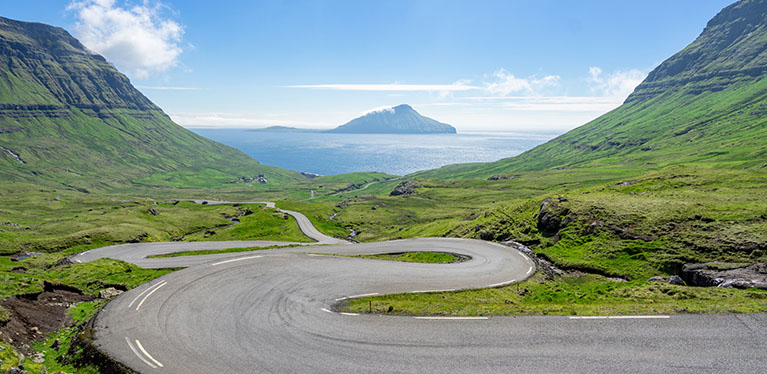 Plan your journey around the Faroe Islands
The Faroe Island archipelago is made up of 18 islands, and has a network of scenic routes that criss-cross from one island to another via a series of bridges and underwater tunnels.

If you enjoy solitude, unspoilt landscapes and rugged beauty, exceptional fresh air and the vast open road ahead of you, begin an unforgettable journey here and let our hire cars take you there.

The island of Vagar plays host to the most visitors and is where the airport is based. Rent your car with Avis and let the open road guide you. Make time to take in the fjords or check out the magical old town of Tórshavn and its handsome white cathedral. Visit sleepy villages tucked into the foothills and eat local cuisine served by friendly locals in cosy restaurants, immersed in unique customs and age-old traditions.

Public transport is limited on these islands and the only way to really see everything they have to offer is from the comfort of a hire car.
Road Trips in the Faroe Islands
Rent a car and start exploring! The best way to experience the Faroe Islands is by car. Nestled in the Atlantic Ocean between Scotland, Iceland and Norway, holidays in the Faroe Islands are synonymous with lush green hills, windswept coastlines, sheep roaming freely and heart-stopping scenery. Almost all the roads are impressive in their own way so you can't go far wrong embarking on a road trip in the Faroe Islands.

Driving in the Faroe Islands is relatively easy given there is little traffic however it's good to be aware that many of the roads are one-lane routes and you may need to keep your wits about you for the odd wandering sheep. One of the most fascinating aspects about driving here is the fact you can cross from one island to another via a network of underground tunnels and bridges. The islands of Vagar, Streymoy, Eysturoy are all connected by bridges or tunnels as are the northern islands of Bordoy, and Vidoy providing a totally unique way of island hopping that doesn't involve setting foot in a boat.