Welcome to Avis
Book a hire car in Osnabrueck to give you absolute freedom
Rent a car in Osnabrueck, get in and get going. That is how it is supposed to be. Avis makes this a reality. With our car rental locations in Osnabrueck, renting a car is like child's play. Whatever your plans are, in our fleet you are sure to find the right vehicle for you.

Treat yourself during your business trip with our superbly equipped saloons offering excellent comfort and a little bit of luxury. If you are off on holiday with the children or friends, having enough space and a comfortable driving experience is the top priority. Rent a minivan and enjoy pure relaxation. We will happily install a child's seat which you can book easily.

Or maybe you are planning a short break to another town or into the countryside? In this case, one of our small cars will be perfect for you. With a navigation system you will get to your intended destination with no trouble.

Each vehicle comes as standard with high-quality equipment leaving none of your desires unfulfilled. Wherever your trip takes you, your keys to the world are waiting for you.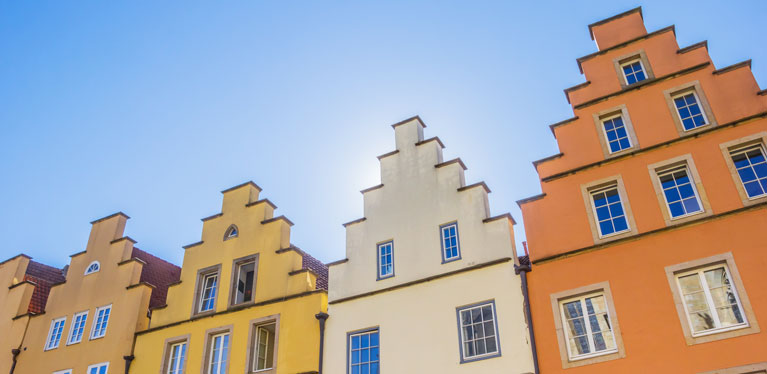 Visit the "City of Peace" Osnabrueck with a rental car from Avis
"The task of peace – committed to peace" is the inspiring motto of this city in Lower Saxony which together goes down in history as the location for the signing of the Peace of Westphalia alongside Münster. The 30 Year's War in Germany ended with the signing of this agreement in 1648 and a ground-breaking concept was born: the European idea which is the cornerstone of today's community of nations. A fact which, the town hall pays homage to when appointed a place of European cultural heritage.

Today, the Hansean metropolis is not only known for its history. Its location on important trade routes between Scandinavia and Central Europe as well as the Netherlands and Eastern Europe helped it gain important economic meaning early on. Today, Osnabrueck is one of Europe's most important centres for logistics and industry as well as a thriving university city. On top of this, Osnabrueck is the only large German city located inside a natural park – a paradise for anyone looking for some peace and quiet.

It also attracts those with joie de vivre since every year there are numerous musical events taking place throughout the city. From the European Media Art Festival, the Africa Festival, to the ten-day Osnabrueck May Week or the Morgenland Festival, there is something for everyone. The latter in particular has obtained international popularity and opens the door at the end of every summer to the fascinating music culture of the Middle and Far East.

Discover the city's highlights in a rental car, which you can book easily from Avis car rental in Osnabrueck.
From the heart of the city to nature
Both Osnabrueck itself as well as the surrounding area impresses with unique attractions and even a UNESCO Geopark in which you can let your spirit go wild. Rent a car in Osnabrueck and discover the area at your own pleasure.

City highlights
The triangular market square with the Peace of Westphalia town hall and cathedral is the very heart of the city and the ideal starting point for a wander through the picturesque old town with its gabled and timbered houses, and its unparalleled atmosphere. Had enough of walking? Then sit down in an Avis rental car and let the pre-booked navigation system guide you to Osnabrueck's cultural highlights. The Felix Nussbaum Haus is one of the most important. It was built by Daniel Libeskind and here you can find one of the largest collections of work worldwide from the artist who was born in the city.

For museum lovers
No less fascinating is the Osnabrueck Museum of Industrial Culture which highlights the different aspects of the city's industrial history through various exhibitions. Car lovers will particularly like it here, Osnabrueck is the home of the coachbuilder Karmann, the birthplace of some well-loved classics including the legendary Volkswagen Karmann-Ghia as well as the soft-top versions of the Volkswagen Beetle and the Volkswagen Scirocco.

Flora and Fauna
Would you prefer some nature and a bit of relaxation amongst the greenery? Then, rent a car in Osnabrueck and discover the unique surroundings of the city as Osnabrueck lies in the middle of the TERRA.vita nature park which belongs to part of the Teutoburg Forest and Wiehen mountains. In 2004, it was one of the first UNESCO Geoparks worldwide being one of 50 regions with particular geological features and phenomena. Moorland and heathlands, river landscapes and headwaters, moraine lines and bolder fields make TERRA.vita a unique experience and host a range of bird, nature and conservation areas for you to discover on numerous walking trails.
Your top rental locations in Osnabrueck
Your car hire journey in Osnabrueck starts here
As soon as you arrive in our rental station you will be well looked after. Whether you need a little run around for a quick trip into the city or an elegant saloon for a business trip or a roomy minibus for a family holiday, the perfect car is waiting for you.

Frequent customers get an upgrade – as well as additional free days – by registering for our loyalty programme Avis Preferred. Find out more at your car rental in Osnabrueck.