Welcome to Avis

Rent a car in Germany with confidence. Full, fee-free cancellation guaranteed
Explore Germany by road: take a turn around Berlin, one of the most exciting cities anywhere, with nearby Hamburg and Leipzig – and southern Munich – hot on its heels. Where would you like to meet us to begin your journey?

Discover cars to rent in Germany
What kind of vehicle do you need? A large SUV for a big family? An eco-friendly compact car to zip around the city? Whatever you're looking for, Avis car hire in Germany will have you covered. Our vehicles offer practicality, performance and comfort, so you can enjoy your trip as much as possible. Get in touch for more information about the exact models that are available.
Best places to visit in Germany
In and around the capital city of Berlin
Berlin - not just a big city trip.
The vibrant city of Berlin has a lot to offer, from iconic landmarks like the Brandenburg Gate and the Berlin Wall to diverse neighbourhoods including trendy Kreuzberg and Prenzlauer Berg. A rental car in Berlin will ensure you get to see all of this and more.
But it is not only these big city activities that makes Berlin so special. Hiring a car in Berlin will give you the freedom to visit places like Potsdam and charming lake areas such as Wannsee. Peacock Island is a nature reserve and cultural heritage site, and a trip here offers a beautiful green change from the hustle and bustle of the big city.
The expansive Grunewald Forest is another attraction worth visiting, offering lakes and hiking trails, while the Spreewald region, famous for its network of canals and traditional wooden houses, is best explored with the flexibility of a car.
Our tip: Would you rather hike and observe rare animals? Then visit the Schorfheide-Chorin Biosphere Reserve with its landscape of 240 lakes, meadows, forests and moors shaped by the last ice age.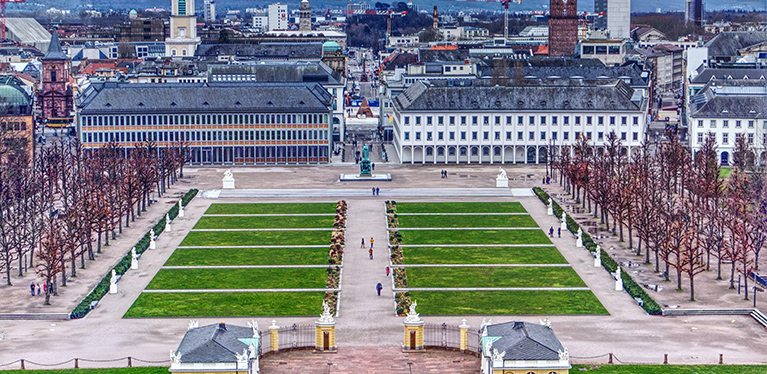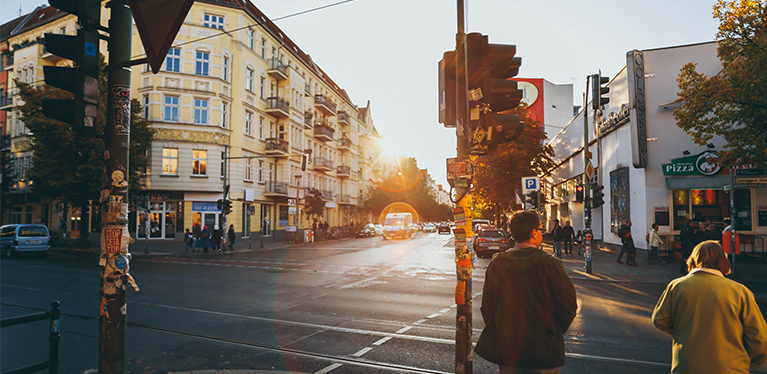 Summer in and around Munich
Munich is a city known for its rich cultural heritage, effortlessly blending history, culture and architectural splendour, from the iconic Marienplatz and Nymphenburg Palace to world-class museums like the Pinakothek der Moderne and Lenbachhaus. Moreover, Munich's traditional beer gardens and annual Oktoberfest highlight Munich's perpetual fun side.
With a hire car in Munich, you can make the most of the city as well as venture out into the Bavarian countryside and beyond. There are several key sights outside the city centre such as Neuschwanstein Castle and the picturesque Lake Tegernsee that should not be missed.
Whether you want to cool off or take a relaxing hike around a lake, having a rental car in Munich will ensure the choice of swimming lakes and hiking opportunities around the city is unlimited. Our tip: how about lake hopping? Pick 3 destinations in one day and find out where the water is the coldest. This way you can not only visit several places on a hot day, but also enjoy some swimming fun with the family.
A modern city with historical character - Düsseldorf
There is so much to see in Düsseldorf. This cosmopolitan city is known for its modern art and blend of old-world elegance and contemporary flair. With a hire car in Düsseldorf, you can discover it all.
Shopping enthusiasts can stroll along the elegant Konigsallee, lined with high-end boutiques, while art lovers can explore the renowned Kunstpalast and K20 museums showcasing an impressive array of contemporary and classical works. The Old Town or "Altstadt" will draw you in with its narrow streets, historic buildings and lively bars.
Our tip: visit the iconic Neue Zollhof, designed by Frank Gehry, which captures the transition from former customs port to a thriving media hub. Another highlight worth seeing is the Japanese garden in Düsseldorf. This is located in the northwest corner of the Nordpark. Having a rental car in Düsseldorf will allow you to travel further afield. There's the beautiful town of Cologne or the scenic Rhine Valley, peppered with picturesque vineyards and castles.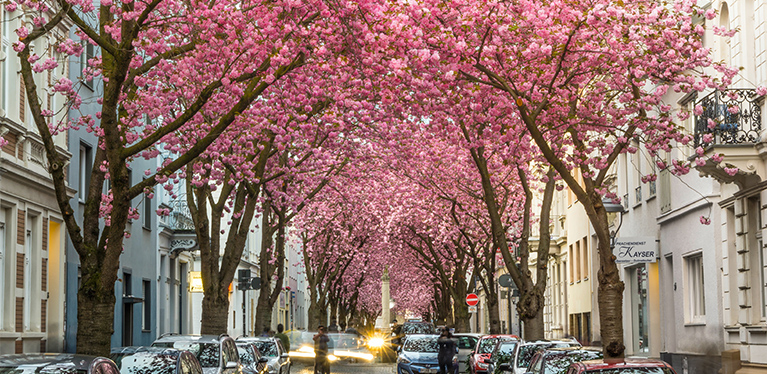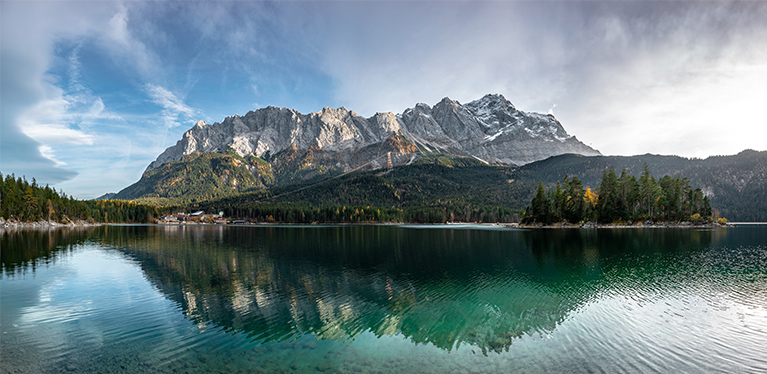 Cologne - where history and fragrance unite
Whether you choose to take a leisurely stroll down the Rhine promenade, hop on a scenic river cruise, visit the iconic Cologne Cathedral or the birthplace of Eau de Cologne, this city is bustling with attractions. Nestled on the banks of the Rhine River, exploring the Altstadt (Old Town) with its lively mix of quaint cafes, traditional beer halls and historic buildings is a great way to get to know the city. But there's more, with a hire car in Cologne, you can also discover the former capital of Germany, Bonn, just 30 km south of Cologne, and the picturesque towns and castles along the Rhine such as Boppard with its beautiful riverfront setting.
Our tip: if you're yearning for nature, head east in your rental car out of Cologne to the Bergisches Land region where lush forest and trails make the perfect destination for hiking and other outdoor activities.
Stuttgart - where innovation drives excellence
Cradle of the automobile industry, centre of innovation and technology, Stuttgart is proud of its status as an industrial powerhouse. This dynamic city not only houses world-class museums dedicated to renowned car companies such as Mercedes, where visitors can explore the evolution of automotive engineering and design, but it also offers historical and regal landmarks such as Stuttgart State Opera and the Old Castle and New Palace.
But there's more to see and do than meets the eye. With a hire car in Stuttgart, you can easily connect with southern Germany's most popular sights, like the rolling hills of the Black Forest, or the opulent Ludwigsburg Palace.
Our tip: besides the beauty of the Black Forest, get behind the wheel of your rental car in Stuttgart and head out of the city to discover stunning panoramas from Hohenzollern Castle, a fairytale fortress situated on a hilltop, approximately 80 km southwest of Stuttgart.
Hamburg - a symphony of maritime charm and culture
Welcome to Hamburg, Northern Germany's maritime powerhouse. A sprawling metropolis full of cultural treasures and an infectious energy that will leave an indelible mark on your journey. With a hire care in Hamburg, you have the freedom to immerse yourself in the city's unique offerings. Take to the streets and explore the bohemian charm of St. Pauli and Sternschanze, catch a performance at the iconic Elbphilharmonie or experience a diversity of flavours in the bustling fish market. Buckle up and let your rental car in Hamburg guide you through this dynamic city.
Our tip: with your hire car venture beyond the city to discover the Blankenese district with its picturesque hillside villas, or escape to the tranquillity of the Alster Lake, where you can sail or simply stretch your legs along its banks.
Frankfurt - where skyscrapers touch the sky
Germany's high-powered financial hub, otherwise known as "Mainhattan", is home to a skyline punctuated by glass, steel and concrete skyscrapers. Renowned as a business powerhouse, Frankfurt is home to one of the world's largest stock exchanges and proudly showcases the gleaming headquarters of the European Central Bank. Take in breathtaking views of the sleek urban landscape from the Main Tower observation deck, venture into the Altstadt (Old Town) lined with half-timbered houses and step into world-class museums. Frankfurt is ready to welcome you with open arms.
Frankfurt's central German location also makes it a gateway to explore nearby destinations. Get behind the wheel of your hire car in Frankfurt and take a scenic drive along the Rhine River or visit the peaceful forests of the Taunus Mountains.
Our tip: car rental in Frankfurt helps you to take a break from the urban buzz of the city. Escape to the banks of the city's Main River or immerse yourself in Palmengarten, a botanical oasis filled with exotic flora.
Do I need winter tyres to drive in Germany?
Yes. As of 2010, it is a legal requirement for all passenger cars in Germany to be equipped with winter tyres, regardless of season. All cars in our German rental hubs have winter tyres to comply with this legislation.
Can you hire a car by the day in Germany?
You can enjoy affordable rates when you book one-day car rental with Avis. Submit your trip details into the online booking form so you can see the available vehicles and their one-day car rental cost.
What is the best car to hire in Germany?
If you are staying in Berlin, Munich, or another city centre, you may feel more comfortable in a compact model that will be easy to park. Heading out of the city on a longer trip? Consider a snazzy convertible from our Prestige range or give your family a comfortable ride in an SUV or family-sized saloon.
Other Avis services in Germany
What do you need to shift? Our van rental fleet spans small hire vans, perfect for that weekend DIY project; medium vans, well suited to hauling rolls of carpet, heavy floor tiles, or moving the kids to university; and large vans to accommodate some or all of your worldly goods.
Discover Avis van rentals
Why choose Avis for your Germany car hire?
Fully flexible
Enjoy fee-free flexible booking with full cash refunds and no vouchers.

Savings on coverage
When you choose Avis Inclusive you can experience total peace of mind with no extras or surprises. Pay one upfront price for free Roadside Assistance Plus and 25% discount on comprehensive zero-excess cover.

Loyalty benefits
Join our free loyalty programme Avis Preferred, and benefit from priority service, discounts and more.
Safety first
From our well-maintained fleet to protecting your data, we take safety seriously. That's why we've partnered with Dettol® to ensure both hygienic rental locations and thoroughly cleaned vehicles.

Faster collection
Save time at the counter by registering your details in advance with our simple and free QuickPass. You could be on the road sooner than you think.

VIP treatment
Get priority counter service on collection with Avis Preferred. At our larger locations you can use our Avis app to go straight to your car where the keys will be waiting for you.